Treatment
Approach Considerations
Because Crohn disease (CD) cannot be cured with surgical intervention, the goal is palliation of active symptoms and disease remission. In children with recurrent acute episodes, the potential for further bowel loss must be weighed against the risks of long-term steroid therapy and failure to thrive.
Indications for surgical intervention in patients with CD include the following [23] :
Failure of medical therapy

Complications of steroid or other medical therapy (eg, growth failure)

Cancer

Perianal disease

Complications of the disease process - Intestinal obstruction (especially in the terminal ileum), intestinal perforation, intestinal bleeding, recalcitrant sepsis, fistulas (enteric, colonic, or vesicular)
Operative management of CD remains one of the most challenging areas of surgery. Surgery is generally reserved for refractory disease or intestinal complications. Resection of asymptomatic disease is not warranted, because disease recurrence is the rule.
Although surgical options are expanding, CD is an important contraindication for creation of a Kock pouch. Patients with CD who receive a Kock pouch ultimately require resection of the pouch or continuing treatment for severe pouchitis.
Medical Therapy
Treatment strategies for patients with CD consist of attempts at medical remission, as well as supportive medical management of chronic symptoms and exacerbations. Surgery is reserved for complications of intestinal disease or cases in which medical management is unsuccessful.
In 2014, the European Crohn's and Colitis Organisation (ECCO) and the European Society of Pediatric Gastroenterology, Hepatology and Nutrition (ESPGHAN) published consensus guidelines for medical management of CD in pediatric patients. [24]
Numerous medications are available to control acute inflammatory symptoms and to prevent recurrence of intestinal disease. Whereas numerous studies have assessed postoperative prophylactic therapy in adults, prospective studies on this issue in children are lacking. Nutritional therapies focus on preventing the weight loss and malnutrition that frequently accompany the disease.
Aminosalicylates
Oral and topical salicylates are often first-line medications in the treatment of acute exacerbations of CD. Sulfasalazine was the first salicylate to be used in inflammatory bowel disease (IBD). It consists of a sulfapyridine moiety (the carrier compound) linked to 5-aminosalicylic acid (5-ASA; the active ingredient). After reaching the colon, the sulfapyridine is released from the 5-ASA by colonic bacteria. The salicylate compound acts locally by preventing inflammation through inhibition of various elements of the inflammatory cascade.
Sulfasalazine has been shown to be effective in active ileocolonic and colonic disease but has been less effective in isolated small-bowel disease. It is often helpful in preventing recurrence after surgery for active disease. [25, 26, 27]
Numerous adverse effects, including gastrointestinal (GI) symptoms (eg, nausea, vomiting, abdominal pain) are associated with the sulfapyridine moiety and limit patient tolerance of this medication. Newer oral compounds, such as mesalamine, olsalazine, and balsalazide, lack the sulfapyridine carrier; they are better tolerated. In addition, topical aminosalicylates, in the form of suppositories and enemas, may be beneficial in patients with distal colonic CD. [28]
Corticosteroids
Glucocorticoids have long been known to be highly effective in the treatment of acute episodes of CD; they induce remission in all disease locations. However, long-term corticosteroid treatment does not have a role in maintaining remission in patients with quiescent disease or after medical or surgical treatment of active disease. High-dose systemic steroids may be administered for weeks to months as treatment of active disease.
Corticosteroids have many adverse effects, including the development of cushingoid features, hypertension, hyperglycemia, cataracts, osteoporosis, osteonecrosis, and psychological effects. In children, growth retardation, delayed onset of puberty, and delayed bone maturation are particular concerns related to repeated steroid treatments. Newer steroids, such as budesonides, are rapidly metabolized on their first pass through the liver; thus, their potential for adverse effects is limited. Topical steroid enemas may be used in distal Crohn colitis, without the systemic effects. [29, 30]
Antibiotics
Enteric bacteria may promote intestinal inflammation, and antibiotics aimed at the intestinal flora have been successfully used in both intestinal and perianal CD. Metronidazole is most widely used in perianal CD; it can promote complete healing of perianal fistulas. If administered after ileal resection, metronidazole can effectively decrease postsurgical disease recurrence, as shown in randomized trials. However, symptoms often recur after the drug is stopped, and adverse effects often limit its use. Ciprofloxacin or other broad-spectrum antibiotics may be used as an alternative, with similar efficacy. [31, 32]
Immunosuppressants
Azathioprine and its metabolite, 6-mercaptopurine (6-MP), are inhibitors of purine synthesis. They are used in the treatment of both active and quiescent CD. In a randomized controlled trial, 6-MP was shown to be of significant benefit in the treatment of active disease and disease with fistulas. Moreover, azathioprine and 6-MP therapies allow for early reduction and cessation of corticosteroid treatment during acute episodes. Unlike salicylates and steroids, the immunosuppressants are effective as maintenance therapies for quiescent disease. Several months of treatment are usually required in order to achieve an effect. The optimal timing and duration of therapy remain unclear. [33, 34, 35]
Dose-dependent adverse effects include nausea, rash, marrow toxicity, hepatitis, and acute pancreatitis. Although no existing evidence suggests an increased risk of solid tumors in adults, concerns about lymphoreticular malignancies have limited the use of these medications in children.
Cyclosporine is commonly used as an immunosuppressant with organ transplantation. In a randomized prospective trial, high-dose oral cyclosporine was shown to be effective in the treatment of active CD. [36] Its rapid onset of action (< 2 weeks) makes it an attractive bridge therapy until azathioprine or 6-MP become effective. The effects of cyclosporine continue for several months after cessation of its administration. Nephrotoxicity, hypertension, electrolyte abnormalities, gingival hyperplasia, and paresthesias are the most common adverse effects. [37]
Alternative immunosuppressants such as tacrolimus and mycophenolate mofetil have been proposed as treatments for CD. Preliminary data suggested that these treatments have some benefit in patients with severe IBD. [38, 39, 40, 41, 42, 43]
Biologic therapies
Tumor necrosis factor alpha (TNF-α) is an inflammatory cytokine that acts as a primary mediator of intestinal inflammation and injury in IBD. Preliminary evidence from clinical trials involving antibodies against TNF-α has shown promise in the treatment of patients with active and quiescent disease.
Infliximab is a chimeric antibody that specifically targets TNF-α. Data from uncontrolled studies suggest an improvement in the endoscopic and histologic appearance of chronic active disease after a single infusion of infliximab. A benefit has also been observed in refractory enterocutaneous and perianal fistulae. [44, 45, 46, 47, 48]
CDP571 is a human monoclonal anti-TNF-α antibody that may be advantageous in patients with refractory CD. [49] Other potential therapies that have received attention include thalidomide, antisense oligonucleotides against intercellular adhesion molecule (ICAM)-1, recombinant interleukin (IL)-10 and IL-11, and anti-CD4 antibodies. [50, 51]
Nutritional therapy
Although ineffective as a primary therapy, nutritional manipulations that facilitate bowel rest can be effective adjuncts in the treatment of active CD. Both parenteral and enteral nutrition are effective. However, because of the associated risks and costs of parenteral nutrition, it is typically reserved for the postoperative period.
Enteral nutrition has the benefit of altering the bacterial flora and providing direct nourishment to the intestinal mucosa. The effectiveness of enteral nutrition in active disease has been shown in several randomized trials. However, relapse is common after cessation of enteral feeding. Nighttime supplemental enteral nutrition without daytime dietary restrictions has been shown to be beneficial in maintaining disease remission. To the author's knowledge, elemental diets have shown no benefit over conventional enteral nutrition. [52, 53]
Surgical Therapy
Most patients with CD require surgical intervention during their lifetime. [54, 55] Unlike ulcerative colitis (UC), CD has no surgical cure. Within 20 years of the onset of symptoms, 80% of patients with CD require surgery, and many require multiple procedures. Some 20-30% of patients experience a recurrence of disease within the first postoperative year. [56] Hence, every attempt at conserving the small bowel should be made in the surgical approach to CD. Despite this approach, repeated intestinal resection for CD is a major cause of short-bowel syndrome. [57, 58, 59, 60, 61, 62]
The most common complication of CD is small-bowel obstruction, occurring in 30-50% of patients. Typically, the obstruction is due to intestinal strictures from repeated bouts of inflammation and subsequent fibrosis. In the case of a complete obstruction or a partial obstruction refractory to nonsurgical management, surgical intervention is required. Surgical options for intestinal strictures include resection of the strictured bowel or strictureplasty. In cases of long strictures (>12 cm) or multiple strictures in close proximity, surgical resection with primary anastomosis is often required.
Strictureplasty for multiple shorter strictures has the benefit of bowel conservation. A Foley catheter (inflated to 25 mm) can be passed through the lumen to detect additional distal strictures. The strictured bowel is incised longitudinally to a point 1-2 cm beyond the narrowing and then closed transversely without resection. For long or multiple confluent strictures, a strictureplasty that resembles a Finney side-to-side pyloroplasty can be used to conserve bowel length. Hydrostatic balloon dilatation of ileocolic strictures has been performed, but its effects may not be long-lasting. Bypass procedures are usually reserved for duodenal obstructions. [63, 64, 62]
Other complications of CD that may necessitate operative intervention include free perforation, abscesses, fistulas, toxic megacolon, and massive hemorrhage. More than 10% of patients with CD have an intra-abdominal or pelvic abscess during their lifetime. Abscesses must be drained either surgically or percutaneously. Although surgical drainage is more often successful, an attempt at percutaneous drainage may spare some patients an operation. [65]
Because of the transmural nature of the inflammation, fistula formation is common. Enteroenteric, enterocutaneous, enterovesical, and rectovaginal fistulas are often initially treated by using the principles of fistula healing and medical therapy. If medical therapy is unsuccessful, resection of the involved bowel is required in symptomatic patients.
Toxic megacolon and massive hemorrhage are much less common complications of CD. However, they may require urgent bowel resection. Total abdominal colectomy with a Hartmann pouch has been advocated for fulminant toxic megacolon. This allows future restoration of bowel continuity with a sphincter-preserving ileorectal anastomosis. However, a permanent ileostomy may ultimately be required to treat recurrent rectal disease. [66]
Perianal CD presents a particularly difficult management challenge. Fissures, fistulas, and abscess may be multiple and recurrent, and repeat operations may lead to sphincter damage and incontinence. True abscess require drainage. When a fistula tract can be identified, a Silastic seton can be used to prevent premature skin closure and recurrent abscesses. These indwelling setons should be left in place for at least 12 months to allow complete epithelialization of the tract. This approach leads to a chronically draining fistula tract. In patients in whom severe perianal disease has destroyed the sphincter, proctectomy with permanent ileostomy may be necessary. [67, 68, 69, 70]
In 2017, the ESPGHAN pediatric IBD Working Group developed the following guidelines for surgical management of CD in children. [71] (See Guidelines.)
Preparation for surgery
Preoperatively, a recent evaluation of the extent of intestinal disease with appropriate radiologic and endoscopic studies is essential. Steroids are tapered as much as is tolerable, and the patient's nutritional status is optimized.
In patients who may receive stomas, preoperative counseling better prepares the patients and their families. A stomal therapist should be involved with patient care prior to surgery. Patients should also be counseled about the expectations of surgery because future recurrences are likely.
Intraoperative considerations
Most patients will have recently received corticosteroids. Therefore, perioperative steroid dosing will likely be required.
Perianal, rectal, and sigmoidoscopic examinations are often performed while the patient is under anesthesia in order to determine the presence and extent of perianal disease.
The goal of surgical resection is to remove the grossly involved bowel; microscopic disease at resection margins is acceptable. Primary anastomosis of bowel can usually be achieved. Occasionally, a proximal functioning stoma or Brooke ileostomy is required in patients in whom an anastomosis would be unsafe.
Laparoscopic resection
The laparoscopic approach to CD has been shown to be feasible as well as safe. [72, 73] Complications of CD such as abscesses, phlegmons, and recurrent disease have been safely treated laparoscopically and are not contraindications for a laparoscopic approach in these patients.
Although open resection is still used by many surgeons and should be considered the criterion standard, the laparoscopic approach is being used with increasing frequency. In children, laparoscopic intestinal resections have been used for proctectomy and pull-through procedures in Hirschsprung disease for more than a decade. [74] Segmental intestinal resections in CD can be easily accomplished as well.
No difference in recurrence rates has been found in adults undergoing laparoscopic versus open ileocolic resection, and the laparoscopic approach has been found to significantly reduce postoperative ileus duration. [75, 76] Adult patients who undergo laparoscopic ileocecectomy tend to experience a better quality of life than those who undergo the open approach. In addition, patients undergoing the laparoscopic approach report that they are more satisfied with the physical appearance of their surgical scar. [77, 78]
The LIR!C trial was a Dutch study designed to compare laparoscopic ileocolic resection with infliximab in the treatment of distal ileitis; the primary outcomes were quality of life and costs, with recurrence being a secondary outcome. [79] Laparoscopic ileocolic resection was found to be a cost-effective alternative to infliximab. [80] Long-term (mean, 63.5 months) follow-up of this trial further supported the utility of laparoscopic ileocolic resection as a therapeutic option in this setting. [81]
Surgical technique
After the patient is placed under general endotracheal anesthesia and after a urinary catheter is introduced, the abdomen is prepared and draped widely. A 12-mm incision is made in the umbilicus through which a 12-mm cannula is introduced for future insertion of the endoscopic stapling device. Two 5-mm incisions are made, one in the left midabdomen and one in the left suprapubic region; through these, grasping forceps are inserted for retraction.
The final port (if necessary) is initially 5 or 10 mm in length and is placed in the right lower abdomen in a location similar to an open appendectomy incision. This incision is subsequently enlarged to approximately 2 cm, and the specimen is extracted from the abdominal cavity through this incision (see the image below). In addition, the two ends of the intestine to be anastomosed are exteriorized through this incision, and a two-layer extracorporeal anastomosis is created.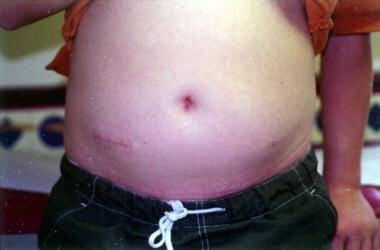 Postoperative photograph depicts the incisions used for laparoscopic ileocolectomy in a 14-year-old male adolescent with obstruction of the terminal ileum. Note the 2-cm incision in the right lower abdomen through which the specimen was extracted and the extracorporeal anastomosis performed. The 12-mm umbilical incision is nicely hidden in the depths of the umbilicus. A 5-mm incision is visible in the left lower abdomen, and another is in the left suprapubic region just above the top of the pants.
The first step in the operation is ligation and division of the proximal ileum with the endoscopic stapler. Next, with either an UltraCision Harmonic Scalpel (Ethicon Endosurgery, Cincinnati, OH) or a LigaSure device (Valleylab, Boulder, CO), the mesentery of the proximal right colon is coagulated and transected (see the image below). Then, the right lower abdominal incision is enlarged to 2 cm, and the specimen is exteriorized.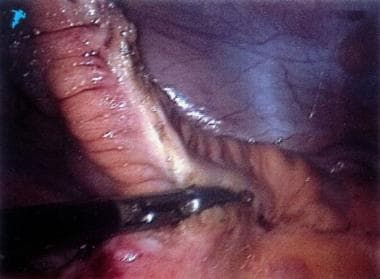 On this laparoscopic photograph, the mesentery of the terminal ileum is being coagulated with a sealing device (Ligasure; Valley Lab, Boulder, CO). Note that the ligation of the mesentery proceeds near the border of the ileum rather than at the base of the mesentery.
Alternatively, the umbilical incision may be enlarged to allow exteriorization of the specimen. With this technique, the distal margin of resection is more precisely determined and the distal resection margin can be divided with the surgical stapler. This procedure may also be performed intracorporeally with an endoscopic stapler.
Once the resected specimen is removed, the proximal small intestine is delivered through the right lower abdominal incision (or enlarged umbilical incision), and a two-layer extracorporeal anastomosis is created between the proximal and distal margins. The bowel is then returned to the abdominal cavity and all incisions are closed.
In the experience at Children's Mercy Hospital (20 patients), all patients were discharged on postoperative day 4 or 5. Nasogastric tubes were not placed in these patients, allowing for a more comfortable postoperative convalescence. Two patients developed postoperative pelvic abscesses; both were being treated with steroids for high-grade stricture at the time of surgery. One patient had a secondary stricture that required a repeat operation during the same hospital stay.
Postoperative Care
Postoperatively, an appropriate steroid taper is administered. Patients who were receiving low-dose or short-term steroid preoperatively may be treated with a more rapid taper. Parenteral nutrition is often continued until bowel function returns.
Complications
The most common complication of surgery for CD is the development of intraperitoneal adhesions. Patients with CD undergoing abdominal surgery are also at an increased risk for developing enterocutaneous fistulas as a result of their surgery.
What would you like to print?