Workup
Approach Considerations
Lymphadenopathy in children commonly arises from benign etiologies. A thorough history usually points the clinician in this direction. Furthermore, the physical examination guides the physician to the correct etiology by focusing on the distribution of the enlarged nodes (ie, regional or systemic), the exact characteristics of the involved nodes, and any other suspicious findings.
Alternatively, if the etiology remains unclear, laboratory studies, diagnostic imaging, or biopsy may be warranted, depending on the presumed diagnosis. If malignancy is suspected, a biopsy for histologic examination and testing is indicated.
Histologic findings vary, depending on the etiology. Staging is relevant only in cases involving a malignant etiology.
Laboratory Studies
In most patients, only the history and physical examination are needed to establish the likely diagnosis. However, if the diagnosis must be further refined, several tests can be performed. Generally, clinicians should perform the least invasive test that provides the most information. Furthermore, clinicians should tailor testing to the most likely diagnosis instead of performing a battery of tests on all patients with lymphadenopathy. Tests may include laboratory or radiologic investigations.
Various laboratory tests are available. In general, most laboratory indices of inflammation (eg, erythrocyte sedimentation rate [ESR], C-reactive protein [CRP], glycoproteins, fibrogen levels) do not contribute much to establishing the diagnosis, because most of the results are invariably elevated and do not provide useful suggestions regarding the exact etiology of the lymphadenopathy. Tests that are more specific are much more likely to help the clinician with the treatment of the patient.
A complete blood count (CBC) with a manual differentiation provides useful information. Leukemias are often accompanied by pancytopenia. A predominantly lymphocytic elevation (>1 × 109 cells/L) is practically diagnostic of mononucleosis; when the proportion of these cells is less elevated but still predominant, cytomegalovirus (CMV) and toxoplasmosis must be considered. Finding medium-to-large lymphocytes that can be classified as in transformation or activated is useful to indicate a viral infection.
Other useful tests may be performed to confirm or exclude specific clinical suspicions. Serum lactate dehydrogenase (LDH) may be used to determine the turnover rate of cells in the case of leukemia or lymphoma. Other tests (eg, tuberculin skin test; monospot; and titers for Epstein-Barr virus [EBV], CMV, cat-scratch disease, or toxoplasmosis) may be performed to evaluate for specific etiologies.
Imaging Studies
Chest radiography
Chest radiography may be useful to assess for potential sources of infection (eg, bacterial pneumonias or tuberculosis) and hilar adenopathy in the case of malignancy. Indeed, because numerous reports describe airway collapse with anesthetics in the case of a large anterior mediastinal mass, chest radiography should be considered before any general anesthetic is administered (see the image below).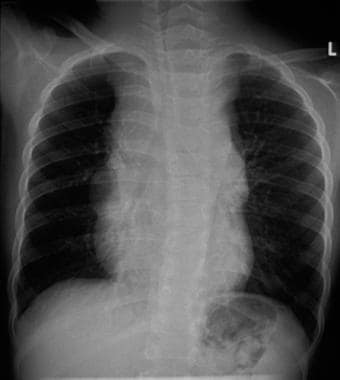 A preoperative radiograph showing a narrowed trachea secondary to an anterior mediastinal mass.
Ultrasonography
Ultrasonography (US) may be performed to distinguish the nature of the node if it is difficult to palpate. Furthermore, it may be used to distinguish the abnormality from other potential anatomic structures (eg, dermoid cysts, thyroglossal duct cysts, branchial cleft cysts, inguinal hernias, undescended testicles). US may reveal relations to contiguous structures and offer information about the content of the enlarged lymph node or nodes (ie, solid vs liquid or gas, homogeneous vs nonhomogenous). Finally, in some studies, US has been used in an effort to establish etiology on the basis of sonographic characteristics.
A study by Zakaria et al, which compared sonoelastography (ultrasound elastography) with B-mode US and color Doppler US in 177 lymph nodes from 128 children (age range, 11 months to 12 years), suggested that sonoelastography may be superior to other US modalities for helping distinguish benign from malignant lesions. [16] A subsequent study by Elgendy et al found sonoelastography useful in diagnosing malignant cervical lymphadenopathy but concluded that it was not a replacement for surgical biopsy. [17] Further studies with more patients are needed.
Computed tomography
Computed tomography (CT) is useful for depicting deep lymph nodes, especially in the thoracic and abdominal cavities. It may be the only noninvasive technique available to evaluate these areas for other potential areas of lymphadenopathy and determine a potential source of malignancy (eg, neuroblastoma, Burkitt lymphoma, rhabdomyosarcoma). Furthermore, chest CT may add to the information obtained from chest radiography and may depict an anterior mediastinal mass, as well as the extent of tracheal or bronchial airway compression (see the images below).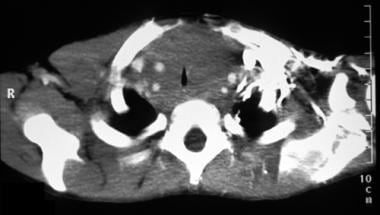 A CT scan showing an anterior mediastinal mass and compression of the trachea.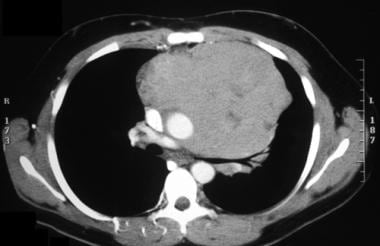 A CT scan showing an anterior mediastinal mass and compression of the left mainstem bronchus.
A preliminary study by Cahalane et al found that the addition of textural analysis to pediatric CT protocols improved the ability of CT to distinguish benign from malignant lymphadenopathy, thereby potentially reducing the need for follow-up imaging and tissue sampling, as well as associated radiation exposure. [18] Additional studies will be needed to determine the clinical applicability of textural analysis in this setting.
Fluorodeoxyglucose positron emission tomography
18F-Fluorodeoxyglucose positron emission tomography (18FFDG-PET) has been used in adult patients with lymphoma and, subsequently, in children to assist in diagnosis and to monitor disease during therapy. [19] It has been applied to both Hodgkin and non-Hodgkin lymphomas, with promising findings. However, clinicians must be cautious with the use of 18FFDG-PET because a high number of false-positive results in children have been reported as a consequence of a higher inflammatory reaction to inciting agents.
Biopsy
Fine-needle aspiration (FNA) biopsy (FNAB) has been used extensively in adults and has also been described in children. [20, 21, 22, 23] The cited advantages of FNAB include the following [21] :
It can be performed in the outpatient department

It is simple and rapid

It does not require general anesthesia

It has low morbidity

It is cost-effective

It produces minimal scarring
The sensitivity and specificity of FNAB in determining the etiology of lymphadenopathy are higher than 90%. [21, 23] Most patients who have a benign diagnosis on FNAB do not undergo surgical biopsy. However, in most centers, FNAB is still not practiced in children. Furthermore, whether the advantages of FNAB outweigh the perceived limits remains to be established. These limits include the following:
Center dependence on pathologists who are accustomed to making diagnoses on the basis of FNAB alone

Potential risk of seeding a tract with malignancy

Continued need for at least conscious sedation in most children
Most oncology protocols now require special studies to be performed on the nodal tissue, including cytogenetics, flow cytometry, electron microscopy, and special stains that FNAB does not allow.
To obtain larger samples, some investigators have used core needle biopsy (CNB) techniques with US or CT guidance. [24] This allows procurement of more tissue, which may be needed in difficult diagnoses.
Endobronchial US-guided transbronchial needle aspiration (EBUS-TBNA) and endoscopic US with echobronchoscope-guided FNA (EUS-B-FNA) have been found to be safe and to have a fair-to-good diagnostic yield in children with mediastinal lymphadenopathy. [25, 26]
What would you like to print?