Presentation
History and Physical Examination
Painless bleeding
Lower gastrointestinal (GI) hemorrhage is the most common symptom in patients with a symptomatic Meckel diverticulum. [8] The mean age is 2 years, though this problem may occur in older children and even adults. The bleeding is typically painless; it can be massive and may require blood transfusion. Other causes of bleeding that may occur in this same age group include anal fissure, juvenile retention polyps, hemangiomas, peptic ulcer disease, inflammatory bowel disease, and primary hematologic disorders.
Bleeding is secondary to ulcerated ileal mucosa resulting from ectopic gastric mucosa that is contained within the Meckel diverticulum. The gastric mucosa secretes acid, which results in ulceration of the adjacent normal ileal mucosa. (See the images below.)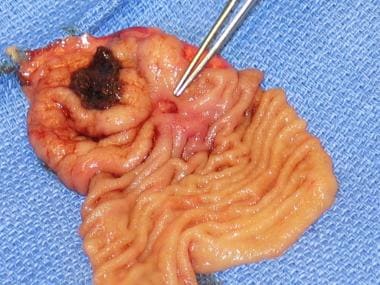 Meckel diverticulum has been opened after resection, revealing ulcer and ectopic tissue, as indicated by forceps. Image courtesy of Richard A Falcone, Jr, MD.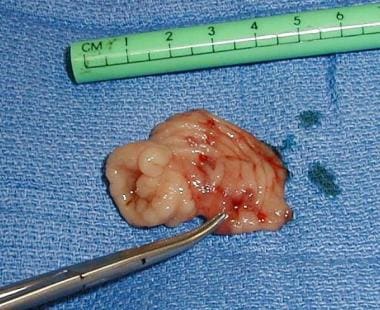 Resected Meckel diverticulum demonstrating ulcer.
Bowel obstruction
In children, obstruction is the second most common symptom in patients with symptomatic Meckel diverticula and occurs in approximately 25% of symptomatic patients. Obstruction can be caused by several mechanisms. Volvulus of the small intestine may occur around a Meckel fibrous band attached to the umbilicus. Intussusception of the Meckel diverticulum may also result in intestinal obstruction. Incarceration of the diverticulum in a hernia, known as a Littre hernia, is a third cause of obstruction.
Another cause of bowel obstruction is entrapment of small bowel beneath the blood supply of the diverticulum, also known as a mesodiverticular band.
Meckel diverticulitis
Diverticulitis may occur in as many as 20% of patients with complications from a Meckel diverticulum. Meckel diverticulitis is commonly misdiagnosed as acute appendicitis. Inflammation of the diverticulum may be due to obstruction of the lumen, which is analogous to the pathophysiology of acute appendicitis. Progression of such inflammation may lead to perforation and peritonitis. The possibility of Meckel diverticulitis underscores the need to explore the distal small bowel in patients with suspected appendicitis when a normal appendix is found.
Umbilical drainage
Drainage of succus entericus or feculent discharge is due to a patent omphalomesenteric duct, whereas clear drainage should prompt a search for a urachal remnant.
Umbilical mass or infection
Omphalomesenteric duct remnants may persist as an actual cystic structure, typically just beneath the umbilicus. This structure may be palpable upon physical examination or, if infected or ruptured, may lead to inflammatory changes in the umbilicus.
Perforation
Because a Meckel diverticulum may contain ectopic gastric mucosa, the bordering small intestine mucosa may ulcerate, which may cause actual perforation of the intestine. This leads to peritonitis and free intraperitoneal air, which can be seen on plain abdominal films. The intestine may also perforate if a closed-loop bowel obstruction is allowed to progress to bowel-wall necrosis.
What would you like to print?