Treatment
Approach Considerations
Any child with a suspected rhabdomyosarcoma (RMS) requires a tissue diagnosis confirmation and surgical staging. Thus, early surgical consultation is mandatory to allow accurate diagnosis and treatment planning.
In general, a small resectable tumor of nongenitourinary origin may be treated initially with complete resection. Contraindications for initial surgical excision include unresectable disease outside of the pelvis or retroperitoneum and disease that would necessitate disfiguring or disabling resection. A tumor that is unresectable or is resectable only through mutilating surgery may be treated with incisional biopsy or core needle biopsy (CNB), followed by chemotherapy, radiation therapy (RT), or both, as well as possible definitive surgical resection.
Wide local excision is avoided in head and neck tumors, particularly if excision will result in a significant cosmetic or functional defect. Orbital exenteration for orbital RMS should be performed only for local recurrence. Vaginal or uterine RMS in the pediatric patient is treated with biopsy, followed by chemotherapy with or without radiation and then second-look surgery. Residual disease may necessitate partial vaginectomy.
Primary bladder tumors are no longer treated with anterior pelvic exenteration. Instead, chemotherapy and, occasionally, RT for persistent disease are used. [28] This therapy has allowed a functional bladder to be retained in 60% of patients 4 years after diagnosis, with a survival rate of 89%.
Whereas earlier studies suggested that prognosis was not improved by a resection that did not remove all gross disease, subsequent studies suggested that pretreatment debulking of 50% or more of the tumor volume in patients with retroperitoneal and pelvic RMS may result in superior failure-free survival. [23]
The surgeon should evaluate the draining lymph node basin for selected sites (eg, extremity, trunk, or paratesticular location). The Intergroup Rhabdomyosarcoma Study (IRS) Group (IRSG) recommends aggressive nodal sampling; however, the surgeon may also consider lymph node mapping and sentinel lymph node biopsy (SLNB) with preoperative lymphoscintigraphy. [29, 30]
Certain sites (eg, extremity, trunk, and paratesticular) have a predilection for lymphatic metastases. Accordingly, SLNB with preoperative lymphoscintigraphy is recommended for these sites and has been found to be superior to positron emission tomography (PET) alone. However, these recommended protocols often are not followed, and this failure of procedure has an impact on patient survival. [24]
Investigations are under way through the Soft Tissue Sarcoma Committee of the Children's Oncology Group. These studies seek to verify the stratification-based treatment algorithm. Future studies will aim to continue to improve survival while minimizing the morbidity and mortality resulting not only from the malignancy but also from its treatment.
In addition, it should be remembered that local control is achieved by a combination of resection and RT. Outcomes are best when both modalities are employed. If RT is to be held or diminished out of concern for long-term morbidity, it is important for the surgeon to utilize resection as the primary form of local control.
Novel therapies, including oncolytic viruses, dendritic-cell vaccines, and monoclonal antibodies, are under current clinical investigation.
Nonoperative Therapy
Current recommendations stem from IRS-V, in which treatment is stratified according to risk—low, intermediate, or high—on the basis of risk of disease recurrence and overall survival. Patients are then staged on the basis of the primary tumor site. Favorable sites include the orbit, nonparameningeal head and neck sites, and genitourinary nonbladder/nonprostate sites; all other sites are unfavorable. [13]
Staging is further refined on the basis of primary tumor size (< 5 cm or ≥5 cm), regional lymph node involvement, distant metastases, and histologic subtype (see Staging). Alveolar subtypes are now stratified according to gene fusion status.
Chemotherapy
Low-risk patients receive vincristine weekly for nine doses and actinomycin D with or without cyclophosphamide (VAC regimen) and granulocyte colony-stimulating factor (G-CSF) for four doses every 12 weeks (at weeks 0, 12, 24, and 36). RT is added in patients with residual localized disease.
The protocol for intermediate-risk patients includes RT and either VAC or VAC plus topotecan (according to randomized assignment) for nearly 1 year. For patients with intermediate-risk disease, VAC-VI (irinotecan) has been shown to be as effective as VAC while decreasing the dose of cyclophosphamide. A currently open intermediate-risk RMS trial is examining the use of temsirolimus with a VAC-VI backbone.
High-risk patients begin therapy with irinotecan, which is followed by VAC and RT. Newer chemotherapeutic agents and molecular therapies are frequently tried in high-risk, relapse, and disease-progression patients in the hopes of improving outcomes.
Radiation therapy
RT is administered to patients who are at increased risk for local tumor recurrence. It is used in almost all RMS patients (except clinical group I embryonal RMS [ERMS]) to improve local control and outcome. Candidates for RT primarily include patients with group I alveolar RMS (ARMS; 36 Gy), group II RMS (41.4 Gy), or group III RMS (50.4 Gy).
The impact of therapy is determined by the location of the primary and the degree of residual disease remaining after surgical resection when RT is initiated [31] . RT dosing can be adjusted on the basis of either the completeness of resection before chemotherapy (clinical grouping) or the completeness of a delayed primary excision after adjuvant chemotherapy. RT in very young children with RMS poses a unique therapeutic challenge because of concerns about long-term toxicity. [9]
Outcomes and local control are worse for for infants than for older children because the former are frequently undertreated. Intensity-modulated RT (IMRT) and proton-beam RT can help reduce the total dose and decrease late effects. [32, 33]
Patients with group II disease (microscopic residual disease) have a high risk of local recurrence if prescribed RT is omitted or reduced. Million et al noted that more than half of the patients who experienced relapse at the original tumor site received nonstandard RT and that three quarters of these patients died of their disease. [34]
Surgical Therapy
The aim of surgical treatment is to remove the tumor in its entirety, including a surrounding margin of normal tissue, when the tumor is resectable without the patient experiencing functional or cosmetic impairment. At present, there is no role for tumor debulking in surgical therapy for RMS.
First, the surgeon must obtain a tissue diagnosis. The initial surgical intervention may consist either of wide local excision or of incisional or excisional biopsy. Incisional biopsies should be planned to ensure that the scar does not impede later attempts at resection, particularly in the case of extremity tumors. Thus, biopsy incisions on the extremity should always be longitudinal. (See the image below.) Patients in whom margins are positive or of unknown status should be considered for reexcision.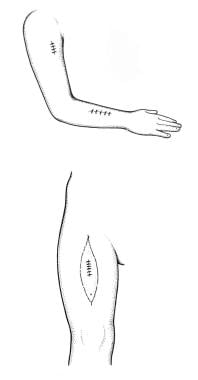 Proper orientation of the biopsy allows complete resection at second operation.
Anesthetic administration should be planned to incorporate any procedures that the child will need. For example, the surgeon should discuss the possible need for a central venous line, bone marrow aspiration, lymph node evaluation, and biopsy with the oncologist, the patient, and the family, so that, if necessary, all procedures can be performed on the same day.
Thorough preoperative planning is essential because of the various surgical options that may be necessary in children with RMS, and the surgeon should take into consideration the possibility of obtaining clear margins when determining the initial surgical approach. In the event of resection after chemotherapy and RT, if the surgeon is unsure that complete excision can be achieved safely, placement of brachytherapy catheters or administration of intraoperative RT may be discussed before operative intervention.
Unlike adult sarcoma, pediatric RMS may be present in the lymphatics in approximately 40% of cases. Accordingly, it is important to evaluate the lymphatics in all children with RMS. This is best performed at the time of the initial procedure, particularly if lymphatic mapping with SLNB is planned, because prior biopsy or excision may disrupt the lymphatics.
Surgical options for evaluating the lymphatics include aggressive node sampling and SLNB (see the image below). Formal lymph node dissection is not recommended, because it has not been shown to significantly improve survival, even in patients with histologically positive nodes.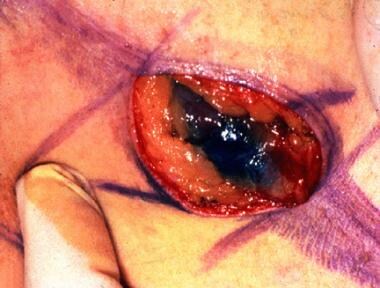 Sentinel node biopsy after lymphatic mapping in a child with rhabdomyosarcoma. Notice that the incision is oriented to allow extension or incorporation of the incision should further dissection be necessary. The sentinel node should be blue and should have high counts of radioactive tracer signal when checked with the gamma probe.
Exceptions to wide local excision include head and neck tumors, vaginal/uterine tumors, and bladder tumors.
Operative details
Preoperatively, all radiographic studies should be reviewed for evidence of metastases or signs of local invasion that may complicate resection. The surgeon should be prepared to perform a complete resection, when indicated, in order to afford the child the best possible prognosis.
If surgical margin status in unclear or a biopsy was initially performed for the tumor and the surgeon believes that it is possible to achieve complete tumor excision prior to chemotherapy, pretreatment reexcision (PRE) is recommended, including a wide reexcision of the operative site with adequate margins. This is most commonly seen with extremity and trunk lesions, and if negative margins can be obtained, the patient would be considered group 1.
Regardless of the tumor site, the surgeon should strive for a complete resection, without causing mutilation or disability. When the margins are in doubt, frozen sections should be sent for analysis. Frequently, major neurovascular structures are in the resection field. When these structures are essential, a careful resection should be undertaken to remove as much of the tumor as possible. In these cases, brachytherapy, intraoperative RT, or postoperative RT may be beneficial. Studies suggest that debulking has no advantage over biopsy in terms of survival. [35]
Postoperative Care
Patients should be observed postoperatively to ensure adequate wound healing and to examine for signs of local or distant recurrence.
Postoperatively, the tumor is graded on the basis of the extent of resection. This should be determined once the pathology is completed to determine the need for additional medical or surgical therapy. When possible, tumors with positive margins should be reexcised.
Complications
Complications vary according to the site of the primary tumor. Because of the frequency of preoperative RT, the surgeon should be aware of the possibility of impaired wound healing.
Long-Term Monitoring
Multiple issues arise in long-term survivors of RMS. Late effects include pituitary dysfunction, secondary malignancies, hearing loss, and thyroid complications in those with head and neck RMS, as well as bony defects and growth in those with RMS of the extremities. This underscores the need for long-term follow-up in survivors.
What would you like to print?