Workup
Approach Considerations
Preoperative laboratory analysis is essential for any patient undergoing surgical treatment of rhabdomyosarcoma (RMS). Imaging is also required for operative management. Metastatic disease is evaluated through bone marrow analysis; bone scanning; computed tomography (CT) of the brain, lungs, and liver; and cerebrospinal fluid (CSF) analysis. Positron emission tomography (PET) may be included in the workup of a patient with RMS to evaluate occult metastases and regional adenopathy.
Any child with a suspected RMS requires confirmation by tissue diagnosis as well as surgical staging, including evaluation of regional lymph nodes at the time of surgery (depending on the location of the tumor). Thus, early surgical consultation is mandatory. The surgeon then helps determine, on the basis of the location and stage of the tumor, how best to proceed. Although the recommendation for lymph node biopsy has existed since 2003, surgical compliance with protocols regarding nodal excision has been poor, and this has affected patient outcome and overall survival. [24]
Laboratory Studies
Laboratory tests used in the workup of RMS include the following:
Complete blood count (CBC) - Anemia, neutropenia and thrombocytopenia may be seen in patients with RMS

Electrolytes, blood gases, and protein - Sodium, potassium, chlorine, carbon dioxide, calcium, phosphorus, and albumin should be evaluated before the initiation of chemotherapy

Renal function tests - Blood urea nitrogen (BUN) and creatinine must be evaluated before chemotherapy

Liver function tests - Results of these (including aspartate transaminase [AST], alanine transaminase [ALT], and bilirubin) may be altered by metastasis of RMS to the liver

Urinalysis - Hematuria may be seen in patients with genitourinary RMS
Fluorescence in situ hybridization (FISH) may be utilized to determine translocations t(1;13) or t(2;13), which are often present in alveolar RMS (ARMS), and to direct treatment.
Reverse transcriptase–polymerase chain reaction (RT-PCR) is used to evaluate for translocations associated with ARMS when cytogenetic evaluation is not possible or when results from cytogenetic testing are equivocal.
Imaging Studies
The goal of the evaluation in a patient with a suspected RMS should be to define the local extent of the tumor (ie, its resectability), the degree of lymph node involvement, and the rpesence or absence of distant metastasis.
CT or magnetic resonance imaging (MRI) of the primary tumor is necessary to assess the size of the tumor and its extension into adjacent structures. These studies also assist in narrowing the differential diagnosis. PET-CT may prove valuable in the staging and preoperative evaluation of pediatric RMS. [25]
A bone scan is performed to rule out metastatic disease to the skeletal structures. CT of the chest is also recommended to rule out metastasis to the pulmonary parenchyma.
Echocardiography should be performed in all patients as a baseline study before the initiation of chemotherapy with cardiotoxic side effects.
Diagnostic Procedures
The bone marrow should be evaluated by means of bone marrow aspiration to rule out metastatic spread to the marrow.
If complete surgical resection is not feasible, an open incisional biopsy to evaluate histologic characteristics should be performed. Core biopsy is often deemed inadequate because of insufficient tissue sample and sampling error. For suspected tumors of the bladder, prostate, and vagina, endoscopic biopsy may be required.
Histologic Findings
The diagnosis of RMS should be confirmed through histologic evaluation of a tissue specimen, which may be attained by means of core, incisional, or excisional biopsy. The characteristic histologic finding of RMS is a small, blue, round cell (see the image below); this finding is pathognomonic for the disease. Cross-striations may be seen with light microscopy. Desmin, myogenin, myoD1, and muscle-specific actin are often seen in RMS. (For additional information, see Rhabdomyosarcoma.)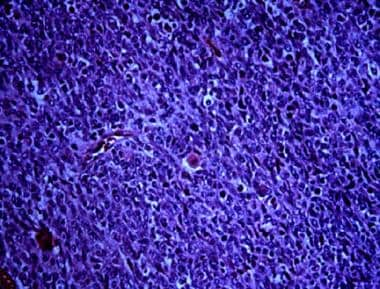 The histologic findings in rhabdomyosarcoma.
Staging
Once the diagnosis of RMS has been made, the tumor should be staged. The staging system currently used for RMS is the Lawrence-Gehan staging system, which is initiated preoperatively and then completed after resection. [26] The four stages and the associated primary disease sites may be summarized as follows:
Stage 1 - Orbit/eyelid, head and neck (excluding parameningeal [PM]), genitourinary (excluding bladder/prostate)

Stage 2 - Bladder/prostate, extremity, PM, other (eg, trunk, retroperitoneum), smaller than 5 cm

Stage 3 - Bladder/prostate, extremity, PM, other (eg, trunk, retroperitoneum), larger than 5 cm

Stage 4 - All others
The staging is explained in greater detail in Tables 1 and 2 below.
Table 1. TNM Classification of Rhabdomyosarcoma (Open Table in a new window)
Tumor (T)

T1

T1a

T1b

Tumor confined to site of origin

< 5 cm

≥5 cm

T2

T2a

T2b

Tumor extending into surrounding tissue

< 5 cm

≥5 cm

Node (N)
N0
No lymph node involvement
N1
Clinical involvement of lymph nodes
NX
Unknown lymph node status
Metastasis (M)
M0
No metastasis
M1
Metastasis present
Table 2. Pretreatment Staging of Rhabdomyosarcoma. (Open Table in a new window)
Stage

Sites

T

Size

N

M

1

Orbit, head/neck (no parameningeal involvement), genitourinary (no bladder/prostate involvement)

T1 or T2

< 5 cm or ≥5 cm

N0 or N1 or Nx

M0

2

Bladder/prostate, extremity, cranial, head/neck parameningeal, other (trunk, retroperitoneum, thorax)

T1 or T2

< 5 cm

N0 or Nx

M0

3

Bladder/prostate, extremity, cranial, head/neck parameningeal, other (trunk, retroperitoneum, thorax)

T1 or T2

< 5 cm

N1

M0

≥5 cm
N0 or N1 or Nx
M0

4

Any

T1 or T2

< 5 cm or ≥5 cm

N0 or N1

M1
The Intergroup Rhabdomyosarcoma Study Group (IRSG) postsurgical pathologic grouping is as follows:
Group I - Localized disease, completely resected (clear margins, negative regional nodes)

Group II - Microscopic disease remaining (at margins or in regional nodes)

Group III - Incomplete resection or biopsy findings indicating gross residual disease (locally or in regional nodes)

Group IV - Distant metastases present at onset
Several studies have suggested that a cutoff tumor size of 5 cm may not be the best tool for staging pediatric RMS. Owing to variations in the body surface area (BSA) of children, the tumor size in relation to the patient's BSA and volumetric measurements may be more useful in staging. [27]
What would you like to print?