Follow-up
Return to Play
Return to play is an individualized process for athletes with cervical facet joint syndrome. No specific time frame exists for a particular injury. Safe return to play is allowed after the appropriate sport-specific rehabilitation program is completed and the athlete demonstrates full pain-free ROM and proper neutral spine posture with sport-specific activities.
Despite the extensive amount of literature regarding the surgical management of sport-related diseases of the cervical spine, there is a paucity of information concerning the indications for returning to sports after such procedures. Nonsurgical traumatic diseases include sprain/strain, spear tackler's spine, and "stingers."
Ligamentous injuries should be treated and observed with great caution. Radiographs in the neutral, flexed, and extended positions should be obtained and the degree of movement measured. Horizontal movement of one vertebral body on the next should not exceed 3.5 mm and the angular displacement of one body on the next should be less than 11°. These criteria may not always be applicable in the younger athlete, in whom ligamentous laxity may accentuate these measurements. More specifically, the normal translation of the OA joint in the sagittal plane is insignificant. The C1-C2 translation is normally between 2 and 3 mm, although some authors suggest 2.5 mm for adults and 4.5 mm for children as the upper limit of normal motion.
For the lower cervical segments (C2-T1), normal translation in the sagittal plane is between 2.7 mm and 3.5 mm. Ligamentous injuries, however, seem to be more common in the younger athlete (age < 11 y), and they are located in the cephalic portion of the cervical spine; osseous and more caudally located injuries are seen in the older athlete.
If any evidence of ligamentous instability exists, the athlete must be placed in a rigid collar. Flexion and extension radiographs must then be obtained 2-4 weeks after the injury. If there is no evidence of progression, or a return to normal, it is unlikely that any significant injury has occurred and the athlete can most likely return safely to contact sports.
"Wry neck" may suggest articular process subluxation or even unilateral dislocation (see the image below). The muscle tone may be severe enough to prevent reduction. The suspicion of wry neck requires careful investigation and diagnostic acuity. Neurologic status must be assessed before and after reduction and the neck protected for 6-8 weeks or until healing is complete.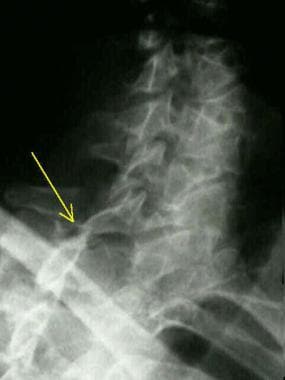 Unilateral facet dislocation.
Some authors recommend a cervical magnetic resonance imaging (MRI) study if symptoms following a stinger-type injury persist for more than a few minutes and an electromyography (EMG) evaluation if they last longer than 2 weeks.
As a general rule, any athlete with a permanent neurologic injury should be prohibited from participating in further competition. Athletes without spinal cord injuries, and with stable fractures as evidenced by flexion-extension radiographs, should be allowed to return to their normal daily activities. Those with paresthesias or brachial plexus injuries may return to play, once their neurologic examination returns to normal and they are asymptomatic at rest and at play. Those who require a halo vest or surgical stabilization should be withdrawn from contact sports altogether. In these cases, the spine is considered to be insufficient to withstand the load and stress encountered in collision sports. Even after healing has occurred, the altered biomechanics and loss of motion in the surrounding spinal segments may produce devastating future sports-related injuries.
What would you like to print?