Presentation
History and Physical Examination
The mass is generally 1-3 cm in diameter. It is a painless swelling in the substance of the sternocleidomastoid muscle and develops in neonates aged 2-3 weeks. In infants, the tumor is hard, and the patient's head is tilted and flexed to the side of the fibrosis.
In older children, however, the tumor is less discrete than it is in younger children, and the sternocleidomastoid muscle appears thickened and foreshortened along its entire length. This thickening restricts rotation and lateral flexion of the neck. This rotation and lateral flexion of the neck is largely responsible for the gradual increase in positional plagiocephaly. [12, 13]
Older children compensate for the head tilt by elevating their shoulder to maintain a horizontal plane of vision (see the image below). The head tilting is further compensated by twisting the neck and back, if required, to maintain a straight line of sight. These compensatory mechanisms do not occur in infants, who do not need to maintain a horizontal plane of vision until they stand up. Also, in older patients, muscular spasms play a role or accompany torticollis.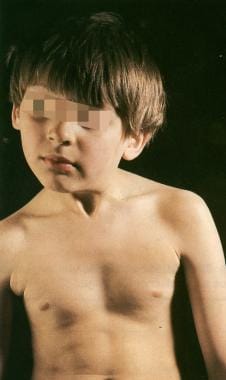 Appearance of torticollis as result of sternomastoid fibrosis in young child.
It is important to differentiate muscular from nonmuscular torticollis. Congenital muscular torticollis is benign; missing a case of nonmuscular torticollis is potentially life-threatening. [14]
During clinical examination, the entire length of the muscle must be palpated to determine if fibrosis or an area of fibrosis is present along the entire length of the muscle. The anterior border of the muscle must be palpated. It generally stands out as a tight band. This may be difficult to detect in small infants because the neck is relatively short.
If the muscle is neither short nor prominent, alternative differential diagnoses must be considered, such as the following:
Abnormal position in utero

Cervical hemivertebrae

Cervical lymphadenitis

Cervical abscess

Retropharyngeal abscess

Ocular muscle torticollis

Tumors of the posterior fossa

Atlanto-occipital subluxation

Sandifer syndrome

Postural abnormalities
What would you like to print?