Overview
Practice Essentials
Torticollis is a condition in which the neck is twisted and the head inclined to one side. [1] It is most commonly the result of unilateral tightness and shortening of one sternocleidomastoid (SCM) muscle. The earliest description of this condition dates back to writings from the ancient Greek civilization. According to Plutarch, Alexander the Great may have had torticollis.
Torticollis occurs in 0.4% of all births. A visible or sometimes palpable swelling, often referred to as a sternomastoid tumor, appears in a part of the muscle in infants aged 2-3 weeks. It often persists until they are aged 1 year. It is rarely bilateral and may be seen in older children in whom the mass was not previously identified.
Although the diagnosis of pediatric torticollis is easily made upon physical examination by an experienced clinician, ultrasonography (US) is the most commonly ordered test.
Management of torticollis in children is primarily nonoperative, generally consisting of parental physiotherapy. (See Treatment.) Surgical management is indicated only in specific relatively rare situations. Surgical management of congenital muscular torticollis is generally avoided until the child is aged at least 1 year, conservative methods have failed, and other diagnoses are excluded.
Pathophysiology
An end-arterial branch of the superior thyroid artery supplies the middle part of the SCM; obliteration of this end artery may be responsible for the development of muscle fibrosis. (See the image below.) As an alternative, primary trauma that temporarily and acutely obstructs the veins may lead to intravascular clotting in the obstructed venous tree. In infants, this clotting is evidenced by the development of an SCM mass, which eventually disappears and is replaced by fibrous tissue.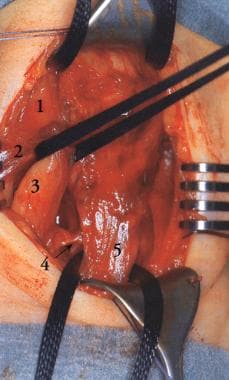 Surgical view of sternomastoid fibrosis shows thyroid gland (1), inferior thyroid artery (2), fibrosis of sternal part of sternocleidomastoid muscle (3), brachiocephalic trunk (4), and normal clavicular part of sternocleidomastoid muscle (5).
Abnormalities in the basal ganglia may be involved in the pathophysiology of spasmodic torticollis. [2] On the other hand, some vestibular abnormalities have been reported that are not explainable solely as secondary to abnormal head and neck movements in spasmodic torticollis but seem to be more intimately related to its pathophysiology. In this respect, abnormal interaction of vestibular signals with higher-order motor commands and disrupted central vestibular processing (perhaps caused by subtle imbalances in the vestibular system) seem particularly important. [3]
Etiology
The etiology of torticollis is incompletely understood, though several theories have been advanced. [4, 5] Reports on the familial transmission of congenital muscular torticollis have been few. An idiopathic intrauterine embryopathy or the intrauterine development of SCM compartment syndrome may be responsible for the sternomastoid fibrosis.
Congenital structural abnormalities of the vertebrae can also cause torticollis, though osseous torticollis is substantially less common than muscular torticollis. [6]
Prognosis
Recurrent torticollis after surgery is rare (frequency, ~5%). [7] Even in patients older than school age and those who have finished growth, sufficient unipolar or bipolar release of the SCM and intensive postoperative care can generally be expected to yield satisfactory treatment results. [8]
Secondary effects of untreated torticollis include the following:
Plagiocephaly

Facial hypoplasia

Musculoskeletal effects
Plagiocephaly is an asymmetric skull deformity in infants that is caused by flattening of one occiput that leads to secondary flattening of the contralateral forehead. After the torticollis resolves, the plagiocephaly resolves; however, several years may pass before it disappears. [9] Although torticollis can predispose to plagiocephaly without synostosis (PWS), torticollis appears to result from plagiocephaly in a large proportion of cases of plagiocephaly with scoliosis. [10]
Facial hypoplasia is inhibition in the growth of the mandible and maxilla due to muscle inactivity. Clinically significant facial hemihypoplasia develops over 8 months; however, it is obvious in patients at the age of 2-3 years. Facial hypoplasia improves as the child grows, after the torticollis resolves. [11]
Musculoskeletal effects include compensatory ipsilateral elevation of the shoulder, as well as cervical and thoracic scoliosis. Wasting of additional muscles in the neck may be present as a consequence of SCM inactivity.
Congenital muscular torticollis has also been reported to be a significant risk factor for later neurodevelopmental conditions (eg, attention-deficit/hyperactivity disorder [ADHD], developmental coordination disorder, language impairment, and autism spectrum disorder [ASD]), with disorders presenting at different stages of development. [12]
What would you like to print?