Treatment
Approach Considerations
Management of torticollis in children is primarily nonoperative, generally consisting of parental physiotherapy. The rare indications for surgical management include the following:
Persistent sternocleidomastoid contracture limiting head movement

Persistent sternocleidomastoid contracture accompanied by progressive facial hemihypoplasia

Torticollis in children older than 12 months
Surgical management of congenital muscular torticollis is generally avoided until the child is aged at least 1 year, [19] until conservative methods (eg, physiotherapy) are unsuccessful, and until other differential diagnoses are excluded.
Medical Therapy
Medical management of torticollis involves conservative treatment. [20] Sternocleidomastoid fibrosis spontaneously resolves in the vast majority of infants. A large prospective study demonstrated that controlled manual stretching is safe and effective in the treatment of congenital muscular torticollis when a patient is seen before the age of 1 year. [21, 22]
Physiotherapy may be recommended; however, there is little evidence to indicate that this alters the course of the condition if the patient is older than 1 year. Evidence-based guidelines for the use of physical therapy (PT) in patients with congenital muscular torticollis have been developed by the American Physical Therapy Association (APTA). [23]
Published data demonstrate that patients with a thicker sternocleidomastoid, a lower birth weight, and a history of breech delivery have a longer rehabilitation duration. [24, 25]
Kinesiology taping is another approach that is sometimes adopted in conservative management. [26] When applied on the affected side, it has an immediate effect on the muscle function scores for the muscular imbalance in the lateral flexors of the neck.
Botulinum toxin (BTX) type A has been injected into the sternocleidomastoid for the treatment of congenital muscular torticollis in pediatric and adult patients. [27] Modest benefit with improved range of motion (ROM) has been reported, but studies have been relatively few and follow-up relatively short.
In a study of 39 children with treatment-resistant congenital muscular torticollis, Limpaphayom et al evaluated the adjunctive use of BTX injection into the sternocleidomastoid, followed by PT. [28] None of the patients required tendon-lengthening surgery. At the final evaluation, there were improvements in both head tilt (18.7º ± 6.8º vs 1.7º ± 2.4º; mean difference, 16.9º) and neck ROM (56.0° ± 11.7º vs 86.0º ± 3.8º; mean difference, 30.0º). Caregivers were satisfied with the treatment protocol, and no untoward effects were observed during the study period.
In a systematic review and meta-analysis of one nonrandomized experimental study and nine cases or case series (N = 411), Qiu et al assessed the effectiveness and safety of botulinum toxin injections for congenital muscular torticollis and found an 84% overall effective rate, a 9% rate of conversion to surgery, and a 1% adverse reaction rate (primarily injection-site erythema and transient dysphagia). [29]
Only about 4-5% of patients are surgically treated, generally after the age of 1 year.
Successful bilateral pallidal stimulation has been reported in a patient with Meige syndrome and spasmodic torticollis. [30]
Surgical Therapy
Patients whose pathology does not resolve after 12 months of physical therapy or who develop facial asymmetry or plagiocephaly during the follow-up period should undergo surgery to achieve the best cosmetic result. [31, 32] In delayed cases, additional surgery may be needed for the best cosmetic and functional result.
Operative details
Surgery is performed with the patient under general anesthesia. A 3- to 4-cm transverse skin incision is made about 1 cm over the sternal and clavicular origins of the affected muscle. (See the image below.) The platysma is carefully divided along the line of incision to avoid injury to the external jugular vein. The two heads of the sternocleidomastoid are dissected free. The muscle is divided with diathermy to prevent bleeding. The platysma is then sutured with absorbable 4-0 skin suture, and the skin is closed with continuous 4-0 nonabsorbable skin suture.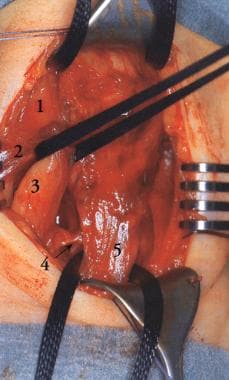 Surgical view of sternomastoid fibrosis shows thyroid gland (1), inferior thyroid artery (2), fibrosis of sternal part of sternocleidomastoid muscle (3), brachiocephalic trunk (4), and normal clavicular part of sternocleidomastoid muscle (5).
Ekici et al described an approach to surgical management of congenital muscular torticollis that used the Z-plasty technique. [33]
Surgical treatment of torticollis via an endoscopic or minimal-access approach has been reported. Sasaki et al described surgical correction of muscular torticollis via endoscopic tenotomy of the sternocleidomastoid. [34] Tokar et al described a para-axillary subcutaneous endoscopic approach (PASEA) to congenital muscular torticollis and found it to be an alternative worth considering for surgeons with experience in pediatric minimally invasive surgery. [35] Teja et al reported good results with "stealth" surgery (ie, subcutaneous endoscopic surgery) in five children with torticollis. [36] Pan reported good results with transaxillary subcutaneous endoscopic sternocleidomastoid division. [37]
Complications
Hematomas may develop because of inadequate hemostasis during surgery. Incomplete division may cause the condition to persist.
Long-Term Monitoring
Follow-up should be continued until the torticollis resolves completely, until head and neck movement normalize, and until cervical and thoracic scoliosis is resolved in older children.
What would you like to print?