Presentation
History
Prenatal and neonatal history
Prenatal polyhydramnios is present in most patients with congenital forms of metabolic alkalosis, especially chloride-losing diarrhea (CLD). Premature birth resulting from polyhydramnios is common in patients with Bartter syndrome and CLD. Lack of meconium is highly suggestive of intrauterine diarrhea. Prolonged neonatal jaundice may be present. A history of hypotonia and lethargy without sepsis is significant in patients with early-onset hypochloremia and hypokalemia.
Infant history
In infants, a history of repeated vomiting may be suggestive of severe gastroesophageal reflux or pyloric stenosis. Failure to thrive is common. Constipation is very common in patients with Bartter syndrome. Diarrhea, when watery (see the image below), is highly suggestive of CLD.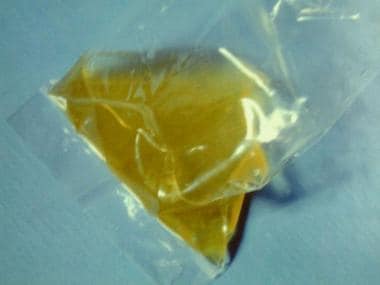 Watery stool from an infant with congenital chloride-losing diarrhea. Chloride level was 205 mmol/L.
A salty taste upon being kissed may help identify patients with cystic fibrosis. Guidelines for newborn screening for cystic fibrosis have been established by the Centers of Disease Control and Prevention (CDC). [11] Central nervous system (CNS) dysfunctions (eg, lethargy, confusion, or seizure) are observed in patients with severe alkalosis. Neuromuscular symptoms include weakness and muscle cramps.
Other symptoms (eg, abdominal distention, dry skin, apathy, loss of interests, growth retardation, [12] and frequent hospital admissions because of recurrent dehydration) are significant diagnostic clues during childhood.
Other history
A family history may be suggestive. Consanguinity, recurrent prematurity, neonatal demise, and psychomotor retardation are helpful clues to familial conditions.
A psychosocial history may reveal loss of interests and behavioral problems, which were reported in patients with chronic hypochloremic alkalosis. Difficulty in school performance may be a consequence of the disorder.
In hospitalized patients with hypochloremic metabolic alkalosis, the physician should always ask about nasogastric tube suctioning and oral secretions. Overzealous use of loop or thiazide diuretics, especially in the intensive care unit (ICU), is another important factor.
Physical Examination
Patients with hypochloremic alkalosis commonly are small for their age, lethargic, or apathetic. Signs of chronic dehydration (eg, skin tenting and poor peripheral perfusion) may be evident upon presentation. One study reported that cystic fibrosis was diagnosed in an infant who presented with dehydration and metabolic alkalosis. [13]
Weight and height usually fall below the reference range in patients with chronic disease but are not affected in patients with acute disease. In one series, both weight and height were in the lowest 3% in more than 60% of patients with CLD. [10]
CNS manifestations range from mild to severe, depending on the severity of alkalosis, and may include the following:
Depending on the cause of the hypochloremic alkalosis, the abdomen may be scaphoid (in Bartter syndrome) or distended (in CLD). (See the images below.)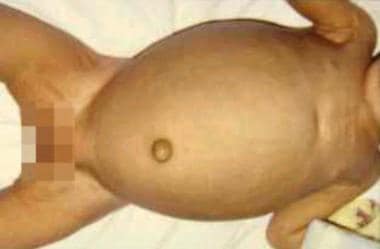 Infant with severe metabolic alkalosis resulting from congenital chloride-losing diarrhea.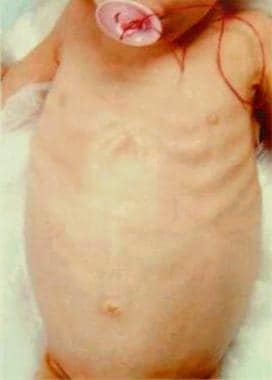 Visible bowel loops in an infant with congenital chloride-losing diarrhea.
Additional abdominal findings that may be present are as follows:
Peristaltic waves in children with CLD

Exacerbated bowel sounds in patients with CLD

Hard stools in patients with Bartter syndrome

Hepatomegaly (suggesting cystic fibrosis)
Musculoskeletal findings include muscle wasting, atrophy, and hypotonia. Respiratory findings include shallow breathing and hypopnea in severely affected children.
Complications
Disease-related complications of hypochloremic alkalosis include the following:
Nephrocalcinosis and nephrolithiasis in patients with Bartter syndrome and in those with CLD

Coexisting electrolyte abnormalities such as hypokalemia, hyponatremia, and hypercalcemia may be present

Liver damage and recurrent chest infection leading to hepatic and pulmonary failure, respectively, in patients with cystic fibrosis

End-stage renal disease (ESRD) in patients with poor compliance; ESRD can occur in all conditions mentioned, including Bartter syndrome and CLD
What would you like to print?