Workup
Approach Considerations
The flowchart below depicts a workup approach to hypochloremic alkalosis.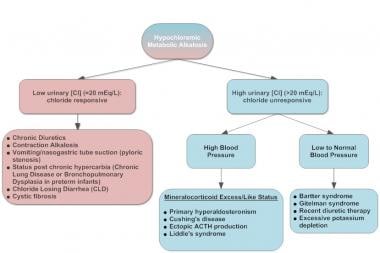 Approach to hypochloremic alkalosis.
Laboratory Studies
Amniocentesis
Amniotic fluid sodium and chloride concentrations may reflect fetal values; these are high in fetuses with chloride-losing diarrhea (CLD). Levels may also be elevated in patients with Bartter syndrome. Although testing for alpha1 -fetoprotein is not routine, levels may be elevated.
Blood workup
Serum electrolyte levels may be within the reference range, especially in neonates and treated patients. However, typical findings include low concentrations of serum chloride, sodium, and potassium. Attention must be paid in interpreting the serum potassium level in relation to the state of metabolic alkalosis. For example, the potassium shift from serum into the intracellular compartment increases as the serum pH rises; thus, the potassium level is less than normal by 0.6 mmol/L when measured at a serum pH of 7.5.
Serum pH and bicarbonate, calcium, uric acid, hemoglobin (if patient is not anemic), renin, and aldosterone levels may be elevated. The serum renin level is exponentially high, in line with secondary hyperaldosteronism due to chronic volume depletion, and this finding is supported by low or normal blood pressure measurements.
Urine and stool studies
In patients with Bartter syndrome, urine chloride, sodium, and potassium concentrations are usually measured. Urine calcium-to-creatinine and uric acid–to–creatinine ratios are usually high. Stool electrolytes cannot be measured because of well-formed or hard stool. Fractional excretion (Fex) studies are more reliable than absolute values. Usually, results are higher than reference range values, as follows:
Fex sodium concentration >1%

Fex potassium concentration >35%

Fex chloride concentration >2.5% (2.7% ± 1.1%)
In patients with CLD, urine chloride concentration is very low or undetectable (< 10 mmol/L). Stool is usually watery, and electrolyte studies are very helpful and diagnostic, as follows:
Stool chloride concentration >100 mmol/L

Stool sodium and potassium concentrations are elevated

Stool chloride concentration is greater than stool sodium plus potassium concentrations, which is normally less than either; chloride concentrations are lowest in colonic secretions (usually < 35 mmol/L)

The ratio of stool chloride to combined sodium and potassium concentrations is greater than 0.6
Patients with cystic fibrosis typically demonstrate high sweat chloride and sodium concentrations. Urine chloride concentration is usually very low, and stools are usually not watery, as they are in patients with CLD.
Kidney and liver function tests
Renal function is usually normal. The glomerular filtration rate (GFR) may be low in patients with severe disease.
Liver function test results are usually within the reference range in patients with CLD and Bartter syndrome but may be deranged in patients with cystic fibrosis.
Genetic studies
DNA diagnosis is available for most congenital disorders that cause hypochloremic metabolic alkalosis. For CLD, the CLD (SLC26A3) locus is on band 7q22-q31.1. [14, 15] Bartter syndrome is identified by NKCC2, ROMK, and CLCNKB [16] ; Bartter syndrome with deafness is identified by BSND; and Bartter syndrome with autosomal dominant hypocalcemia is identified by CASR. For cystic fibrosis, the CFTR locus is on band 7q31.2. For Gitelman syndrome, the NCCT locus is on 16q.
Ultrasonography
Prenatal ultrasonography may be useful in the detection of minimal polyhydramnios and assessment of intestinal fluid content, which is increased in patients with CLD.
Postnatal ultrasonography (see the images below) may be useful in the evaluation of a fluid-filled bowel, which is characteristically increased in patients with CLD. Ultrasonography may also assist in the evaluation of renal echogenicity, nephrocalcinosis, medullary or diffuse calcinosis, and renal growth.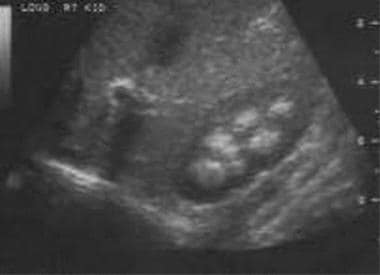 Sonogram depicting severe nephrocalcinosis in a 2-year-old child with Bartter syndrome.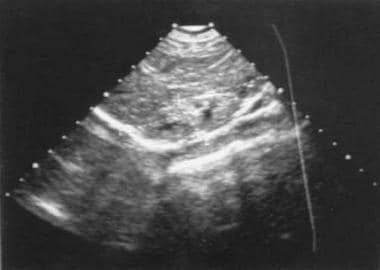 Renal sonogram of an infant with congenital chloride-losing diarrhea showing diffuse sclerosis.
Physiologic Study of Tubule
Physiologic study of renal tubules by performing maximal free water clearance during hypotonic saline diuresis is indicated.
Oral administration of water 20 mL/kg over 30 minutes is followed by administration of a one-half isotonic sodium chloride solution at a rate of 600 mL/m2/h for 2-3 hours. During this time, urine is collected in aliquots over 30-minute periods for 4-6 aliquots.
These samples are sent for evaluation of creatinine, sodium, potassium, and chloride levels, as well as for osmolality, pH, and volume. Usually, urine is diluted by oral administration of water. Halfway through each collection, a blood sample is obtained for evaluation of creatinine, sodium, potassium, and chloride levels, and for pH and osmolality. The clearance of each substance is calculated, and a ratio is derived by means of the following formula:
Water clearance/(chloride clearance + water clearance)
Usually, the result of this formula reflects the percentage of distal tubule sodium and chloride reabsorption. Normal values are up to 85-90%, which means that the percentage of chloride and sodium excreted should be 10-15% (corrected to a GFR of 100 mL/min/1.73 m2). In patients with Bartter syndrome, the percentage of chloride and sodium excreted can reach 35% or more.
Other Studies
Additional studies that may be considered include the following:
Wrist radiography - This may be performed to determine bone age in infants with growth failure; it may also help assess bone density and the presence of rickets

Upper gastrointestinal (GI) series - This helps detect gastroesophageal reflux and pyloric stenosis, which are case-dependent conditions [17]

Computed tomography (CT) of the brain - This is useful for evaluation of brain growth and calcifications

Magnetic resonance imaging (MRI) of the brain - This is helpful in patients who present with seizures

Electroencephalography (EEG) - This is also helpful in patients who present with seizures

Renal nuclear scanning - This may facilitate assessment of renal function but is not useful in all patients

Renal biopsy - This is not usually indicated, but if it is performed, it may reveal interstitial fibrosis and calcium/urate crystal deposition
What would you like to print?