Workup
Laboratory Studies
Elevated serum creatine (Cr) kinase levels at rest are noted in McArdle disease (glycogen-storage disease type V).
Imaging Studies
Phosphorous 31-nuclear magnetic resonance (31P-NMR) findings reveal a lack of cytoplasmic acidification during exercise and a greater-than-normal drop in recalculating Cr/inorganic phosphate (Pi) ratio.
Other Tests
Electromyography (EMG)
One half of patients may have nonspecific myopathic changes. Some patients have signs of increased muscle irritability. During exercise-induced cramps, electrical activity may be absent on EMG.
Ischemic forearm exercise test
Patient squeezes a handgrip dynamometer at maximal voluntary contraction (MVC) while a blood pressure cuff is inflated to 250 mm Hg on the upper arm. The exercise lasts for 1 minute, with 1 second contractions followed by 1 second rests. A positive test result occurs if no increase in venous lactic acid levels or pyruvate levels is observed following the exercise.
Compartment syndrome has induced by the ischemic forearm test. The test may also provide false positives in patients who are severely weak or less motivated or in the presence of other glycolytic defects. [9]
Nonischemic forearm testing provides the same level of diagnostic ability with less risk of compartment syndrome. This is performed in the same manner but without the use of the blood pressure cuff. [10]
Histologic Findings
Muscle biopsy
Subsarcolemmal deposits of glycogen appear at the periphery of myofibers. Accumulation of glycogen between myofibrils may give the fibers a vacuolar appearance. The glycogen is periodic acid-Schiff (PAS) positive. Glycogen may be washed out when the tissue is processed. Therefore, the lack of apparent glycogen accumulation on muscle biopsy findings does not rule out the condition.
Enzyme histochemistry for myophosphorylase is easy to perform and when absent is diagnostic for McArdle disease. However, because this is not routinely performed, clinicians must specifically request myophosphorylase testing. Quantitative analysis of myophosphorylase in muscle tissue is also available at specialty laboratories. See the image below.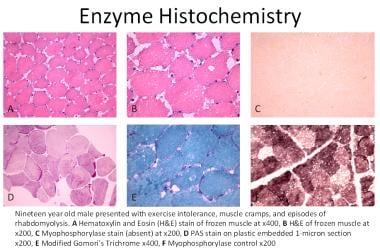 Enzyme histochemistry of 19-year-old male with McArdle disease.
Electron microscopy
Extensive accumulation of normal-appearing glycogen under the sarcolemma and between the myofilaments.
What would you like to print?