Presentation
History
Morquio A Syndrome
Initial clinical signs and symptoms of Morquio A syndrome (mucopolysaccharidosis type IVA [MPS IVA]) vary depending on severity. [14] Infants with Morquio A syndrome usually appear normal at birth and often develop skeletal problems within the first few years of life (see image below).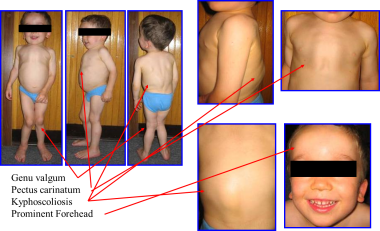 Clinical features of a patient with Morquio A syndrome (mucopolysaccharidosis type IVA [MPS IVA]). This patient had a severe form of MPS IVA at age 3 years and had bone abnormalities of pectus carinatum, kyphoscoliosis, genu valgum, short stature, prominent forehead, and abnormal gait (height, 90 cm; 50th percentile of male MPS IVA growth chart; body weight, 14 kg). Courtesy of the Carol Ann Foundation; image adapted from Educational CD for International Morquio Organization.
Among individuals with mild Morquio A syndrome, initial symptoms may not appear until later in childhood or during adolescence. The most common initial symptoms of Morquio A syndrome include pectus carinatum, kyphosis, genu valgum, joint laxity, short stature, abnormal gait, and spinal complications. Odontoid hypoplasia, cervical compression/instability, kyphosis, and scoliosis are among the spinal complications (see image below). [7, 27, 28, 29]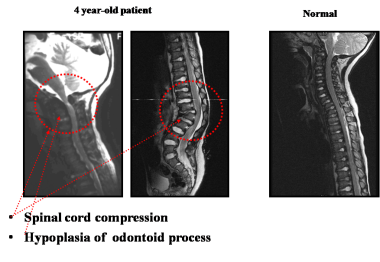 MRI of the cervical spine in a patient aged 4 years. A baseline study of the upper cervical anatomy is recommended no later than age 2 years or at diagnosis using flexion/extension radiography. If severe pain or pain associated with weakness or strength or tremors (or clonus) in the arms or legs occurs, the patient should undergo studies of the neck to evaluate for the slippage (subluxation) of the neck vertebrae and compression of the spinal cord. Radiography and MRI are performed with the head bent forward (flexion) and with the neck back (extension) and is performed annually for monitoring. Courtesy of the Carol Ann Foundation; image adapted from Educational CD for International Morquio Organization.
Individuals with severe Morquio A syndrome often develop kyphoscoliosis and thoracic deformity within the first year of life. Within the first few years of life, more than 70% of individuals with severe Morquio A syndrome have skeletal abnormalities such as pectus carinatum, kyphoscoliosis, joint laxity, and genu valgum. [30, 31]
Progressive coxa valga, genu valgum, and ankle valgus are the main lower-extremity features of Morquio A syndrome (see image below), [32] and these develop during childhood. Hips appear either normal or partially dislocated as early as the second year of life in the severe form of Morquio A syndrome. Children with Morquio A syndrome have small capital femoral epiphyses. Epiphyses are progressively flattened and fragmented with growth and are finally lost in adulthood. Hip subluxation and associated pain often force individuals with Morquio A syndrome to become wheelchair bound as teenagers in the absence of surgical treatment. [33] Knee deformity is most commonly observed in children with Morquio A syndrome by age 3 years.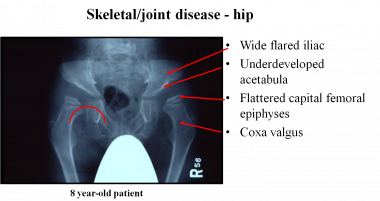 Clinical picture of hip deformity in an 8-year-old patient with Morquio A syndrome (mucopolysaccharidosis type IVA [MPS IVA]). Multiple abnormalities are shown in the hip, including spondyloepiphyseal dysplastic femoral heads, oblique acetabular roof with coxa valgus deformity, and flared iliac wings. Courtesy of the Carol Ann Foundation; image adapted from Educational CD for International Morquio Organization.
Without appropriate treatment, most patients with severe Morquio A syndrome become completely wheelchair bound by their teenaged years and rarely survive beyond a few decades of life owing to spinal cord compression, airway compromise, or valvular heart disease. Airway obstruction progresses with age and contributes to increased morbidity and mortality. The most significant component of the airway obstruction occurs in the trachea itself, whereby deviation, folding and buckling of trachea, and vascular and bony compression result in unique obstructive pathology. [34, 35, 31]
Morquio B Syndrome
Morquio A syndrome and Morquio B syndrome cannot be distinguished clearly based on clinical features. In general, individuals with Morquio B syndrome have mild skeletal dysplasia, and the symptoms progress more slowly than those of Morquio A syndrome.
Physical
Morquio syndrome is characterized by unique skeletal and nonskeletal manifestations.
Skeletal Problems
Skeletal manifestations caused by incomplete ossification include short neck, short stature, spinal cord compression, pectus carinatum, joint laxity, kyphoscoliosis, coxa valga, and genu valgum, leading to many physical disabilities, including floppy hands and poor fine motor skills, frequent tendency to fall, abnormal gait, hip dislocation, reliance on a wheelchair, joint pain, and restriction of joint mobility. See the images below.
Odontoid hypoplasia is the most critical skeletal feature to be recognized in any patient with Morquio syndrome. This condition, in combination with ligamentous laxity and extradural mucopolysaccharide deposition, results in atlantoaxial subluxation, leading to consequential quadriparesis or even death (see image below).
Another potential complication is cervical myelopathy. A history of exercise intolerance in patients with Morquio syndrome often precedes occult cervical myelopathy, which can also cause bowel and bladder dysfunction and compression of the spinal cord, leading to weakness or paralysis. Mortality and morbidity are primarily related to the atlantoaxial instability and subsequent cervical myelopathy, and patients with a severe form, primarily related to cervical instability, often do not survive beyond the second or third decade of life, if untreated. A minor fall or extension of the neck can result in cord transection and subsequent quadriparesis or sudden death.
Airway Problems
Earlier in the disease process, obstructive sleep apnea (also known as sleep disordered breathing) results mainly from upper airway pathology (small nostrils, large tongue, and short neck). [36, 37] Noisy breathing, snoring, intolerance of effort-dependent motion, and a "look-up" position of the head and neck (occurs with aging) starts to develop, which often indicates significant tracheal (level) breathing obstruction. [35]
The pathophysiology of airway problems in Morquio A syndrome is progressive and cyclical, consisting of restrictive and obstructive sequences. The restrictive defect results from thoracic cage deformity. The obstructive defect results from tracheobronchial abnormalities, large tongue, and adenoidal, tonsillar, and vocal cord hypertrophy due to the accumulation of storage materials. [38, 39] Obstructive airway disease is common at the severe end of the Morquio A syndrome spectrum and results from narrowed trachea, which folds and buckles on itself, as well as from external compression from major vessels (brachiocephalic artery) and/or bony components of the thoracic cage (eg, manubrium and sternal heads of the clavicles). Common abnormalities also include thickened vocal cords, redundant tissue in the upper airway, and an enlarged tongue. Individuals with obstructive airway disease may exhibit loud snoring, daytime hypersomnolence, and alveolar hypoventilation. Noisy breathing is a general consequence of upper airway obstruction.
Moreover, individuals with Morquio A syndrome may have small nasal passages due to thickened mucous membranes with thick and copious secretions. Chronic upper respiratory tract infection further decreases the already diminished airway lumen.
Thus, the most important and challenging aspect is the management of the problematic airway.
Intermittent obstruction may lead to sleep apnea. Tracheal problems result mainly from an imbalance of growth between the trachea, innominate artery, spine, rib, and thoracic inlets (see image below). In many cases, tracheostomy has been required to maintain the airway and to control pulmonary hypertension and heart failure; however, tracheostomies are difficult to maintain, and loss of airway has occurred during routine changing of tracheostomy tubes. Tracheal reconstructive surgery has been performed successfully in a few patients, and one such case has been published. [40]
Cardiovascular Disease
Cardiovascular manifestations of Morquio syndrome include coronary heart disease and valve thickening manifesting as cardiac dysfunction. Heart disease is clinically evident in adults with Morquio syndrome. Mild mitral or aortic valvular disease is common, and myocardial thickening, systemic and pulmonary hypertension, and narrowing of the coronary arteries with ischemia are rare. The aortic valvular disease is more likely to occur in Morquio A syndrome. [26] Cardiac evaluation at regular intervals with echocardiography is useful in the treatment of patients via serial monitoring of ventricular function and size. Bacterial endocarditis prophylaxis is advised in patients with Morquio syndrome who have cardiac abnormalities.
Hearing Problems
Audiological manifestations of Morquio syndrome include frequent middle ear infections, deformed ossicles, and abnormalities of the inner ear, leading to hearing loss. Mild to moderate hearing loss is common in individuals with Morquio A syndrome and may correlate with the severity and duration of skeletal disease. Hearing problems can become apparent by the end of the first decade of life. [41]
Deafness, usually due to combined conductive and neurosensory etiologies, is common in Morquio syndrome. The deafness has been attributed to three causes: frequent middle ear infections, deformity of the ossicles, and probable abnormalities of the inner ear. The auditory brainstem response is nonspecifically abnormal, probably reflecting a mixture of middle-ear, cochlear, eighth-nerve, and lower-brainstem anomalies. Ventilating tubes can minimize the long-term sequelae of the frequent episodes of acute otitis media and chronic middle-ear effusions. Most individuals with Morquio syndrome would benefit from hearing aids.
Eye Problems
Ophthalmological manifestations of Morquio syndrome include visual disturbance and photophobia, as well as corneal clouding. Fine stromal corneal clouding due to GAGs storage is common in Morquio A syndrome, and photophobia is the main symptom associated with this abnormality. Corneal transplantation has been performed as treatment, although the long-term outcome is not always successful with a recurrence of corneal clouding.
Other rare ocular problems include retinal degeneration, resulting in decreased peripheral vision and night blindness, glaucoma, [42] and optic nerve disease. Ultimately, these abnormalities affect vision and may all lead to blindness.
Dental Problems
Dental abnormalities associated with Morquio syndrome include dental caries, tooth fractures, and abnormally thin enamel. Individuals with Morquio A syndrome have small and widely spaced teeth with abnormally thin enamel and frequent formation of caries. The enamel is structurally weak, showing a tendency to fracture and flake off. Thin enamel with small sharp pointed cusps is unique to patients with Morquio A syndrome, but the enamel is of normal radiodensity. Other features include spade-shaped incisors, concave buccal and occlusal surfaces, and pitted buccal surfaces. The dentin, pulp chambers, and root canal systems of all the teeth are usually normal.
Patients with Morquio A syndrome require good dental hygiene. Treatment should be confined to preventive regimes involving dietary analysis and advice, toothbrush instruction, systematic topical fluorides, and fissure sealants. Teeth should be cleaned regularly, and patients should take fluoride tablets or drops daily if their water supply is not treated with fluoride. Bacterial endocarditis prophylaxis should be administered before and after any dental treatment. If teeth need to be removed under an anesthetic, the procedure should be performed in a hospital with an experienced anesthesiologist trained in the management of obstructive airway disease.
Summary
Obstructive airway and heart valve disease are life-threatening in severe Morquio syndrome, and affected individuals who are untreated or physically handicapped typically die in their second or third decade of life. Compared with individuals with Morquio A syndrome, those with Morquio B syndrome usually results in normal or near-normal stature with normal neck development and an absence of hearing loss and hepatomegaly. [10, 11]
Causes
Morquio A syndrome is caused by a deficiency of the lysosomal enzyme GALNS, while Morquio B syndrome is caused by a deficiency of the lysosomal enzyme β-galactosidase. KS and C6S accumulate in systemic tissues, including bone and cartilage, among individuals with Morquio A syndrome; in persons with Morquio B syndrome, KS accumulates in these tissues. KS and/or C6S accumulation in both types of Morquio syndrome leads to unique skeletal dysplasia. The gene mutations in Morquio syndrome have been mapped on the human genome. Their chromosomal locations are 16q24.3 for GALNS and 3p21.33 for β-galactosidase.
What would you like to print?