Overview
Background
Silver-Russell syndrome (SRS) originally was described by Silver and colleagues in 1953 and, soon afterwards, by Russell in 1954. [1, 2] Silver-Russell syndrome is characterized by intrauterine and postnatal growth retardation leading to a small-for-gestational-age (SGA) infant at birth, feeding difficulties during infancy, short stature, body asymmetry, characteristic triangular facies with prominent forehead, and several other anomalies.
Over the past several years, more than 400 patients have been described, with phenotypes ranging from mild to classic. Most patients are found to have hypomethylation in the chromosome 11p15 imprinting center 1 (IC1); some patients have maternal uniparental disomy of chromosome 7, with the possibility of imprinting (eg, inheriting two copies of maternal chromosome 7, with no paternal contribution). [3, 4, 5, 6]
Pathophysiology
Growth failure is the primary abnormality. The American College of Radiology has established guidelines regarding growth disturbances. [7]
Patients typically present with intrauterine growth retardation, difficulty feeding, failure to thrive, or postnatal growth retardation. Adequate catch-up growth often does not occur, and final adult height still is less than normal (≤ -3.6 standard deviations [SD]). See the image below.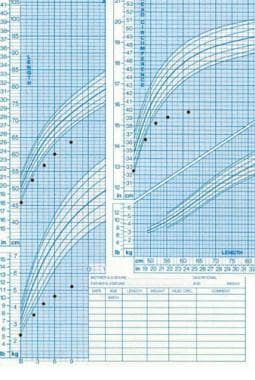 Failure of growth in weight, length, and head circumference starting at birth, suggesting an organic etiology that occurred in utero.
Older children and adults do not manifest clinical features as clearly as infants or young children. Growth hormone insufficiency may be present. Abnormalities of spontaneous growth hormone (GH) secretion and subnormal responses to provocative growth hormone stimulation testing have been reported in a significant number of children with Silver-Russell syndrome. Facial dysmorphism is observed, with small triangular facies and normal head circumference. Because length usually is less than normal, the head appears disproportionately large. Intelligence may be normal, or the patient may have a learning disability. The limbs may be asymmetric, and camptodactyly (ie, fixed flexion of digits) or clinodactyly (ie, incurving) of one or more fingers may be present.
Epidemiology
Frequency
International
Estimates of incidence range from as high as 1 case in 3000 population to as low as 1 case in 100,000 population.
Mortality/Morbidity
Infants have failure to thrive, feeding difficulties, and fasting hypoglycemia. A retrospective study by Marsaud et al found digestive problems and malnutrition to be common in children with Silver-Russell syndrome. The study, in which 75 patients (median age 24.3 mo) were assessed, found malnutrition in 70% of them and gastrointestinal signs in 77% of them. The latter included feeding difficulties (65%), severe gastroesophageal reflux (55%), severe vomiting before age 1 year (50%), persistent vomiting from age 1 year (29%), and constipation (20%). [8]
Sex
The male-to-female ratio is equal.
Age
Clinical features are easier to identify in infants and younger children, particularly the small triangular facies. These findings are more difficult to recognize in adults.
What would you like to print?