Workup
Imaging Studies
Plain radiographs
Plain radiographs are the most common type of imaging modality that is used in the workup of patients with LBP. However, radiographs have been overused; generally, plain films are not routinely necessary for most episodes of acute LBP, especially within the first 6 weeks after the onset of symptoms. Additionally, the radiographs are often unremarkable in patients who have radiculopathy that is secondary to a herniated nucleus pulposus.
The main purpose of plain radiographs is to detect serious underlying structural pathologic conditions such as spondylolisthesis. In such cases, standing flexion/extension views would be obtained to assess stability. However, many changes seen on the radiographs of symptomatic patients with lumbosacral radiculopathy are also seen in the radiographs of asymptomatic patients.
Selective criteria can be used to improve the usefulness of plain radiographs in the evaluation of lumbosacral radiculopathy. Radiographs are generally not recommended during the first month of the patient's symptoms if there are no red flags (see Clinical, History, above). Oblique views are rarely indicated, as they increase both the cost and radiation exposure to the patient.
MRI
See the image below.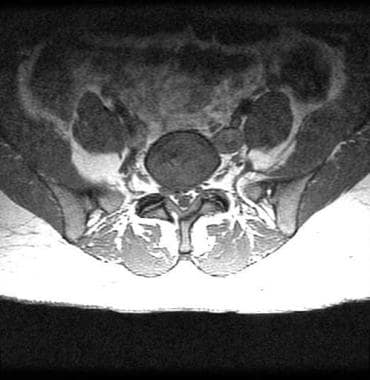 Magnetic resonance image demonstrating extension of the nucleus pulposus to the right paracentral region of the spinal cord. The disc is adjacent to the inflamed right L5 nerve root. Courtesy of Barton Branstetter, MD.
MRI has demonstrated excellent sensitivity in the diagnosis of lumbar disc herniation and is considered the imaging study of choice for nerve root impingement. However, this preference is tempered by the prevalence of abnormal findings in asymptomatic subjects.
The use of MRI should be reserved for selected patients.
Immediate MRI of the spine may be indicated in patients with significant/severe and progressive neurologic deficits or cauda equina syndrome, in patients with a presentation that is suggestive of malignancy, in patients with a known history or high risk of malignancy, or in cases in which there is a clinical suspicion to evaluate for a possible inflammatory disease or infection.
MRIs are not necessary in all patients who have examination findings that are consistent with a radiculopathy; in fact, these studies should generally be reserved for those cases in which the imaging results are likely to guide treatment.
Although many clinicians prefer to obtain an MRI prior to planning an epidural steroid injection, the literature suggests this practice may not provide superior outcomes. [11]
When physical examination and electrodiagnostic findings do not indicate the exact levels of pathology in a patient who is in need of a selective nerve root block, MRI may help the physician to determine the exact level of pathology (see Other Tests, Electrodiagnosis, below).
In the absence of red flags, many patients (even those with a classic lumbosacral radiculopathy) can and should be managed without an MRI, especially if these individuals are not being considered for surgery or injections. Some clinicians reserve MRI for those patients in whom the treatment response is not as expected.
The addition of gadolinium for the MRI study is not necessary in most cases unless the patient has had a previous surgery or there is interest in the enhancing qualities of a previously observed lesion.
CT scanning
CT scanning of the lumbar spine provides superior anatomic imaging of the osseous structures of the spine and good resolution for cases of disc herniation. However, the sensitivity of a CT scan without myelography for detecting disc herniation is inferior to that of MRI. As with MRI, there can be a significant number of positive findings in the asymptomatic population when CT scanning is used.
Myelogram
A myelogram involves penetration of the subarachnoid space. This study is generally not indicated in the evaluation of acute LBP.
Generally, the myelogram is reserved as a preoperative test, often performed in conjunction with a CT scan. This procedure provides a detailed anatomic picture, particularly of the spinal osseous elements, and the myelogram can be used to correlate examination findings and assist in preoperative planning.
Myelograms are rarely used in the nonoperative evaluation of patients with acute LBP, except in cases in which the clinical picture supports a progressive neurologic deficit and MRI and electromyography are nondiagnostic.
Discography
See the image below.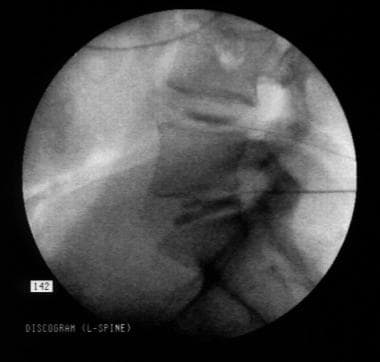 Discogram showing examples of an intact disc and a disrupted disc at the lumbar level.
Discography is rarely necessary in the evaluation of acute LBP, and it is certainly not recommended within the first 3 months of treatment. Discography studies can be helpful in patients whose condition has not had a satisfactory response to a well-coordinated rehabilitation program or who have normal or equivocal MRI findings. In such cases, discography may have some benefit in localizing a symptomatic disc as the etiology of nonradicular back pain. (See also the Medscape Reference article Discography.)
A positive discogram must include a concordant pain response, which includes reproduction of the patient's symptoms upon injection of a contrast medium into a symptomatic disc, a nonpainful response upon injection of a contrast medium into control discs, and observed annular pathology on a postdiscography CT scan, if used.
Discography is most often used before the contemplation of surgical fusion for unremitting patient pain that is due to a symptomatic internal disc disruption. Some authors have found discography followed by CT scan to be a more precise technique that may delineate discovertebral pathology with sensitivities that are similar to or better than those of MRI and CT scanning/myelography.
Discography must be used with care because a significant percentage of individuals with positive discography findings improve without surgery. In addition, individuals with underlying psychologic issues tend to overreport pain during discographic injection of the contrast medium. Nonetheless, discographic injection still remains the only quasi-objective provocative test for disc-mediated pain. CT discography has also received attention because it may be a good predictor of surgical outcome following lumbar fusion for patients with intractable back pain.
Other Tests
Electrodiagnosis
Electrodiagnostic studies (eg, nerve conduction studies and needle electromyography) should be considered an extension of the history and physical examination in patients with lumbosacral radiculopathy and not merely a substitute for detailed neurologic and musculoskeletal examinations. (See also the Medscape Reference article Physical Assessment for Electrodiagnostic Medicine.)
These studies are helpful when the diagnosis remains unclear (eg, peroneal neuropathy vs radiculopathy) in the evaluation of patients who have limb pain or when attempting to localize the patient's symptoms to a specific nerve root level. [12] Electrodiagnostic studies are also helpful for excluding other causes of sensory and motor disturbances, such as peripheral neuropathy and motor neuron disease. Additionally, these studies can provide useful prognostic information by quantifying the extent and acuity of axonal involvement in radiculopathies. (See also the Medscape Reference article Peroneal Mononeuropathy.)
Tong found that combining the needle electromyography findings of positive sharp waves, ≥30% motor unit changes and MiniPM score improves the ability to detect lumbar radiculopathy in patients with radiating low back pain. This combination of testing techniques increased the detection of radiculopathy from 27.1% when using just findings of positive sharp waves to 50% using this combination method. [13]
Performing late response tests, such as the H-reflex, can provide valuable information regarding the proximal nerve/nerve root involvement. The H-reflex is both a sensitive and specific marker for involvement of the S1 root and will be prolonged from the time of symptom onset.
F waves, which are also used to detect abnormalities in the proximal portion of nerves, are too nonspecific to be clinically useful in the setting of lumbosacral radiculopathy.
Electrodiagnostic testing is usually not necessary in a clear-cut lumbosacral radiculopathy or in patients with isolated mechanical low back symptoms. Furthermore, these studies do not assess the smaller myelinated and unmyelinated nerve fibers, which are typically responsible for pain transmission. (See also the Medscape Reference article Mechanical Back Pain.)
If the patient has had previous episodes of radicular symptoms or previous spinal surgery, it may be useful both from a diagnostic perspective and from a medicolegal standpoint to perform initial electrodiagnostic studies as soon as possible after the appearance of new symptoms in order to differentiate later developments from preexisting disease.
Specific electrodiagnostic studies are as follows:
Nerve conduction studies: Distal peripheral motor and sensory nerve conduction studies are often normal in a single-level radiculopathy.

Needle electromyography: This technique offers a high diagnostic yield. Timing is important, and the study should be performed less than 4-6 months (but >18-21 d) from symptom onset.

Somatosensory evoked potential studies (SSEPs): These studies are essentially of no value in the assessment of acute LBP and lumbosacral radiculopathy. SSEPs are not indicated unless the patient's neurologic signs and symptoms are suggestive of pathology that would indicate involvement of the somatosensory pathways.
(See also the Medscape Reference articles General Principles of Somatosensory Evoked Potentials, Clinical Utility of Evoked Potentials, and Clinical Applications of Somatosensory Evoked Potentials [in the Neurology section].)
What would you like to print?