Treatment
Approach Considerations
Employment of the international TSC assessment and treatment guidelines, including use of the TSC-associated Neuropsychiatric Disorders (TAND) Checklist, could improve patient care. [43, 44, 45] An international effort has been developed, the TuberOus SClerosis Awareness (TOSCA) registry, to facilitate TSC surveillance.
Medical Care
Medical care is aimed at seizure control using various anticonvulsants. Begin treatment with monotherapy and increase the dose gradually until seizures are well controlled or the dose is limited by adverse effects. If the first drug is ineffective, try a different anticonvulsant agent while the first drug is gradually weaned, rather than directly initiating multidrug therapy. A second anticonvulsant may be added if monotherapy with various medications fails. Treatment is desirable before seizures, representing new indications for antiepileptic therapy in children with tuberous sclerosis complex (TSC). [15]
Lymphangioleiomyomatosis (LAM) may respond to therapy using progesterone and oophorectomy. Therefore, treatment in females with evidence of pulmonary disease should begin with progesterone.
Consider inotropic agents in patients with evidence of decreased contractility and cardiomyopathy due to rhabdomyoma.
Antihypertensive medication may be required in patients with renal disease and subsequent hypertension. An ACE inhibitor may be the first drug of choice. For more information, see the topic Hypertension in the Pediatric Cardiac Disease and Critical Care Medicine Volume.
Rapamycin (sirolimus) may be useful in tuberous sclerosis treatment. [46] It binds to its intracellular receptor, FK506-binding protein 12 (FKBP12), and inhibits the activity of the mammalian target of rapamycin (mTOR), a serine/threonine kinase involved in numerous cell processes linked to cell growth control. Investigational studies with sirolimus and another agent that attacks the etiologic mechanism of tuberous sclerosis complex, everolimus, are in progress. [47, 27, 48, 49, 50, 51, 52] Successful everolimus treatment of a huge subependymal giant cell astrocytoma in a 10-year old boy with TSC has been described. Everolimus treatment may be a therapeutic option alternative to surgery. [53, 54, 55]
Preventative antiepileptic treatment of 45 infants with TSC and high risk of epilepsy was found to markedly improve neurodevelopmental outcome and reduce the incidence of drug-resistant seizures. [56]
Surgical Care
Anticonvulsant medication is the first treatment option, and neurosurgery is rarely required for refractory seizures. The best outcome has been noted in patients with fewer lesions. MRI, EEG, and positron emission tomography (PET) scans to localize the lesions are important prior to neurosurgery. Growth of subependymal giant cell astrocytomas (SEGAs) may result in increased intracranial pressure and hydrocephalus. People with increased intracranial pressure require immediate surgery to remove the obstructing lesions. Ventriculoperitoneal (VP) shunt placement is sometimes required.
However, magnetic source imaging and (18)fluorodeoxyglucose PET/MRI coregistration may be able to noninvasively localize the epileptogenic zones in many children with tuberous sclerosis complex and intractable epilepsy, with a 67% seizure-free rate postoperatively. [57] Some believe that early epilepsy surgery is associated with seizure freedom in children with tuberous sclerosis complex and intractable epilepsy.
Partial nephrectomy, enucleation, or renal arterial embolization: Angiomyolipomas may progress and lead to renal failure or bleeding, with resultant hemorrhagic shock. In general, any symptomatic lesion or a lesion larger than 3.5-4 cm should be closely monitored, and surgical treatment should be considered. The goal of surgical treatment is to spare the kidneys as much as possible because new lesions may develop in the future. Therefore, surgical treatment usually consists of enucleation or partial nephrectomy. Renal arterial embolization is an additional treatment option.
Oophorectomy and progesterone therapy are believed to have a beneficial impact on LAM in females. In individuals with end-stage lung disease, lung transplantation is sometimes performed, although it is not always successful.
Cardiac surgery for the removal of rhabdomyomas is rarely required but is performed when cardiac failure is caused by outflow obstruction. Cardiac rhabdomyomas usually spontaneously regress as the individual ages, thus obviating the need for cardiac surgery in older individuals.
Facial angiofibromas may require cosmetic therapy. Previously treated with dermal abrasion techniques, they are currently treated more successfully using laser therapy.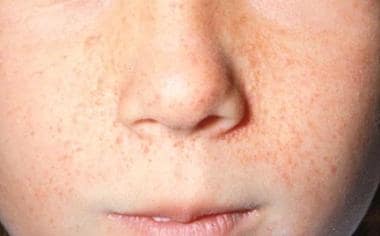 Facial angiofibroma, previously termed adenoma sebaceum, in a patient with tuberous sclerosis complex (TSC).
Consultations
Neurosurgeon
Consult with a neurosurgeon immediately if any suggestion or evidence of increased intracranial pressure is present. Surgery is required to relieve the obstruction and to reduce intracranial pressure. Neurosurgery is rarely required for treatment of epilepsy.
Neurologist
A neurologist may be consulted to assist with seizure management and anticonvulsant medication. In addition, a neurologist may assist with obtaining baseline and serial neurologic examinations to assess for neurologic deficits.
Cardiologist
Consultation with a cardiologist is recommended so that initial and surveillance echocardiograms can be obtained to assess cardiac rhabdomyomas. Cardiac surgery is rarely required for removal of rhabdomyomas.
Ophthalmologist
An ophthalmologist may perform a thorough funduscopic examination to assess for evidence of retinal hamartomas or astrocytomas.
Genetic counselor
Consultation with a genetic counselor is recommended when a child/adult is first diagnosed with tuberous sclerosis complex to review the natural history, inheritance, recurrence risks, and the possibility of molecular/genetic testing. The counselor spends adequate time to explain the above in nonmedical terms and may refer the family to other consumer resources. Genetic consultation is particularly helpful when parents of children with tuberous sclerosis complex are contemplating future pregnancies.
Other specialists
A pulmonologist may assist with management of LAM in females with tuberous sclerosis complex. Consult a nephrologist for individuals with symptomatic renal disease. Consultation with a neuropsychologist is helpful in assessing intellectual ability in a child with tuberous sclerosis complex. Neuropsychologists may also assist in management of various behavioral problems, such as autism or pervasive developmental disorder (PDD), schizophrenia, aggressive behavior, or sleep disturbances. Finally, a social worker may assist families and individuals in coping with this chronic disorder.
Diet
No specific diet is recommended for most patients.
A ketogenic diet is recommended for some patients for seizure control. Patient compliance with this diet may be difficult to obtain because of limited choices and unpleasant tastes. A ketogenic diet is most useful in patients who have seizures that are difficult to control using multidrug therapy.
A combination of a ketogenic diet and valproic acid is contraindicated because of the increased risk of hepatotoxicity.
Children with tuberous sclerosis complex show high responsiveness to musical stimuli despite otherwise delayed development in language, cognition, and motor skills. The use of music as therapeutic intervention has been suggested. [58]
Activity
Activity is not restricted in patients with tuberous sclerosis complex who do not have a history of seizures.
Patients with a history of seizures should avoid certain activities, such as scuba diving and rock climbing.
Driving restrictions for people with seizures vary by state, and physicians should be aware of local regulations.
What would you like to print?