Overview
Practice Essentials
Labial adhesions (also referred to as labial agglutination) are a common disorder in prepubertal females. They are a fusion of labia minora in the midline, are usually asymptomatic, and typically can be treated conservatively. Labial adhesions must be differentiated from other pediatric vaginal or urethral disorders (eg, an imperforate hymen or a septate vagina). They most commonly occur between 3 months and 3 years of life. See the image below.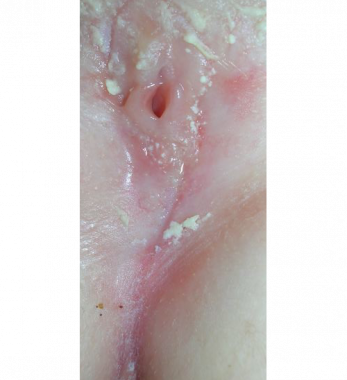 Labial adhesions before lysis.
Signs and symptoms
Although labial adhesions are generally asymptomatic, the following may be noted:
Urine pooling in the vagina with voiding and subsequent urine leakage from the vagina upon standing after voiding (postvoid dribbling or vaginal voiding)

Associated urinary tract infection (UTI)

Discomfort with voiding
The following physical findings may be present:
Thin, pale, semitranslucent adhesions covering the vaginal opening between the labia minora, sometimes entirely closing the vaginal opening, typically beginning posteriorly and progressing a variable distance anteriorly toward the clitoris

Other interlabial masses or genital anomalies

Signs of sexual abuse
See Presentation for more detail.
Diagnosis
Conditions to be considered in the differential diagnosis include the following:
Hymenal skin tags

Imperforate hymen

Introital cysts (paraurethral or Gartner duct cysts)

Ureterocele

Urethral polyp

Urethral prolapse

Vaginal atresia or müllerian agenesis

Vaginal rhabdomyosarcoma
Some recommend routine urine culture in children with labial adhesions, but this is usually done if patients have any urinary symptoms.
See DDx and Workup for more detail.
Management
Labial adhesions can often be managed with periodic observation; spontaneous resolution may occur and commonly occurs during puberty. Further management considerations are as follows:
If treatment is necessitated by symptoms or parental requests such as frequent UTIs, topical estrogen cream is indicated

If medical care does not result in separation of the labia minora or if urinary retention or UTIs are present, manual or surgical separation may be considered

Avoiding exposure to possible irritants (eg, strong detergents, bubble baths, harsh soaps) may be beneficial

Referral to a pediatric urologist or gynecologist may be appropriate if the provider is uncomfortable with treating labial adhesions or if medical management is unsuccessful
See Treatment and Medication for more detail.
Background
Labial adhesions (also referred to as labial agglutination) are a common disorder in prepubertal females. [1] This disorder is usually asymptomatic and is often first noticed by parents or during a routine physical examination. [2] A host of other pediatric vaginal or urethral disorders, including an imperforate hymen, müllerian agenesis, or a septate vagina, must be excluded. [3] Labial adhesions occur most commonly in prepubertal girls, as they are hypoestrogenic. They may occur more frequently in the setting of vulvovaginitis.
Treatment of labial adhesions is typically conservative. [4] If treatment is needed, parents should be instructed to apply an emollient after the labia have separated to prevent recurrence of the adhesions. They should also be informed that the possibility of recurrence may necessitate repeated procedures or therapies.
Pathophysiology and Etiology
Labial adhesions are fibrous adhesions between the labia majora. Low estrogen levels have been thought to play a causative role in their formation, and the protective effect of maternal estrogen makes labial adhesions uncommon during the newborn period. [5] However, a 2007 study found no statistically significant difference in serum estradiol levels between infants with labial adhesions and control subjects. [6]
Labial adhesions may also be caused by vaginal inflammation, local irritation, or tissue trauma. They have been reported to result from childhood sexual abuse and may be associated with lacerations or hematoma. [7, 8]
Epidemiology
A prospective study of more than 1900 girls assessed through a pediatric outpatient clinic reported a 1.8% incidence of labial adhesions, whereas a review of more than 9000 female infants found no cases of neonatal labial adhesions. [5] The incidence of labial adhesions worldwide is unknown but presumably is similar to the US incidence.
Labial adhesions are, by definition, a disorder of females and occur most often in infants and girls aged 3 months to 6 years, with a peak incidence around the age of 13-23 months. [5] Labial adhesions have not been reported in the newborn period. If left untreated, labial adhesions usually spontaneously resolve at puberty as a consequence of increased estrogen levels. They also occur in older women, albeit rarely. [9, 10]
No strong evidence supports a racial predilection.
Prognosis
The prognosis for girls with labial adhesions is excellent. If left untreated, the condition usually resolves spontaneously at puberty.
Labial adhesions are generally asymptomatic and are not a common cause of urologic or gynecologic morbidity. In rare cases, they can cause urinary outflow deflection or obstruction, leading to vaginal reflux of urine and subsequent vaginal leaking when the child stands after voiding.
Recurrence of labial adhesions is common and has been reported in as many as 11.6-14% of cases [11, 12] ; however, the true recurrence rate may be higher with longer follow-up. [13] A study by Wejde et al suggested that manual separation may yield better overall final outcomes than topical estrogen. [14] One report noted a decreased recurrence rate when topical estrogen was used after manual reduction of labial adhesions. [12] It is important to counsel the parents to use an emollient several times a day for several months.
Adverse systemic effects of estrogen cream are rare and reversible once medication is discontinued. Estrogen cream application often causes temporary hyperpigmentation of the skin in the area of application; patients should be reassured that this hyperpigmentation normally fades after therapy ends. Another reported side effect is breast tenderness or enlargement, [11] which resolves when use of the cream is stopped.
To decrease the risk that labial adhesions will recur after having been opened either by use of estrogen cream or by manual separation, an emollient should be used several times a day for several months.
What would you like to print?