DDx
Diagnostic Considerations
In patients with a history of amenorrhea, abdominopelvic pain, and secondary sexual characteristics, the most likely diagnosis is obstruction of the uterovaginal tract with consequent hydrometrocolpos (see the image below). However, the etiology may be the consequence of various developmental anomalies. A lower abdominal mass may be palpated on physical examination, or a pelvic mass may be found on bimanual rectal examination. The diagnosis of imperforate hymen is often established during examination when a distended bluish membrane is observed at the introitus. In the absence of this finding, only imaging findings can establish the level of obstruction.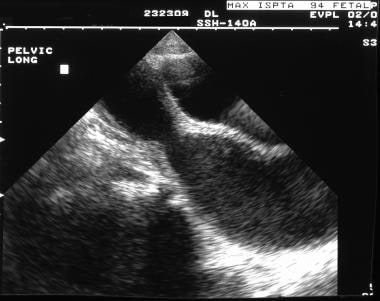 Sagittal sonogram in an adolescent with imperforate hymen shows a distended vagina and uterus.
The differential diagnoses of uterovaginal obstruction include disorders of vaginal development, such as a transverse vaginal septum or complete vaginal agenesis, which may be associated with other developmental anomalies (eg, Rokitansky-Küster-Mayer-Hauser syndrome). Duplication anomalies of the uterovaginal tract often involve one tract that is decompressed and one that is obstructed. In these patients, abdominal and back pain occurs despite their having a cyclic menstrual period. One must always consider other noncongenital conditions, such as malignancies of the upper or lower genital tract, in the differential diagnoses.
Several reports describe antenatal diagnosis of imperforate hymen. Fetal diagnosis has occurred as early as 25 weeks' gestation. A thin bulging membrane separating the labia in association with a distended vagina is apparent on ultrasonography (US). [17] These findings are usually noted during an evaluation for fetal ascites and are thought to result from distal urinary tract obstruction. However, they can also be related to reflux of uterine contents through the fallopian tubes. Ascites and bladder outlet obstruction are the most common associated findings in the fetal period. [18] Intestinal, cardiac, and anorectal defects have not been reported in conjunction with imperforate hymen.
What would you like to print?