Workup
Approach Considerations
Careful physical examination combined with imaging is usually sufficient to establish the diagnosis of imperforate hymen. In certain circumstances related to the child's age and maturity, examination may have to be deferred until it can be performed with the patient under anesthesia.
Laboratory studies are not necessary in the evaluation and treatment of imperforate hymen. Tumor markers CA-125 and CA-19-9 are elevated in imperforate hymen; although these markers suggest the presence of a benign condition, they are not necessary for diagnosis. [19]
The diagnosis should not be confirmed by aspirating secretions beyond the obstruction, because this procedure may result in iatrogenic pyocolpos. Instead, the diagnosis should be confirmed by performing noninvasive imaging studies (eg, ultrasonography [US] or magnetic resonance imaging [MRI]) to determine the extent of the vaginal outflow obstruction and to diagnose other associated anomalies.
Imaging Studies
Abdominal and pelvic US and MRI are the cornerstones of imaging for uterovaginal anomalies. US provides a reliable means for rapidly diagnosing hematocolpos or hematometrocolpos (see the images below). [20, 21] If a complex anomaly is suspected, MRI is necessary. In addition, transrectal US may help in delineating complex anatomy. MRI and US also aid in excluding associated congenital anomalies of the urinary tract. Although rare, combined anomalies (ie, imperforate hymen and a transverse vaginal septum) can occur. [22]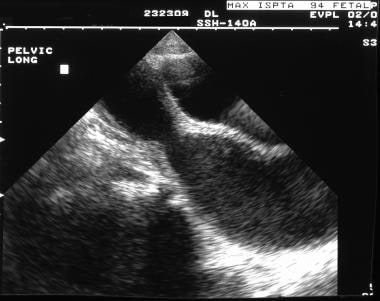 Sagittal sonogram in an adolescent with imperforate hymen shows a distended vagina and uterus.
Transverse sonogram in an adolescent with imperforate hymen shows a distended vagina immediately posterior to the bladder.
Other Tests
Invasive examination is typically unnecessary for diagnosis. However, sedation or general anesthesia may considerably aid in the examination of anxious patients, especially young children. In the optimal situation, the use of anesthesia should be delayed until noninvasive studies are completed and until a surgeon is prepared to proceed with definitive therapy.
Laparoscopy has been recommended in some cases to evacuate pelvic and intra-abdominal endometrial material generated because of retrograde menstruation. This procedure is speculated to reduce the potential for secondary endometriosis. However, most cases of endometriosis regress spontaneously after resection of the obstructing membrane. Most cases do not require concurrent laparoscopy.
What would you like to print?