Workup
Laboratory Studies
CBC count with differential and reticulocyte count
Patients with Pearson syndrome have a hypoplastic macrocytic anemia.
Some patients also have leukopenia, neutropenia, and/or thrombocytopenia.
Test of pancreatic exocrine function
Various direct and indirect tests to document evidence of pancreatic exocrine dysfunction are available, including the following:
Measurement of secretory capacity induced by exogenous hormones, a test meal, or a duodenal stimulant

Stool microscopy and analysis of fecal fat and nitrogen

Measurement of serum pancreatic isoamylase, trypsinogen, and lipase concentrations
Measurement of serum lactic acid
Patients may have lactic acidemia, most commonly seen during intercurrent illnesses.
The ratio of lactate to pyruvate may be increased at baseline.
Urinalysis
Complex organic aciduria, including 3-methylglutaconic aciduria, has been reported. [3]
Some patients have proximal renal tubular dysfunction that causes urinary wasting of amino acids, glucose, bicarbonate, phosphate, citrate, and urate.
A retrospective study by Semeraro et al suggested that urinary organic acid profile analysis may aid in the diagnosis of Pearson syndrome. The investigators found almost constant alteration of the profile in seven patients with Pearson syndrome, determining the most frequent metabolites in the urine to be lactate, 3-hydroxybutyrate, 3-hydroxyisobutyrate, fumarate, pyruvate, 2-hydroxybutyrate, 2-ethyl-3-hydroxypropionate, and 3-methylglutaconate. The novel metabolites 3-methylglutarate, tiglylglycine, and 2-methyl-2,3-dihydroxybutyrate were also found. In contrast, the report frequently found normal profiles in eight patients with Kearns-Sayre syndrome. [31]
Hepatic study
Hepatic transaminase values may be increased in patients with hepatic involvement, with this being particularly evident during intercurrent metabolic crises.
Bilirubin levels may be increased, and albumin concentrations and coagulation values (eg, prothrombin time) may reflect a defect in synthetic function.
Endocrinologic study
Some patients have evidence of having deficiencies of thyroid, parathyroid, or growth hormones.
Analysis of mitochondrial DNA
The causative deletions of mitochondrial DNA can be demonstrated with molecular genetic analysis. Because of heteroplasmy, not all tissues contain abundant amounts of mutant mitochondrial DNA. Peripheral blood cells are usually the first analytic sample. If Pearson syndrome is strongly suspected with normal findings in the blood, analysis of bone marrow should be performed.
Commercial testing is available for mtDNA deletions, and common point mutations A3243G, T3271C, G3460A, A8344G, T8356C, T8993G, T8993C, and G11778A1.
Imaging Studies
No specific imaging studies are needed to diagnose Pearson syndrome.
MRI of the brain may be performed to further investigate a phenotypic shift to a predominantly encephalopathic or myopathic condition, such as Kearns-Sayre syndrome, which may develop in older individuals with Pearson syndrome.
Procedures
Bone marrow aspiration and biopsy are necessary to obtain bone marrow for histologic analysis.
Characteristic histologic findings of Pearson syndrome can be observed, and other causes of pancytopenia can be excluded.
Histologic Findings
The number of erythroid precursors in the bone marrow is normal or increased, and there is a characteristic vacuolization of hematopoietic precursors (see the images below).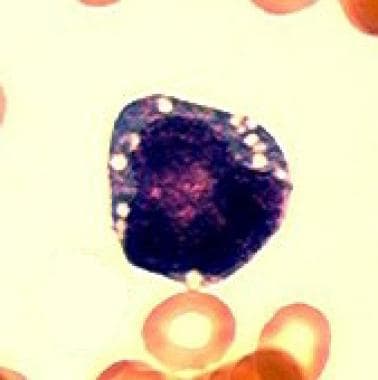 Characteristic vacuolization of a hematopoietic precursor in the bone marrow. (Light microscopy; 100x; Wright-Giemsa stain)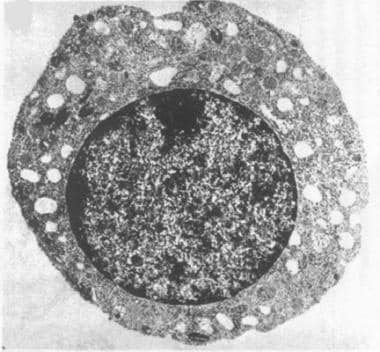 Electron photomicrograph of a hematopoietic precursor (normoblast) with vacuolization. (Transmission electron microscopy; original 10,000x)
An increased number of sideroblasts with ringed sideroblasts may be observed on iron staining (see the image below).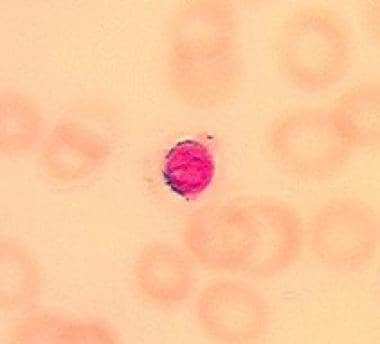 Ringed sideroblast in the bone marrow (iron stain). The dark structures that form a ring around the nucleus are hemosiderin-laden mitochondria. (Light microscopy; 100x; iron stain)
What would you like to print?