Workup
Laboratory Studies
Initial workup
The initial workup for a patient with suspected thalassemia should include a complete blood count (CBC), review of the blood smear, and iron studies, as follows:
CBC - Thalassemia involves microcytic anemia with a high red blood cell count, with the high count possibly helping to distinguish between thalassemia and iron deficiency

[1]

Peripheral smear - Review of the peripheral smear reveals hypochromasia and microcytosis; more severely affected patients can demonstrate poikilocytosis, with target cells, teardrop cells, and cell fragments

[1]

(see the image below)

Iron studies - Iron studies should be obtained to differentiate iron deficiency anemia from thalassemia and also to monitor for ongoing iron overload in patients with an established diagnosis of thalassemia; in thalassemia intermedia, iron studies reveal a normal to high ferritin level, elevated serum iron, and elevated transferrin saturation

[1]
Ancillary laboratory studies may include analyses for hemolytic anemia, such as Coombs testing, haptoglobin, lactate dehydrogenase, and indirect bilirubin. Study results found in thalassemia—including negative Coombs testing, low haptoglobin, elevated lactate dehydrogenase, and elevated indirect bilirubin—are also derived in nonimmune hemolytic anemia.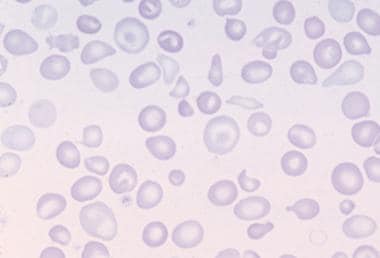 Peripheral blood film in thalassemia intermedia.
Confirmatory testing
Thalassemia is diagnostically confirmed via hemoglobin analysis and genetic testing. [1]
Hemoglobin analysis
High-performance liquid chromatography (HPLC) or hemoglobin electrophoresis is used in the execution of hemoglobin analysis. [1] In beta thalassemia intermedia, hemoglobin analysis reveals elevated levels of HbF and HbA2. However, beta thalassemia may still exist when the HbA2 level is normal, with such concentrations dropping into the normal range in the presence of conditions such as concomitant iron deficiency and delta-chain mutations. [1]
Genetic testing
The diagnosis of beta thalassemia intermedia does not always require DNA-based genotyping, but such analysis may aid in recognizing complex thalassemias such as delta-beta and gamma-delta-delta thalassemia. [1] Genetic analysis may also help to differentiate thalassemia intermedia from thalassemia major. For example, the presence of IVSI‐5 homozygous with Xmn‐1 is a strong indicator of thalassemia intermedia, but genetic heterogeneity means that this method is not in routine use. [15]
Routine Monitoring
Using the following studies, patients with beta thalassemia intermedia can be monitored for complications during routine health visits with a specialist [1] :
CBC, reticulocyte count, hepatic panel, and renal function

Iron studies

Baseline cardiac magnetic resonance imaging (MRI) with iron deposition quantification

Echocardiographic evaluation

Liver iron concentration assessed via magnetic resonance evaluation

Dual-energy radiographic absorptiometry (DRA) scan or skeletal survey for pediatric patients

Screens for thyroid dysfunction, diabetes mellitus, gonadal dysfunction (in the presence of delayed puberty), hypoparathyroidism, growth hormone deficiency (in the presence of failure to thrive), and adrenal insufficiency
What would you like to print?