Workup
Laboratory Studies
Laboratory studies are as follows [8] :
Gram stain of aspirated tissue - To evaluate bacterial etiologies

Culture of aspirated tissue or biopsy specimen - To determine the causative organism and its sensitivity to antibiotics

Monospot or Epstein-Barr virus (EBV) serologies - To confirm the diagnosis of infectious mononucleosis

Bhenselae serologies - To confirm the diagnosis of catscratch disease (if exposed to cats)

Skin testing or purified protein derivative (PPD) - To confirm the diagnosis of tuberculous lymphadenopathy; alternative is interferon-gamma release assays (IGRA) [15]

CBC count - Elevated WBC count may indicate an infectious etiology

Erythrocyte sedimentation rate (ESR), C-reactive protein (CRP) - Elevated ESR and CRP are nonspecific indicators of inflammation

Liver function tests - May indicate hepatic or systemic involvement; elevated transaminase levels can be seen in infectious mononucleosis
Imaging Studies
Ultrasonography may be useful for verifying lymph node involvement and taking accurate measurements of enlarged nodes. A study by Wang et al indicated that endobronchial ultrasonography can aid in differentiating between nonmalignant intrathoracic lymphadenopathies, including tuberculosis, sarcoidosis, and reactive lymphadenitis. The investigators found that the presence of reactive lymphadenitis is predicted by the existence of central hilar structure and a lack of clustered formation, as well as by vascular pattern (hilar perfusion or avascularity). Best diagnostic accuracies of 77.1%, 89.2%, and 87.1% were found for tuberculous nodes, sarcoid nodes, and reactive lymphadenitis, respectively. [9]
Chest radiography may be helpful in determining pulmonary involvement or spread of lymphadenopathy to the chest.
Procedures
Lymph node biopsy (see the image below), either partial or excisional, should be considered in cases in which lymphadenitis is not obviously related to an infectious cause, lymph nodes have remained enlarged for a prolonged period (4-6 wk), lymph nodes are in a supraclavicular location, lymph nodes have firm/rubbery consistency, ulceration is present, the patient has not responded to antibiotic therapy, or the patient has systemic symptoms (eg, fever, weight loss).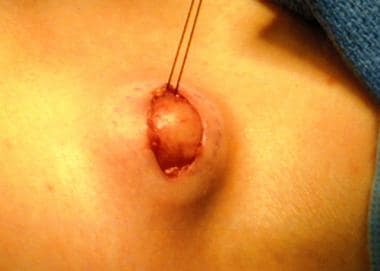 A lymph node biopsy is performed. Note that a marking pen has been used to outline the node before removal and that a silk suture has been used to provide traction to assist the removal.
Fine-needle aspiration (FNA) is a technique used to obtain specimens for diagnostic testing. If malignancy is suspected, partial or excisional biopsy is preferred over FNA as FNA sampling may be inadequate for diagnosis.
Incision and drainage is the treatment for lymphadenitis with abscess formation. For NonTuberculosis Mycobacteria (NTM) lymphadenitis complete surgical excision is curative.
For the diganosis of isolated mediastinal lymphadenitis due to Tuberculosis Mycobacteria (TB), EndoBronchial UltraSound (EBUS) transbronchial needle aspiration has been reported to be a safe and well tolerated procedure. [10]
What would you like to print?