Workup
Imaging Studies
Plain radiography
The primary role of radiographs in the evaluation of back pain is to evaluate for fracture, tumors, or infection. However, radiographs can also provide some useful information when evaluating for thoracic disc herniations. Osteophyte formation, disc-space narrowing, and kyphosis are signs of disc degeneration and often occur in conjunction with disc herniation. However, these findings have a low specificity for the diagnosis of thoracic disc herniation. Although not diagnostic, disc calcification is a more reliable finding when evaluating for thoracic disc herniation on radiographs. This finding is present in up to 70% of patients with thoracic disc herniation and is seen in only 4-6% of patients without thoracic disc herniation.
CT myelography
With the advent of MRI, CT myelography is used less frequently in the evaluation of thoracic discogenic pain syndrome. MRI has diagnostic advantages over CT myelography and does not involve injection of contrast into the epidural space. However, CT myelography is good for diagnosing lateral herniations and calcification, and this imaging modality is often used in preoperative planning.
MRI
MRI is the most commonly used diagnostic test in the evaluation of thoracic disc herniation. It is the screening test of choice and is extremely sensitive for detecting disc abnormalities. Advantages of MRI compared with CT scanning or CT scanning with myelography include better visualization of the soft-tissue structures, earlier recognition of disc degeneration, and the ability to evaluate in the sagittal plane. See the image below.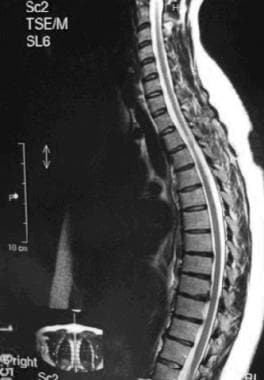 Sagittal magnetic resonance image of a lower thoracic herniated disc.
MRI can be used to determine the size and location of the disc herniation and to characterize it as a protrusion, extrusion, or sequestration. Although helpful in preoperative planning, these features may not be helpful in determining a prognosis. Brown et al retrospectively reviewed the MRI results of 55 patients with symptomatic thoracic disc herniations. [7] Fifteen patients ultimately needed surgery and 40 patients did well with conservative management. MRI could not help distinguish the discs in the surgically treated group from the discs in the conservatively treated group. [7]
A more useful way of determining the severity of thoracic disc herniation with MRI may be quantifying the amount of neural compression. One such grading system suggested by Kaplan is as follows [8] :
Mild: The anterior epidural fat is not obliterated.

Moderate: The epidural fat is obliterated, and the thecal sac is displaced.

Severe: The cord is effaced or the nerve root(s) is displaced.
Despite the usefulness of MRI, it does have limitations. As technology has improved, thoracic disc herniations are more easily recognized. However, all of these thoracic disc herniations may not be clinically significant. Wood et al evaluated 90 individuals without thoracic pain to determine the frequency of abnormalities. [9] Intervertebral degenerative changes, annular abnormalities, or both were found in 73% of the subjects; herniation was seen in 37% of the subjects.
MRI is also less sensitive for the evaluation of annular tears, particularly in the thoracic region. The high-intensity zone that commonly represents radial tears in cervical and lumbar MRIs is not seen as often in the thoracic region. These limitations underscore the importance of the patient's history and physical examination. MRI plays an important role in the evaluation of thoracic discogenic pain syndrome, but the results must be interpreted in light of the clinical findings and with knowledge of the limitations of MRI.
Other Tests
Electrodiagnosis
Electrodiagnostic studies, including nerve conduction study (NCS), needle electromyography (EMG), and somatosensory evoked potentials (SSEPs), can be useful adjuncts to the history and physical examination. NCS and EMG can be used in the evaluation of thoracic radiculopathy; however, their utility is limited by the limited number of tests, the lack of their ability to localize the level of involvement, and the risk of pneumothorax or penetration of the abdominal cavity with some techniques. However, NCS and EMG can be extremely useful in excluding other possible diagnoses, such as cervical radiculopathy, lumbosacral radiculopathy, and peripheral neuropathy.
SSEPs should be considered in cases in which it is unclear whether clinical symptoms are due to an upper motor neuron or lower motor neuron process. SSEPs can help make this distinction and can assist in directing subsequent treatment accordingly.
Discography
Thoracic discography may be considered in patients who are considering surgical intervention for predominantly axial back pain that is thought to be discogenic in nature. [10] Discograms are most useful when they demonstrate single-level concordant pain that is associated with endplate irregularities or annular tears and normal discs at adjacent levels. However, the results of thoracic discography should be interpreted with caution.
Wood et al showed that 55% of discograms performed in patients with symptomatic thoracic pain revealed concordant pain. Whether this large number of positive results represents multilevel disease or a high false-positive rate in the population is unclear. Furthermore, 2 of 10 asymptomatic patients demonstrated pain that could be interpreted as a positive result. Wood et al concluded that long-term prospective studies of surgical outcomes and their correlation with discography results are warranted.
Procedures
Epidural corticosteroid injections
For patients with a thoracic radiculopathy as a result of a thoracic disc herniation whose condition has not responded to conservative therapy, thoracic epidural steroid injections are a reasonable treatment option. [11, 12] The efficacy of epidural corticosteroid injections has been documented in cervical and lumbar radiculopathies. However, because of the small number of documented cases of thoracic discogenic pain syndrome, no study has been performed to evaluate efficacy for this specific condition.
What would you like to print?