Workup
Approach Considerations
Croup is primarily a clinical diagnosis, with the diagnostic clues based on presenting history and physical examination findings.
Laboratory test results rarely contribute to confirm diagnosis. The complete blood cell (CBC) count is usually nonspecific, although the white blood cell (WBC) count and differential may suggest a viral etiology with lymphocytosis. Identifying the specific viral etiology (eg, parainfluenza virus type) via nasal washings is typically not necessary, but may be useful to determine isolation needs in the hospital care setting or, in the case of influenza A, to decide whether antiviral therapy should be initiated.
Pulse oximetry readings are within the normal reference range for most patients; however, this monitoring is helpful to assess for the need for supplemental oxygen support and to monitor for worsening respiratory compromise as evident with tachypnea and poor maintenance of oxygen saturations. Arterial blood gas (ABG) measurements are unnecessary and do not reveal hypoxia or hypercarbia, unless respiratory fatigue ensues.
Patients who present with fevers, tachypnea, and history of decreased oral fluid intake require evaluation of their hydration status. Compromised oral intake and inability to maintain needed fluid volume may require intravenous fluid support to stabilize, support, and sustain fluid requirements.
Procedures
Laryngoscopy is indicated only in unusual circumstances (eg, the course of illness is not typical, the child has symptoms that suggest an underlying anatomic or congenital disorder). This procedure may also be required for those patients with bacterial tracheitis to obtain the necessary cultures, in an attempt to properly tailor antibiotic treatment. Other procedures that may be indicated and require the guidance of a pediatric otolaryngologist include the following:
Direct laryngoscopy, if the child is not in acute distress

Bronchoscopy (for cases of recurrent croup to rule out airway disorders) [17]
A retrospective study assessed for those risk factors in children diagnosed with recurrent croup, that would predict moderate/severe findings on direct laryngoscopy and bronchoscopy and the need for further operative interventions. The authors concluded that moderate to severe findings were present in 8.7% of children with history of recurrent croup. Using statistical modeling, they reported that the two high-risk patient groups are (1) patients without a history of intubation, but with inpatient consultation and (2) patients with a history of intubation and age younger than 36 months. [18]
Radiography
Plain films can verify a presumptive diagnosis or exclude other disorders causing stridor and hence, mimic croup. A lateral neck radiograph can help detect clinical diagnoses such as an aspirated foreign body, esophageal foreign body, congenital subglottic stenosis, epiglottitis, retropharyngeal abscess or bacterial tracheitis (thickened trachea). [19]
Most importantly, croup is a clinical diagnosis. Radiographs can be used as a tool to help confirm this diagnosis, but are not required in uncomplicated cases. [20] The anteroposterior (AP) radiograph of the soft tissues of the neck classically reveals a steeple sign (also known as a pencil-point sign), which signifies subglottic narrowing, whereas the lateral neck view may reveal a distended hypopharynx (ballooning) during inspiration (see the images below). [21] However, these x-ray findings may not be seen in up to 50% of children with clinical symptoms of croup.
A steeple sign may also be observed in patients without croup, which warrants other differential considerations for this radiographic finding, such as epiglottitis, thermal injury, angioedema, or bacterial tracheitis. [22] Patients should be monitored during imaging, because progression toward airway obstruction may occur rapidly.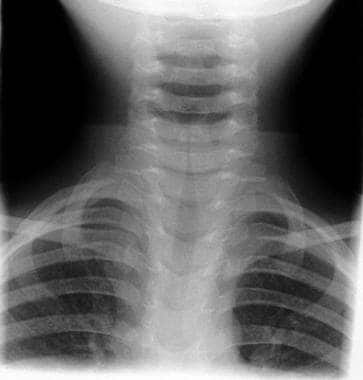 Child with croup. Note the steeple or pencil sign of the proximal trachea evident on this anteroposterior film. Courtesy of Dr. Kelly Marshall, CHOA at Scottish Rite.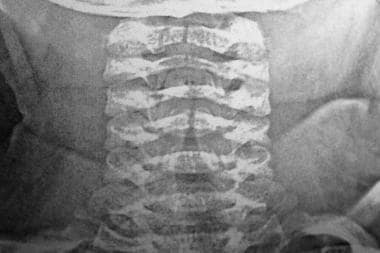 Steeple sign on radiograph.
What would you like to print?