Workup
Laboratory Studies
The laboratory studies discussed below may be indicated in patients with cytomegalovirus (CMV) infection.
Viral culture is the most important diagnostic study in the evaluation of suspected CMV disease. CMV may be cultured from virtually any body fluid or organ system. Blood, urine, saliva, cervicovaginal secretions, cerebrospinal fluid (CSF), bronchoalveolar lavage fluid, and tissues from biopsy specimens are all appropriate specimens for culture. The specimen is inoculated onto human cells (usually human foreskin fibroblasts), and the cell culture is monitored for development of the characteristic CMV-associated cytopathic effect.
Shell vial assay is a centrifugation enhancement monoclonal-antibody culture technique that is an adaptation of tissue culture. It provides results more rapidly, which can be advantageous because although culture is highly sensitive, clinical isolates of CMV may grow slowly, requiring as long as 6 weeks of incubation in the virology laboratory. In shell vial assay, the clinical specimen is centrifuged onto a cell monolayer (in effect, concentrating the specimen). Then, following incubation in tissue culture, cells are stained with a monoclonal antibody to a CMV-specific antigen, usually an immediate early gene product. A positive shell vial culture is presumptive evidence of active CMV infection, and the test is a useful adjunct to traditional viral culture. [45]
Polymerase chain reaction (PCR) [46] and CMV antigenemia studies have emerged in recent years as the studies of choice in monitoring the status of CMV replication and establishing the diagnosis of CMV disease in immunocompromised patients. Of these, PCR is most commonly used owing to its convenience and its ability to be processed in automated fashion. The magnitude of the viral load in blood as determined by quantitative PCR in immunocompromised patients is a valuable parameter in making the decision to initiate preemptive therapy, toward the goal of preventing serious CMV end-organ disease. [47, 48] PCR can also be used to make the diagnosis of congenital CMV infection, using blood, urine and saliva as appropriate fluids for study, and quantitative PCR in infected newborns may prove to be useful in monitoring response to antiviral therapy.
Exercise caution when obtaining and interpreting CMV diagnostic studies in young infants. By definition, the diagnosis of congenital CMV infection requires identification of the virus in a culture specimen acquired before age 3 weeks because perinatally acquired infections may also begin to manifest at this time. Hence, a positive viral culture obtained in infants older than 3 weeks may simply represent perinatal or breast milk acquisition and may not be interpreted as evidence of congenital CMV infection.
Although theoretically helpful, CMV immunoglobulin M (IgM) assays are unfortunately too nonspecific to reliably diagnose congenital CMV infection. False-positive results are common; therefore, making the diagnosis of congenital infection outside of the immediate perinatal period is very difficult.
Universal screening for congenital CMV infection may be a reasonable future goal and could enable establishment of appropriate anticipatory neurodevelopmental and serial audiological screening programs. A study demonstrated that, unfortunately, the use of the newborn blood spot to screen for congenital CMV infection is unreliable, because of suboptimal sensitivity. [49] Therefore, alternative approaches to universal CMV screening need to be developed.
Outside of the neonatal period, the major caution regarding CMV diagnosis is to use diagnostic studies appropriately to differentiate between CMV infection (the presence of CMV in blood or body fluids without proof of end-organ damage) and CMV disease.
Infants and children infected with CMV may shed the virus for years, making a positive urine viral culture difficult to interpret.
Immunocompromised patients often have reactivation of latent CMV with subsequent viral shedding, even in the absence of overt CMV disease. Thus, the identification of CMV by culture in urine or saliva may reflect such chronic shedding of virus and is difficult to interpret in the evaluation of patients with end-organ disease, such as pneumonitis or hepatitis.
Lung biopsy or bronchoalveolar lavage may be necessary to confirm the diagnosis of CMV pneumonitis.
Hepatitis may require liver biopsy for confirmation of the diagnosis, and CMV hepatitis and chronic rejection may be a difficult differential diagnosis in liver transplant recipients, even with a biopsy.
Imaging Studies
Congenital cytomegalovirus (CMV) infection
The most important study in the diagnostic evaluation of the congenitally infected infant with CMV is head CT scanning (see the image below).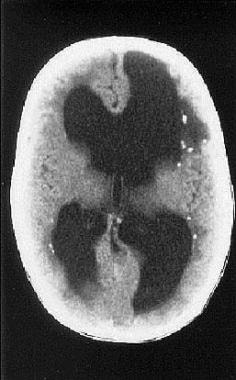 Cranial CT scan of infant born with symptomatic congenital cytomegalovirus infection. Neurological involvement is evident, manifest as ventriculomegaly and periventricular calcifications.
A CT scan of the head is required for infants with microcephaly or when congenital CMV infection is suspected because abnormalities in this study, particularly the presence of calcifications, have a strong positive predictive value and can aid in identifying children who need ongoing neurodevelopmental evaluation and therapy.
Evidence suggests that head ultrasonography may be of equal value to CT scanning in evaluation of potential intracranial pathology in the setting of congenital CMV infection.
Infants with congenital CMV infection may also require abdominal imaging studies (eg, ultrasonography, CT scanning) for documentation and monitoring of organomegaly.
Other CMV syndromes
Depending on the patient population, radiographic studies are seldom of value in evaluation of CMV disease.
Exceptions include the rare patient with severe mononucleosis caused by primary CMV infection who may require abdominal ultrasonography for monitoring of splenomegaly or the immunocompromised patient who requires chest radiography studies for the possibility of CMV pneumonitis.
Other Tests
Other tests are indicated, based on the organ systems involved and manifestations of disease syndromes.
Procedures
Procedures depend on the age of the patient and manifestations of disease syndromes. For infants, procedures may include lumbar puncture or liver biopsy.
For immunocompromised transplant recipients, bronchoalveolar lavage, tissue or organ biopsy, and lumbar puncture may all be required to evaluate for extent of cytomegalovirus (CMV)-associated disease. For some patients with AIDS who have retinitis, placement of ganciclovir-impregnated intravitreal implants may be an important ancillary procedure.
Histologic Findings
The classic tissue histological finding in cytomegalic disease is the inclusion cell; however, viral culture, serology, antigenemia, and nucleic acid detection systems (eg, PCR) generally have much better sensitivity for the diagnosis of cytomegalovirus (CMV)–associated diseases. Histopathology, therefore, typically is not needed to establish the diagnosis of CMV infection in most settings.
What would you like to print?