Workup
Laboratory Studies
Polymerase chain reaction (PCR) is the preferred diagnostic method for herpes simplex virus infections, particularly CNS infection [8, 9, 10] and disseminated disease.
A definitive diagnosis of herpes simplex virus (HSV) infection can also be confirmed by isolating the virus in tissue cultures.
Obtain scrapings of skin vesicles and mucosal lesions and expeditiously transfer them in appropriate viral-transport media to a diagnostic virology laboratory. A cytopathic effect usually develops within 24-48 hours after inoculation of any specimens containing infectious virus. Culture sensitivity may be improved with low-speed centrifugation or ultracentrifugation of the sample directly onto monolayers in centrifuge tubes (shell vials). Immunofluorescent staining of infected tissue culture cells helps in quickly identifying herpes simplex virus as being type 1 or 2.
A skin scraping of the lesion may reveal histologic appearances characteristic of herpesvirus infection, such as multinucleated giant cells and epithelial cells containing intranuclear inclusion bodies. Punch biopsy can provide optimal tissue for histologic diagnosis of a herpesvirus infection, particularly with atypical-appearing lesions.
A Tzanck preparation (see Procedures) may demonstrate the characteristic cytologic changes noted with herpesvirus infection. Cytologic examination via Tzanck testing has low sensitivity (approximately 60-70%), however; as such, use of that testing for diagnosis of herpes simplex virus infection is discouraged. [11, 18, 70]
Serologic diagnosis is of little clinical use. Therapeutic decisions cannot be delayed until serologic results become available.
Serologic testing is of value only to determine past exposure to herpes simplex virus. It may be helpful in demonstrating a primary seroconversion. Because of antibody cross-reactivity, herpes simplex virus type 1 (HSV-1) and herpes simplex virus type 2 (HSV-2) antibodies are not generally distinguishable unless a glycoprotein G antibody assay is used. Transplacental transfer of maternal herpes simplex virus antibody renders interpretation in neonates difficult.
Evaluation of cerebrospinal fluid (CSF) specimens from patients with biopsy-proven herpes simplex virus encephalitis and in those with other proven diseases has a sensitivity of greater than 95% and a specificity that approaches 100% at the time of clinical presentation. Overall sensitivities of PCR in neonatal herpes simplex virus disease range from 75-100%, with overall specificities of 71-100%. [10]
PCR results are positive early in the course of herpes simplex virus encephalitis and remain positive during the first week of therapy. PCR may be used to detect herpes simplex virus in skin lesions.
Herpes simplex virus PCR results should be interpreted cautiously because neither the specificity nor the sensitivity of the analyses is 100%. In addition, performance of these tests may vary among laboratories. Failure to detect HSV DNA by PCR testing of genital lesion swabs does not necessarily rule out a diagnosis of HSV infection, as viral shedding can be intermittent. [11] Testing results should be correlated with clinical manifestations and the course of illness in determining their diagnostic significance.
One study evaluated the utility of quantitative herpes simplex virus PCR levels for prognosis and management of neonatal HSV disease and found a correlation between plasma HSV levels and clinical presentation of neonatal HSV disease and mortality, but not neurologic outcome. [71]
Following analysis of data extracted from the Pediatric Health Information System (PHIS) database, Gaensbauer et al reported that strategies for diagnosis and empirical treatment of suspected HSV encephalitis beyond the neonatal period have trended toward the approach common for neonates without evidence of an increase in disease incidence. [72]
Additional laboratory evaluations (e.g., evaluation of CSF) are necessary in evaluating disseminated infection or infection involving single or multiple organ systems.
A slide prepared from scrapings of lesions may be examined for herpes simplex virus antigens by using immunofluorescent microscopy. Herpes simplex virus type-specific monoclonal antibodies, which are available in commercial antibody staining kits, permit the identification and typing of isolates in tissue samples. Slides containing cells from suspected herpes simplex virus lesions or specimens should be fixed with ethanol or methanol and immediately transported to the laboratory for analysis.
In patients with Mollaret meningitis, analysis of CSF reveals a mixed pleocytosis with neutrophils, lymphocytes, and endothelial cells (Mollaret cells).
Imaging Studies
In patients with herpes simplex virus encephalitis, CT scans and MRI typically reveal focal abnormalities, frequently in the temporal lobe, that may be associated with edema and hemorrhagic necrosis (see the image below).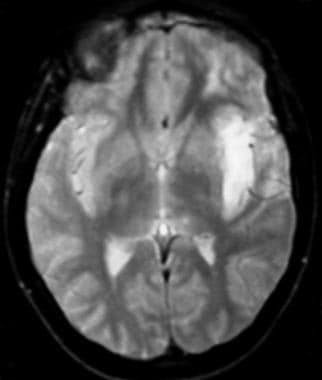 MRI shows abnormal signal intensity in the left temporal lobe of an 18-year-old man with herpes simplex virus (HSV) encephalitis.
Imaging can also be useful in providing information that suggests etiologies other than herpes simplex virus.
Other Tests
The electroencephalogram is diffusely abnormal in neonates with CNS herpes simplex virus.
Electroencephalography may demonstrate paroxysmal lateralizing epileptiform discharges (PLEDs) but more commonly shows focal spike and slow-wave abnormalities.
Procedures
The Tzanck preparation can be used for the cytologic identification of vesicular exanthems caused by herpesviruses. In the event of a positive test, the microscopist cannot differentiate between infections caused by HSV-1, HSV-2, and varicella zoster virus, however.An intact vesicle is aspirated with a sterile tuberculin syringe. This fluid may be submitted for viral isolation. After the vesicle is aseptically unroofed, the base of the lesion is vigorously scraped with a scalpel or a wooden applicator. The resultant material is placed on a slide, air dried, fixed, and stained, usually with Giemsa or Wright stain.
A positive result is denoted by identification of typical multinucleated giant cells or, uncommonly, Cowdry type A intranuclear inclusion bodies. If the examiner is experienced, 40-80% of culture-positive specimens are recognized as positive by cytologic examination. Appropriate immunofluorescent antibody reagents facilitate the identification of different herpesviruses and some viruses other than herpesviruses.
Lumbar puncture (LP) with submission of CSF for the Gram staining, bacterial culture, and other analyses (eg, determination of cell counts, protein, and glucose levels) is essential when patients with encephalitis are evaluated. Hemorrhagic CSF may be found in herpes simplex virus encephalitis. LP is contraindicated in patients with marked increased intracranial pressure.
All patients with neonatal CNS herpes simplex virus infection should undergo repeat LP at the end of intravenous (IV) acyclovir therapy to determine that the CSF specimen is negative for herpes simplex virus on PCR testing by a reliable laboratory and to document end-of-therapy CSF indices. [10]
Historically, brain biopsy results were frequently used to diagnose herpes simplex virus CNS disease and to exclude other potential pathologic processes. PCR is currently the standard diagnostic modality for herpes simplex virus CNS disease. However, if multiple PCR results are negative in a patient who has signs and symptoms strongly suspicious for herpes simplex virus encephalitis, brain biopsy may be contemplated. It is important to note that CSF PCR testing results in patients with HSV encephalitis can be falsely negative when obtained prior to the third day of illness. [18]
Histologic Findings
Herpes simplex virus infects cells of ectodermal origin.
Infected cells swell with intracellular edema and degeneration.
The nuclei of infected cells undergo mitotic division, resulting in the formation of multinucleated giant cells. The nuclei of herpes simplex virus–infected cells often demonstrate eosinophilic intranuclear inclusions and marginated nuclear chromatin.
As cells manifest injury and as local inflammation progresses, intercellular edema develops and forms vesicles. Cutaneous vesicles eventually progress to pustules and heal by crusting. Mucosal vesicles are transient and appear as shallow ulcers.
What would you like to print?