Presentation
History and Physical Examination
Symptoms of mucormycosis vary depending on the involved anatomic site. However, unexplained or persistent fever in a patient who has immunosuppression and who is receiving broad-spectrum antibiotics should alert the clinician to look for possible foci of mucormycosis.
Rhinocerebral disease
The most common signs and symptoms of rhinocerebral mucormycosis are altered mental status, fever, and pain and swelling over the involved site. Severe headache can also manifest. Most of these findings occur in patients with diabetic ketoacidosis.
A black eschar of the nasal mucosa or palate is usually a hallmark sign of rhinocerebral mucormycosis. It is a sign of deep infection and tissue destruction of the nasal mucosa. This finding on physical examination should prompt biopsy and empiric treatment.
CNS disease
Persistence of altered mental status after metabolic abnormalities are corrected, especially in patients with diabetic ketoacidosis, should alert the physician to consider mucormycosis involving the central nervous system (CNS).
Loss of extraocular muscular function, along with proptosis and cranial nerve dysfunction of cranial nerves V and VII, are signs of neurologic involvement in mucormycosis. Several other cranial nerves, such as cranial nerves I, III, and IV, can also be involved.
Pulmonary and GI disease
Fever, dyspnea, hemoptysis, and cough are observed in patients with pulmonary mucormycosis.
Abdominal pain can be a manifestation of gastrointestinal (GI) mucormycosis. GI mucormycosis is mostly encountered in premature neonates and in patients with malnutrition. Severe malnutrition is an independent risk factor.
Cutaneous disease
A black eschar on the skin of a patient who is immunocompromised should prompt skin biopsy, as seen in the following image. Progressive cellulitis of skin lesions with gangrene and necrosis is another concern in cutaneous mucormycosis.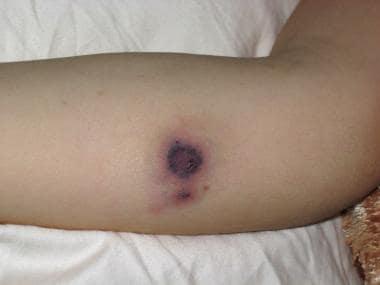 Black eschar on the skin of an immunocompromised patient.
What would you like to print?