Workup
Laboratory Studies
Laboratory diagnosis can be very slow in patients with plague. Any patient with suspected plague based on clinical or epidemiological reasons should be empirically treated with prompt appropriate antibiotic therapy after blood and tissue samples have been collected.
Culture of Y pestis from clinical samples is diagnostic. [18, 19] The organism can be isolated from blood, sputum, cerebrospinal fluid, and bubo aspirates, depending on the patient's presentation. Y pestis is slow growing, but it does not require any special growth media. When attempting to culture Y pestis from a suspected case, the microbiology laboratory should be alerted to minimize the possibility of accidental transmission to personnel.
Staining lymph node aspirates with Wright, Wayson, or Giemsa stain reveals the typical bipolar (safety pin) morphology. Blood of patients who are septicemic can also be stained to reveal organisms. A positive fluorescence antibody test on smears or cultures is presumptive evidence of infection (see the image below).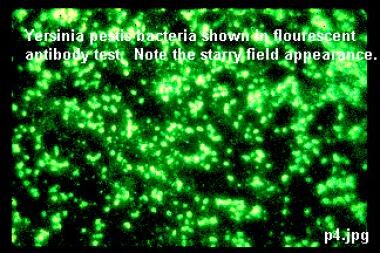 Yersinia pestis bacteria on fluorescent antibody test. Image courtesy of the Centers for Disease Control and Prevention (CDC).
Serologic tests may be an adjunct to diagnosis. Acute and convalescent sera can be tested for fraction 1 (F1) envelope antigen and antibody by enzyme immunoassay or passive hemagglutination. A single positive hemagglutination assay or enzyme immunoassay in a patient who has not received plague vaccine nor has had previous plague is also presumptive of infection.
Polymerase chain reaction (PCR) is available. [20]
Associated laboratory findings include leukocytosis, elevated liver function enzymes, and evidence of disseminated intravascular coagulopathy.
Imaging Studies
Pneumonic plague does not exhibit specific chest radiography findings.
Bilateral patchy infiltrates may be seen, but unilateral consolidation is also common.
Pleural effusion and hilar lymphadenopathy can also be appreciated.
What would you like to print?