Overview
Practice Essentials
Peritonsillar abscess (PTA) is a suppurative infection of the tissues between the capsule of the palatine tonsil and pharyngeal muscles and is the most common abscess of the head and neck region. (See the image below.) It is usually unilateral but can be bilateral in about 6% of instances. [1] Peritonsillar abscess (also known as quinsy) is the commonest of all deep neck infections. [2] Other deep neck infections include retropharyngeal abscess and parapharyngeal (lateral pharyngeal) space abscess. [3]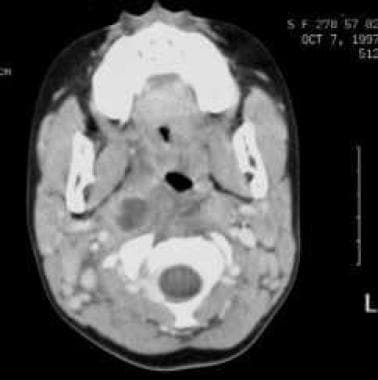 CT scan with contrast demonstrates a 2-cm low-attenuation mass with a minimally enhancing wall in the right peritonsillar region. Associated edema, ipsilateral jugulodigastric lymphadenopathy, compression of the internal jugular vein, and deviation of the airway are present.
Signs and symptoms of peritonsillar abscess
The following clinical features may be noted:
Sore throat/dysphagia and neck swelling and pain

Pooling of saliva and drooling

Tiredness, irritability, and reduced oral intake
See Presentation for more detail.
Diagnosis of peritonsillar abscess
Laboratory studies
Laboratory tests are unnecessary if the diagnosis of peritonsillar abscess is straightforward. However, tests may include the following.
Complete blood cell (CBC) count with differential

Needle aspiration of purulent material for Gram staining and culture and sensitivity
Imaging studies
Imaging studies are unnecessary if the diagnosis is straightforward; however, a CT scan with intravenous contrast is the preferred radiologic study.
See Workup for more detail.
Management of peritonsillar abscess
Areas to be addressed in patients who present with peritonsillar abscess include hydration, analgesia, and antibiotic therapy.
The three drainage procedures are needle aspiration, incision and drainage, and tonsillectomy.
See Treatment and Medication for more detail.
Pathophysiology
Peritonsillar abscess generally occurs in the superior pole of the tonsil. It can also be present at the midpoint or inferior pole of the tonsil or have multiple loculations within the peritonsillar space. The development of the abscess is often gradual, with an early stage of peritonsillar cellulitis. If not properly treated, an abscess emerges.
Two mechanisms have been proposed to explain the development of a collection of pus in the loose connective tissue of the supratonsillar fossa. The more common explanation is that a peritonsillar abscess develops from an inadequately treated bacterial tonsillitis. An alternative explanation is that a peritonsillar abscess is an abscess formed in a group of salivary glands in the supratonsillar fossa, known as Weber glands.
Lymphatic drainage from an infected peritonsillar abscess is to the ipsilateral jugulodigastric nodes. Bacterial cultures that are also adequate for the recovery of anaerobic bacteria usually yield polymicrobial aerobic and anaerobic bacteria. Group A beta-hemolytic streptococci is recovered in 25-40% of the abscesses. Anaerobic bacteria is isolated in over 90% of aspirated pus, [4] and elevated antibody levels to these organisms is detected in most patients with peritonsillar abscess. [5] Methicillin-resistant Staphylococcus aureus (MRSA) has been isolated with greater frequency in peritonsillar abscesses in recent years. [6]
Etiology
Most peritonsillar abscesses are polymicrobial. If appropriate microbiologic techniques are used, a positive culture of aerobic and/or anaerobic pathogens is found in 60-80% of aspirates. [7]
Bacterial growth is often polymicrobial, including aerobic and anaerobic bacteria of oral flora origin. More than half of the aerobic (ie, S aureus) and anaerobic (ie, Prevotella, Porphyromonas, and Fusobacterium species) isolates can be beta-lactamase producers.
Streptococcus pyogenes may be absent in over half the cases, and the causative organisms may be anaerobic bacteria. [8]
Aerobic bacteria implicated in peritonsillar abscess include the following:
Group A beta-hemolytic streptococci -S pyogenes most commonly isolated aerobe; other beta-hemolytic streptococci are groups C and G

S aureus (methicillin susceptible or methicillin resistant) [9]

Alpha-hemolytic streptococci

Coagulase-negative staphylococci

Streptococcus pneumoniae (penicillin susceptible or penicillin resistant)
Anaerobes implicated in peritonsillar abscess include the following [4, 5] :
Anaerobic gram-negative bacilli (eg, pigmented Prevotella and Porphyromonas species, Bacteroides species)

Peptostreptococcus species

Fusobacterium species (Fusobacterium nucleatum predominated in recent studies) [10]
Viruses do not seem to play a role in the pathogenesis of peritonsillar abscess. [11]
Differentiating between peritonsillar abscess and peritonsillar cellulitis is often difficult because the pathogenesis is similar and patients present with similar symptoms. [12] Only patients with a peritonsillar abscess require a drainage procedure, whereas patients with either peritonsillar abscess or peritonsillar cellulitis are treated with antibiotics.
Clinical signs such as trismus and inconsistent drooling have been associated more often with peritonsillar abscess. No method to differentiate between the two is perfect; however, current methods include the following:
Observing the patient's response to 24-48 hours of intravenous antibiotics

Attempting needle aspiration of the site
Epidemiology
United States statistics
The estimated incidence in the United States is 30 cases per 100,000 person-years in patients aged 5-59 years. [16] The incidence in children younger than 18 years is 14 cases per 100,000 population. Approximately 25-30% of patients with peritonsillar abscess are in the pediatric age group. [17]
A study by Qureshi et al analyzed temporal trends in the incidence and surgical management of children with peritonsillar abscesses. The study found that there was no change in the incidence from 2000 to 2009 but there was a change in surgical management, with a significant decrease in the rate of tonsillectomy and significant increase in the rate of incision and drainage procedures. [18]
International statistics
The incidence of peritonsillar abscess in Ontario, Canada, was 12 cases in 100,000 population. [19]
The mean annual incidence of peritonsillar abscess in Europe was 41 cases in 100,000 population. [15]
Race-, sex-, and age-related demographics
No race predilection is known.
No sex predilection is reported.
Peritonsillar abscess most commonly occurs in the third and fourth decades of life. Pediatric cases are more common in children older than 10 years, although cases have been described in children younger than 1 year.
Prognosis
Prognosis is good for full recovery when patients are treated with a combination of a drainage procedure and the appropriate antibiotic therapy. After one aspiration, 80-90% of PTAs resolve. An additional 5-10% of PTAs resolve with repeat aspiration.
If patients have not already undergone an abscess tonsillectomy, PTA is considered as a relative indication for interval tonsillectomy in the following patients:
Patients who have had recurrent tonsillitis prior to PTA

Patients who have a recurrent PTA
In rare instances, PTA can recur after a bilateral tonsillectomy.
Morbidity/mortality
The mortality rate is unknown. Mortality is often due to aspiration of a ruptured abscess or sequelae of sepsis. Morbidity stems principally from pain and dehydration.
Complications
Note the following possible complications:
Aspiration of abscess contents (spontaneously or with incision and drainage) and development of aspiration pneumonia

Septic thrombophlebitis involving the internal jugular vein (Lemierre syndrome) or internal carotid artery leading to septicemia with metastatic foci of infection, especially in the lung (Lemierre syndrome, caused by Fusobacterium)

Pseudoaneurysm of the carotid artery

Hemorrhage as a result of iatrogenic injury to major vessels on attempted aspiration or incision and drainage

Contiguous spread to the pterygomaxillary space

Septic and nonseptic complications of group A streptococcus infection
A literature review conducted by Klug et al revealed that descending mediastinitis was the most frequently reported complication in patients with peritonsillar abscess, followed by parapharyngeal and retropharyngeal abscess, necrotizing fasciitis, and Lemierre syndrome. Overall, 17 different complications were found in the studies examined, with an overall mortality rate of 10%. The researchers also reported that male gender and age over 40 years seemed to be risk factors for complications. [20]
Patient Education
Instruct patients to return for further care with occurrence of the (1) difficulty breathing and/or (2) an inability to tolerate oral intake
For patient education resources, see the WebMD articles Peritonsillar Abscess, Tonsillitis, and Antibiotics.
What would you like to print?