Workup
Laboratory Studies
Laboratory tests are unnecessary if the diagnosis of peritonsillar abscess (PTA) is straightforward. However, tests may include the following.
Obtain a complete blood cell (CBC) count with differential. The CBC count may show a leukocytosis with neutrophil predominance. With infectious mononucleosis, expect lymphocyte predominance with atypical lymphocytosis.
Obtain serum electrolyte levels if the patient's oral intake has declined.
Purulent material from needle aspiration should be obtained for Gram stain and culture and sensitivity for aerobic and anaerobic bacteria. Some experts believe this is unnecessary because almost all patients respond following drainage and antibiotic therapy, regardless of culture results. Identifying the organisms and determining their antimicrobial susceptibility are helpful in guiding antimicrobial therapy especially in the presence of complications or extension of infection and in immunocompromised patients. If testing is desired, send material for both aerobic and anaerobic bacteria in appropriate transport media and not on swabs. Culture may be sterile if the patient is currently taking antibiotics.
Obtain also a routine throat culture for group A Streptococcus and blood cultures for aerobic and anaerobic bacteria.
Imaging Studies
Imaging studies are unnecessary if the diagnosis is straightforward.
CT scan with intravenous contrast is the preferred radiological study (see the image below). [25, 26]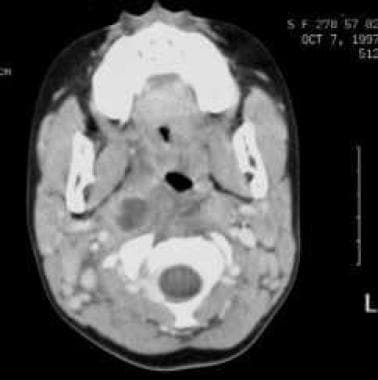 CT scan with contrast demonstrates a 2-cm low-attenuation mass with a minimally enhancing wall in the right peritonsillar region. Associated edema, ipsilateral jugulodigastric lymphadenopathy, compression of the internal jugular vein, and deviation of the airway are present.
This study is indicated when the diagnosis is unclear, when the patient is uncooperative with the examination, and when the infectious process is thought to involve deeper structures. An abscess appears as a low-attenuation mass with a ring-enhancing wall. Presence of only loss of the fat planes, lack of ring enhancement and soft tissue swelling and edema (but no mass) are consistent with peritonsillar cellulitis.
Ultrasonography is indicated for differentiating between peritonsillitis and peritonsillar abscess. [13, 26, 27] The intraoral approach is more accurate than the transcutaneous approach. However, this may be difficult to perform if trismus is present. Peritonsillar cellulitis manifests a homogeneous or striated area with no distinct fluid collection. Peritonsillar abscess appears as an echo-free cavity with an irregular border. Ultrasonography has a reported sensitivity of 89% and specificity of 100%.
What would you like to print?