Presentation
History
Joint pain or swelling
Acute joint inflammation marked by severe pain and swelling is the hallmark of septic arthritis (SA). Joint pain results from stretching of the fibrous joint capsule. If lower extremity joints are involved, parents often report that children cannot bear weight and that they resist all efforts to move the involved joint.
Children typically have involvement of a single joint; lower extremity joints, especially the knee and hip, account for most cases. The elbow is the most common upper extremity joint to become infected. Neonates are more likely to have infection in multiple joints (polyarticular disease).
Pseudoparalysis
A septic joint may be so painful that a child may not tolerate any range of motion, resulting in pseudoparalysis. However, ability to actively or passively move the joint does not exclude SA.
If supported by a physical examination of the joint, this history helps to distinguish SA from less painful causes of arthralgia, such as transient synovitis of the hip, postinfectious or reactive arthritis, or traumatic hemarthrosis.
Septic arthritis versus transient synovitis
One retrospective series determined that a history of fever and difficulty of bearing weight on a limb, along with an erythrocyte sedimentation rate greater than 40 mm/h and a peripheral white blood cell (WBC) count of more than 12,000 cells/μL, were independent variables that best distinguished SA from transient synovitis. [4] The probability of SA was 99.6% for children with all 4 factors and 93.1% for those with any 3 factors. In another series, none of the children with transient synovitis had fever, and fever was found to be the most influential predictor in distinguishing between the 2 conditions. [5]
Physical Examination
Decreased or absent range of motion, joint tenderness, swelling, warmth, and erythema are common physical signs of septic arthritis (SA). However, because of the deep location of the hip joint, there may be no erythema or swelling noted. Children orient an affected joint in such a way as to minimize the pain. The hip is flexed, abducted, and externally rotated. The knee, ankle, and elbow are partially flexed, whereas the shoulder is adducted and internally rotated. (See the image below.)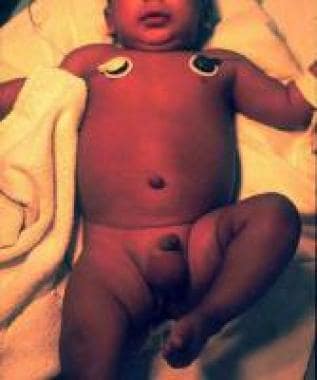 Emergency room photograph of an infant with septic arthritis of the left hip. The child holds his hip rigidly in the classic position of flexion, abduction, and external rotation, a position that maximizes capsular volume. The patient is relatively comfortable as long as the hip joint remains immobile in this position.
In one study, among 82 children with septic arthritis of the hip, 78 (95%) were unable to bear weight on the affected limb at presentation. [4]
Diagnosis is suspected in children who present with monoarthritis of a lower extremity. In a series of 95 children with septic arthritis (1975-1985), over 90% had involvement of a single joint of a lower extremity. [1] One notable exception is gonococcal septic arthritis. This results from the hematogenous spread of the organism, with fever, chills, rash, tenosynovitis, and migratory polyarthritis, which often leads to monoarticular infection.
Burgess reported a case series of 9 children with septic arthritis of the temporomandibular joint [9] . Physical findings in these children included pre-auricular swelling and trismus and 7/9 had mastoiditis. The study also found that associated thrombophlebitis of the lateral sinus or intracranial collections occurred in 7 patients.
Fever
In a series of 95 children with SA, most had a low-grade fever, but one third were afebrile at presentation. [1] In another study, 83% of children with SA had a recent fever, but only half were febrile at emergency department presentation. [2] Absence of fever should not sway the clinician from the diagnosis.
On the other hand, the presence or absence of fever may be helpful in distinguishing SA from transient synovitis of the hip. Each condition presents as an acutely irritable hip in a young child and may be associated with an effusion. In general, children with transient synovitis are afebrile, while those with SA have more diminished range of motion.
What would you like to print?