Presentation
History
A detailed review of the pregnancy, labor, delivery, and the neonatal course is important when assessing omphalitis. Note the following:
A history of poor feeding or feeding intolerance may be an early indication of infection. A history of change in mental status, such as irritability, lethargy, and somnolence, or a history of a decreased level of activity may be an important indicator of systemic dissemination of the infection.

Anaerobic bacteria are part of the normal flora of the female genital tract and are commonly involved in ascending infections of the uterus and in septic complications of pregnancy; therefore, the higher incidence of omphalitis caused by anaerobes (especially B fragilis) in infants with adverse perinatal histories, such as premature or prolonged rupture of membranes and amnionitis, may relate to exposure to maternal infection.

History of urine or stool discharge from the umbilicus suggests an underlying anatomic abnormality.
Physical Examination
Local disease
Physical signs of omphalitis vary with the extent of the disease. Signs of localized infection include the following:
Purulent or malodorous discharge from the umbilical stump

Periumbilical erythema (Recently, algorithms that attempt to standardize the clinical diagnosis of omphalitis have been developed, emphasizing extent of periumbilical erythema and absence or presence of pus.)
The image below shows a case of omphalitis associated with bullous impetigo due to Staphylococcus aureus.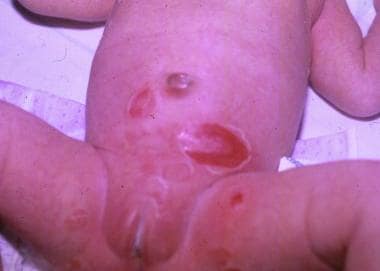 A case of omphalitis associated with bullous impetigo due to Staphylococcus aureus.
Extensive local disease, with extension
The following signs indicate more extensive local disease, such as necrotizing fasciitis or myonecrosis, which are typically found in a periumbilical location but may spread across the abdominal wall, onto the flanks and back, and into the scrotum. These signs may also suggest infection by both aerobic and anaerobic organisms and include the following:
Ecchymoses, violaceous discoloration

Progression of cellulitis despite antimicrobial therapy
The images below demonstrate findings in a case of omphalitis (left) associated with extensive myonecrosis (right).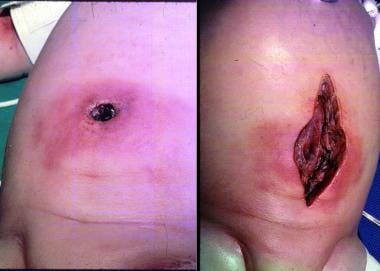 A case of omphalitis (left) associated with extensive myonecrosis (right).
Systemic disease
Signs of sepsis or other systemic disease are nonspecific and include disturbances of thermoregulation or evidence of dysfunction of multiple organ systems. Examples include the following:
Disturbances of thermoregulation: Fever (temperature >38°C), hypothermia (temperature < 36°C), or temperature instability

Cardiovascular disturbances: Tachycardia (pulse >180 beats per minute [bpm]), hypotension (systolic blood pressure < 60 mm Hg in full-term infants), or delayed capillary refill (< 2-3 seconds)

Respiratory disturbances: Apnea, tachypnea (respirations >60/min), grunting, flaring of the alae nasi, intercostal or subcostal retractions, or hypoxemia

Gastrointestinal tract disturbances: Rigid or distended abdomen or absent bowel sounds

Cutaneous abnormalities: Jaundice, petechiae, or cyanosis

Neurologic abnormalities: Irritability, lethargy, weak sucking, hypotonia, or hypertonia
What would you like to print?