Workup
Laboratory Studies
No laboratory tests are necessary for the diagnosis of gamekeeper's thumb.
In cases that require surgical intervention, routine preoperative laboratory workup is indicated.
Imaging Studies
Radiographs
Before any manipulation of the thumb, obtain standard anteroposterior, lateral, and oblique radiographs to exclude metacarpal fractures and gamekeeper's fractures. Examples of an anteroposterior and lateral radiograph of a gamekeeper's thumb, respectively, are shown below.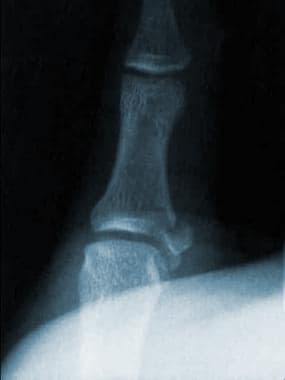 Anteroposterior radiograph displaying a gamekeeper's fracture.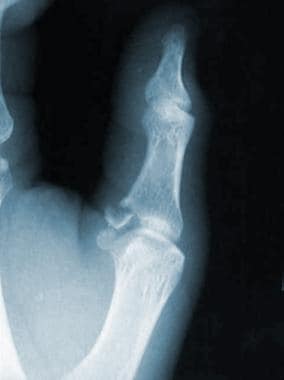 Lateral radiograph displaying a gamekeeper's fracture.
Small, nondisplaced avulsion fractures that are associated with rupture of the insertion point of the UCL are not contraindications to manipulation. If displacement of these fractures did not take place at the time of injury and greatest stress, it is believed that they are stable enough for the manipulation of stress testing.
Three millimeters of volar subluxation of the phalanx on the metacarpal is suggestive of complete UCL rupture and instability.
Instability is also indicated in cases in which there is a radial deviation of >40º in extension and >20º in flexion.
Stress radiographs: Radiographs obtained with the thumb in the flexed and extended positions and with valgus stress at the MCP joint can help the physician to determine the degree of instability of partial tears of the UCL (see the following image).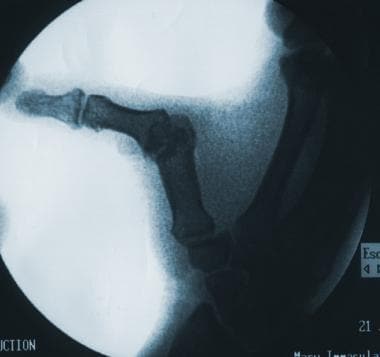 Radiographic stress test view of the thumb, showing an ulnar collateral ligament tear.
Other imaging modalities
Arthrography, ultrasound, and magnetic resonance imaging (MRI) have been used to identify complete tears; however, these tests are not particularly cost effective. [8, 9, 3, 10, 11] Careful stress examination is still the optimal method for determining ligament integrity.
A study used magnetic resonance imaging to investigate the degree of UCL displacement in order to create a simple classification to aid in determining which UCL injuries require surgery. The study concluded that tears of the UCL with more than 3 mm of displacement are likely to require operative repair even in the absence of a true Stener lesion since 90% of these cases failed treatment with immobilization alone. [12]
A systematic review and meta-analysis reported the sensitivities of physical examination, ultrasonography, and MRI for ruling out UCL tears as 97%, 96%, and 99% respectively. MRI and ultrasonography had high specificity for confirming suspected UCL tears (100% and 91%, respectively). However, MRI had significantly higher specificity (92%) than ultrasonography (72%) for identifying displaced UCL tears. [13]
Procedures
Stress testing under local anesthesia (see the following 2 images)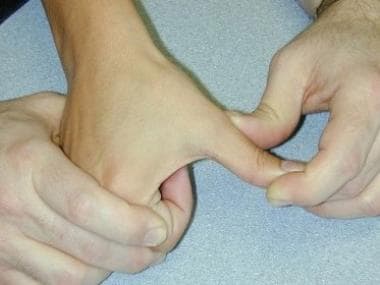 Ulnar collateral ligament stress test in full extension.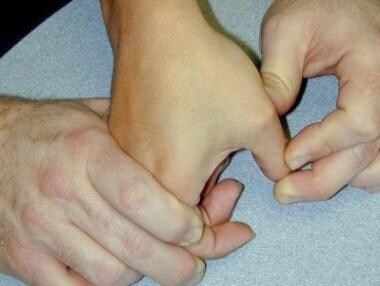 Ulnar collateral ligament stress test in a flexed position to isolate the proper portion of the ligament.
The patient often has considerable pain in the thumb; stressing the MCP joint leads to patient guarding and, thus, misleading findings on examination.
The thumb is best examined under local anesthesia, which can be administered in the emergency department (ED) or office setting. Often, 2-3 mL of 1% lidocaine administered into the MCP joint of the thumb is sufficient to relieve the pain and relax the patient's guarding.
If more anesthesia is required, perform a metacarpal or digital block. Some authors recommend the use of an ulnar or median nerve block to negate the effects of the intrinsic muscles. If the injection into the joint relieves the pain, no further anesthesia is necessary.
What would you like to print?