Workup
Approach Considerations
Pulmonary interstitial emphysema (PIE) is a radiographic and pathologic diagnosis.
In addition, blood gases should be obtained in these patients, to ensure adequate gas exchange.
Radiography
The classic radiologic appearance of pulmonary interstitial emphysema often provides a clear diagnosis. Pulmonary interstitial emphysema is best visualized in the anteroposterior supine projection. Pulmonary interstitial emphysema has two basic radiographic appearances, linear and cystlike radiolucencies, although both types often appear together.
Linear radiolucencies are coarse and nonbranching, measure from 3-8 mm, and vary in width but rarely exceed 2 mm. Cystlike radiolucencies are small, ranging from 1-4 mm in diameter. Although generally round, they may also appear oval or slightly lobulated.
The disorganized haphazard distribution of pulmonary interstitial emphysema in localized areas is unlike the anatomically organized pattern of the air-bronchogram. The air-bronchogram is a classic radiographic sign of respiratory distress syndrome (RDS), which should not be confused with pulmonary interstitial emphysema.
In RDS, long, smooth, branching, linear radiolucencies decrease in caliber from the hilum and frequently disappear at the lung periphery. Pulmonary interstitial emphysema should be suspected when coarse radiolucencies appear in the lung periphery or when the lucencies do not branch in a pattern consistent with the normal bronchial tree.
In some patients receiving mechanical ventilation, distended airways and alveoli have a somewhat similar radiographic appearance to that of pulmonary interstitial emphysema. Over time, it either progresses to a classic radiographic picture of pulmonary interstitial emphysema or resolves very rapidly as ventilator settings are decreased.
Pulmonary interstitial emphysema can rarely be misinterpreted as normally aerated lung surrounded by exudate as in an aspiration syndrome or pulmonary edema. [18]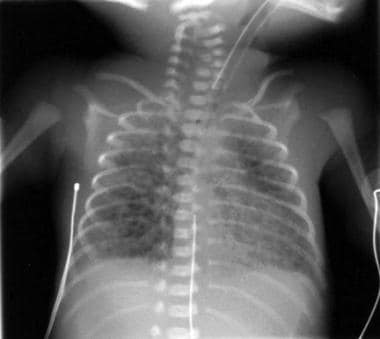 This radiograph, obtained from a 1-day-old premature infant at 24 weeks' gestation, shows bilateral pulmonary interstitial emphysema (PIE). Linear radiolucencies extending up to the lung periphery are visible.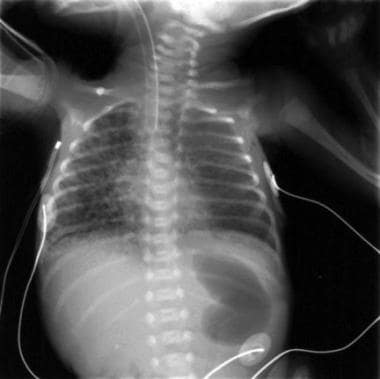 This radiograph, obtained from a premature infant at 26 weeks' gestation, shows characteristic radiographic changes of pulmonary interstitial emphysema (PIE) of the right lung.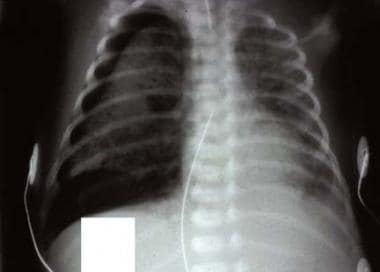 This radiograph shows pneumothorax and pulmonary interstitial emphysema (PIE) on the right side. Interstitial air prevents collapse of the underlying lung by a tension pneumothorax. In such cases, extreme caution is required during drainage of a pneumothorax to avoid perforation of the underlying lung.
CT scan of the chest can be a helpful diagnostic tool if doubt about the diagnosis remains, particularly in persistent cases and if surgical interventions are being considered. A round or linear soft-tissue component seen in the wall of or within the air-containing spaces is a key to making the correct diagnosis. [19]
Go to Imaging in Pulmonary Interstitial Emphysema for complete information on this topic.
Histologic Findings
The histology of pulmonary interstitial emphysema is well described by Plenat et al. [3] The histology demonstrates interstitial slits preferentially located in perivenous topography.
Sometimes, the peribronchial arterial or arteriolar sheaths are involved. Air dissects through a plane just next to the arterial or arteriolar face, opposite the bronchus, which is pushed into adjoining parenchyma. The bronchoarterial solidarity most often is respected.
Seldom, air can dissect arterioles and bronchioles and isolate them from the adjacent lobules. On the periphery of interstitial slits, the small vessels are compressed but never ruptured, whereas the collagen fibers are constantly broken and squeezed together.
What would you like to print?