Presentation
History
When assessing potential neonatal abstinence syndrome (NAS), the most reliable method of determining the extent of drug use in pregnancy is maternal history as part of routine antenatal assessment, with a structured interview providing a greater yield than an informal interview.
The amount of information obtained from the mother about prenatal drug exposure widely varies and may not be reliable. How the mother is questioned and the specificity of the questions are the most important factors. Maternal interviews have been reported to be the least sensitive method of identifying drug use in pregnancy when compared with maternal hair and meconium drug testing. Maternal self-report was found to underestimate in utero drug exposure by as much as 44% when compared with data from meconium analyses. [36]
Despite concerted efforts by health care professionals to promote prenatal care, the mother may not have received such care and the delivery hospitalization may be the only opportunity to elicit information on the nature and extent of the infant's in utero exposure to drugs and alcohol. The mother's concern for her infant's health may encourage valid responses; conversely, fear of legal reprisals or loss of custody of the infant may cause the mother to deny drug use.
The Committee on Substance Abuse of the American Academy of Pediatrics recommends obtaining a comprehensive medical and psychological history that includes specific information regarding maternal drug use as part of every newborn evaluation. [37]
The relationship between maternal cocaine use and placental abruption is well established. Therefore, a perinatal history of abruption should alert the medical caretaker that prenatal exposure to cocaine is a possibility.
Physical Examination
A thorough physical examination of the neonate should include accurate assessment of weight, length, and head circumference and a standardized assessment of gestational age. Special attention should be paid to signs of intrauterine growth retardation (IUGR), microcephaly, prematurity, congenital infection, and major and minor congenital malformations.
Infants are suspected of having neonatal abstinence syndrome if they exhibit any of the signs listed below.
Central nervous system (CNS) dysfunction includes the following features:
Restlessness, with sleep duration less than 1-3 hours after feeding
Metabolic, vasomotor, and respiratory disturbances include the following features:
Sneezing (>3 times per interval)

Respiratory rate greater than 60 breaths per minute without retractions
Gastrointestinal (GI) dysfunction includes the following features:
Excessive (frantic) sucking or rooting

Hyperphagia, usually associated with poor weight gain

Regurgitation or projectile vomiting
Alcohol-specific symptoms include the following:
Withdrawal that presents within the first 24 hours of life is reported among infants with the dysmorphic features of fetal alcohol syndrome.

Neonates also exhibit irritability, tremors, seizures, opisthotonus, and abdominal distention.
Lysergic acid (LSD) symptoms include the following:
The effect of LSD on the fetus is clouded by the high incidence of polydrug abuse.

Withdrawal symptoms manifest as hypertonia, tremors, poor feeding, and abnormal feeding patterns.
Other symptoms include the following:
Nicotine may produce withdrawal symptoms in infants, including increased excitability and hypertonicity.

Caffeine withdrawal includes feeding difficulties, vomiting, excessive crying, irritability, and poor sleep patterns. Onset of symptoms may occur as long as 5 days after birth and persist for weeks or months.
The timing of onset of the symptoms gives an indication of the maternal drug abuse. Withdrawal from high levels of maternal alcohol can occur within a day or 2 of birth. Heroin has a short half-life and withdrawal also occurs within 48–72 h of birth, whereas methadone withdrawal occurs at 7–14 days.
Preterm infants are at lower risk of drug withdrawal with less severe courses. Infants born at less than 35 weeks' gestation whose mothers received methadone maintenance had significantly lower total and CNS abstinence scores than did term infants of mothers receiving similar methadone dosages. [38] In a more recent study, lower gestational age correlated with a lower risk of neonatal withdrawal. [39] The apparent decreased severity of signs in preterm infants may relate to developmental immaturity of the CNS, differences in total drug exposure, or lower fat deposits of drug. [40]
Different scoring systems have been developed for assessing the severity of neonatal abstinence syndrome, such as those by Finnegan, Ostrea, Lipsitz, Rivers, and the Neonatal Intensive Care Unit Network Neurobehavioral Scale (NNNS). [41, 42, 43] These are based on opiate withdrawal and may not be entirely appropriate for the infant exposed to cocaine or other drugs.
The most widely used system is the Finnegan scoring system, in both its original (Finnegan Neonatal Abstinence Scoring System [FNASS]) and modified forms. An NAS scoring form is shown below.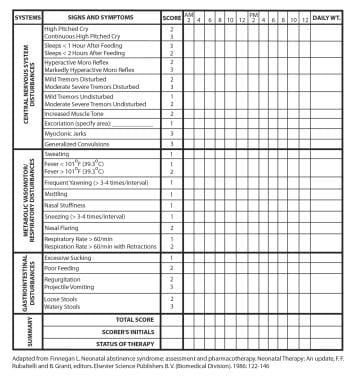 Neonatal Abstinence Syndrome. Neonatal abstinence syndrome scoring form.
The Finnegan scale assesses 21 of the most common signs of neonatal drug withdrawal syndrome and is scored on the basis of pathological significance and severity of the adverse symptoms, which sometimes requires pharmacological treatment. Despite the number of items that can be scored, it is nevertheless a relatively easy and reliable system to use once staff have been adequately trained. However, the potential for bias and subjectivity may affect the scores, and the thresholds for treatment reported in the literature vary. [44] This scale can also be used to assess the resolution of signs and symptoms after initiating treatment.
To obtain a daily average score, measurements are performed every 4 hours until the patient is stable. If 3 consecutive scores are equal to or greater than 8, treatment for withdrawal is started. The decision to commence treatment can depend on factors other than this score alone, including the reported exposure, the age of the infant, consideration of comorbidities that might influence the score, whether an inpatient or outpatient strategy is used, and the experience of the clinician making treatment decisions.
The Eat, Sleep, Console (ESC) approach focuses on the comfort and care of infants diagnosed with NAS by maximizing nonpharmacologic methods, increasing family involvement in the treatment of their infant, and using morphine as needed. Shorter length of hospital stay and lower rates of medication usage have been reported in several studies. [45, 46, 47]
A recent study recorded the FNASS scores of 50 opioid-exposed infants every 2 to 6 hours but managed the infants using the ESC approach. The investigators showed that ESC is an effective method for treating infants with NAS with a significantly reduced need for pharmacologic treatment and may lead to substantial reductions in length of stay. [45]
The infant is best cared for in a unit with experienced personnel who can recognize problems, perform constant evaluations, and institute the necessary interventions.
What would you like to print?