Workup
Laboratory Studies
Hematology
Classic findings in hemolytic-uremic syndrome (HUS) include anemia and thrombocytopenia, with fragmented RBCs (eg, schistocytes, helmet cells, burr cells), as shown in the image below.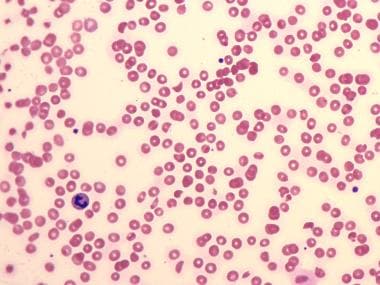 Peripheral blood smear in hemolytic-uremic syndrome (HUS) showing many schistocytes and RBC fragments due to hemolysis, and relatively few platelets reflective of thrombocytopenia.
WBC differential may reveal a left shift (ie, immature WBCs, including bands, myelocytes, metamyelocytes). Patients with Shiga toxin–producing E coli hemolytic-uremic syndrome (STEC-HUS) may have extremely high WBC counts, in the range of 50,000-60,000/µL.
Coombs test results are negative, except with S pneumoniae –associated hemolytic-uremic syndrome.
Reticulocyte count is elevated.
Levels of serum haptoglobin, which binds hemoglobin, are decreased.
Prothrombin time (PT) and activated partial thromboplastin time (aPTT) are normal.
Fibrin degradation products are increased.
Fibrinogen levels are increased or within reference range.
Serum chemistry testing
BUN and creatinine levels are elevated.
Various electrolyte and ion derangements may be present because of vomiting, diarrhea, dehydration, and renal failure; these may include hyponatremia, hyperkalemia, hyperphosphatemia, hypocalcemia, and acidosis. Phosphorus concentration is elevated.
Uric acid level may be increased because of acute renal failure, dehydration, and cell breakdown.
Protein (see Serum Protein Electrophoresis) and albumin levels may be mildly decreased.
Bilirubin and aminotransferase (see Alanine Aminotransferase and Aspartate Aminotransferase) levels are typically elevated.
Lactate dehydrogenase (LDH) level is elevated. Serial measurements of LDH help track the approximate level of hemolytic activity.
Urinalysis
Urinalysis should be performed to assess the following:
Casts - Cellular, granular, pigmented, hyaline
Stool testing
Usually, culture yield is low after 7 days of diarrhea. The standard method used to detect and isolate STEC involves sorbitol MacConkey (SMAC) agar plates that enable identification of characteristic sorbitol nonfermenting colonies of STEC O157:H7. E coli 0157:H7 does not grow on agar plates used for routine stool cultures. Notify the laboratory and request specific testing for this organism when hemolytic-uremic syndrome is suspected. Even patients with documented bloody diarrhea and other classic features of STEC-HUS often do not yield a causative organism on stool culture. This reflects the limited sensitivity of stool culture, not the absence of disease. Prior treatment with antibiotic may also lead to a false-negative stool culture. The diagnosis of hemolytic-uremic syndrome is a clinical one and is not excluded by a negative stool culture. Stool specimens with negative cultures should also be tested by PCR for molecular detection of Shiga toxin.
Stx may be detected using specific antibody testing and enzyme-linked immunosorbent assay (ELISA), but PCR testing has largely replaced these methods.
Stool leukocytes have little value in detecting E coli 0157:H7. They are absent in approximately 50% of cases.
Other tests
Testing for ADAMTS13 activity may help distinguish between atypical hemolytic-uremic syndrome (aHUS) and thrombotic thrombocytopenic purpura (TTP). ADAMTS13 activity of less than 10% is consistent with a diagnosis of TTP. Patients with low levels of ADAMTS13 activity should also be tested for the presence of antibody to ADAMTS13. If plasma exchange is planned, specimens should be obtained before starting plasma exchange, as the donor plasma may confound the results. Use of a laboratory with rapid turnaround time is recommended, as the results may significantly impact treatment. Several laboratories now offer ADAMTS13 results in 24 hours or less.
Complement C3 may be decreased in patients with aHUS.
Genetic testing for complement factor mutations is now available from several laboratories. Due to the complexity and cost of this testing, consultation with an expert in this area is recommended. Historically, genetic testing has taken weeks or even months to perform; thus, it has not been useful in the immediate management of a patient with hemolytic-uremic syndrome. However, advances in genetic testing methods have significantly reduced the turnaround time, and at least one provider offers results in two business days. Acute treatment decisions should not be delayed while awaiting results. Results may be helpful in determining long-term prognosis (eg, the presence of factor H mutations portends a very high risk of recurrence).
Patients with suspected aHUS should be tested for an inhibitory antibody to complement factor H.
A test for serum antibodies to STEC 0157:H7 is available, but its clinical use is not well defined.
Note that HUS is a reportable condition in many jurisdictions.
Imaging Studies
Consider performing chest radiography to evaluate for pulmonary congestion or edema, if clinically indicated.
Renal ultrasound typically reveals nonspecific findings (eg, increased echogenicity) and is of limited use. Ultrasonography may be helpful if the diagnosis is uncertain or if one needs evaluation of blood flow in the large renal vessels.
Abdominal ultrasonography or CT scanning may help if clinical findings raise suspicion of intestinal obstruction or perforation.
Noncontrast CT scanning or MRI of the head is indicated in patients with CNS symptoms or acute mental status changes. [5] Avoid iodinated contrast or gadolinium in patients with decreased renal function.
Other Tests
Patients with hyperkalemia may require ECG monitoring.
Histologic Findings
Renal biopsy is not usually necessary for diagnosis and may be contraindicated due to thrombocytopenia. Histologic analysis of kidney specimens reveals thrombotic microangiopathy, with swollen glomerular endothelial cells and red cells and platelets in the capillaries. Accumulation of fibrinlike material in the subendothelial space creates a thickened appearance to the capillary walls. Thrombi may be observed in the glomerular capillaries and arterioles. These findings can progress to acute cortical necrosis involving both glomeruli and convoluted tubules.
Histological slides are presented below.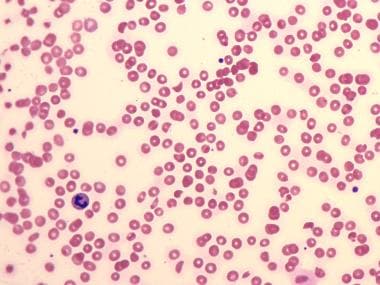 Peripheral blood smear in hemolytic-uremic syndrome (HUS) showing many schistocytes and RBC fragments due to hemolysis, and relatively few platelets reflective of thrombocytopenia.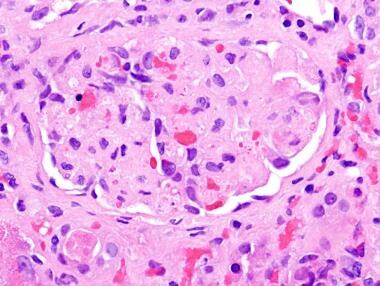 Micrograph of a glomerulus in hemolytic-uremic syndrome, showing thrombi and red blood cell fragments in the capillary space. Courtesy of Xin J (Joseph) Zhou, MD, Renal Path Diagnostics, Pathologists BioMedical Labs.
Tissue section of the gut shows microangiopathy, with endothelial cell injury, and thrombosis, with submucosal edema and hemorrhage.
Microthrombi may be observed in other organs, including the lungs, liver, heart, adrenal glands, brain, thyroid, pancreas, thymus, lymph nodes, and ovaries.
What would you like to print?