Overview
Background
Hemorrhagic fever with renal failure syndrome (HFRS) occurs mainly in Europe and Asia and is characterized by fever and renal failure associated with hemorrhagic manifestations. Hemorrhagic fever with renal failure syndrome is caused by an airborne contact with secretions from rodent hosts infected with the group of viruses belonging to the genus Hantavirus of the family Bunyaviridae. In Europe, hemorrhagic fever with renal failure syndrome is caused by 3 hantaviruses: Puumala virus (PUUV), carried by the bank vole (Myodes glareolus); Dobrava virus (DOBV), carried by the mouse (Apodemus flavicollis); and Saaremaa virus (SAAV), carried by the striped field mouse (Apodemus agrarius). Other viruses in the Bunyaviridae family include Seoul virus and Tala virus.
In 1993 in the southwestern United States, an outbreak of respiratory illness occurred during the spring and was caused by a virus belonging to the genus Hantavirus called Sin Nombre virus. The disease was characterized by rapid onset of pulmonary edema followed by respiratory failure and cardiogenic shock and was described as Hantavirus pulmonary syndrome (HPS). [1]
Hantaviruses have a worldwide distribution and are broadly split into the New World (America) hantaviruses, which includes those causing HPS, and the Old World hantaviruses. Sin Nombre virus and Andes virus are the most common cause of HPS in North and South America, respectively. [2]
Hemorrhagic fever with renal failure syndrome was initially recognized between 1913 and 1930 by Soviet scientists, who described sporadic outbreaks of fever with renal failure in the eastern Soviet Union. The disease came to the attention of the Western world in 1950, when the North American soldiers serving with the United Nations forces in Korea developed a febrile illness associated with shock, hemorrhage, and renal failure.
Pathophysiology
The pathogenesis is largely unknown, but findings from several studies have suggested that immune mechanisms play an important role. After the infection, marked cytokine production, kallikrein-kinin activation, complement pathway activation, or increased levels of circulating immune complexes occur. These components play an important role during the febrile and hypotensive stages. Damage to the vascular endothelium, capillary dilatation, and leakage are clinically significant features of the disease.
Antibody specific to the viral antigen can be detected close to the onset of hemorrhagic fever with renal failure syndrome symptoms. A vigorous response is often a marker of severe disease. T-cell activation occurs very early in the course of hemorrhagic fever with renal failure syndrome and is associated with an absolute increase in the number of neutrophils, monocytes, B cells, and CD8+ (suppressor) T cells. The number of helper (CD4+) T cells does not increase, resulting in a decrease in the ratio of helper-to-suppressor T cells. Virus has been cultured from B cells and monocytes but not from T cells. Therefore, T-cell activation is a response to infection of other cell types rather than a consequence of direct viral infection. Interferon-gamma–producing T cells may help reduce the risk of progression to acute renal failure.
A possible role for immune complexes has also been suggested following the demonstration of immune complexes in serum, on the surface of red cells and platelets, in glomeruli, in renal tubules, and in urine. Activation of both classic and alternative complement pathways also occurs in hemorrhagic fever with renal failure syndrome. By activating complement and by triggering mediator release from platelets and inflammatory cells, immune complexes can produce the vascular injury that is the hallmark of the disease.
Some investigators have suggested that hemorrhagic fever with renal failure syndrome is primarily an allergic disease. This is based on the finding of early appearance of specific immunoglobulin E (IgE), the presence of IgE immune complexes, and the beneficial effects of therapy aimed at inhibiting allergic pathways.
Epidemiology
Frequency
United States
The rodent reservoir of Seoul virus (Rattusnorvegicus) are present in many port cities of the eastern United States and were introduced from Europe by cargo ships. Observations from enhanced surveillance for Hantavirus infection in humans eventually suggested the presence of hemorrhagic fever with renal failure syndrome caused by the pathogen in the Seoul infections in few reported cases (see the image below).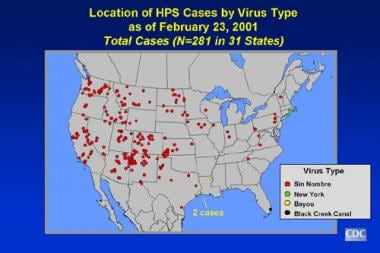 Distribution of Hantavirus pulmonary syndrome cases in the United States by virus type. Courtesy of the Centers for Disease Control and Prevention.
International
The severe form of hemorrhagic fever with renal failure syndrome occurs in China, Japan, and Singapore. The number of cases reported in China is approximately 100,000-250,000 per year. The mild form of hemorrhagic fever with renal failure syndrome (nephropathicepidemica) occurs in the Scandinavian countries of Sweden, Finland, Norway, and Denmark. [3] The disease is observed throughout the year, but the prevalence depends on the population dynamics of the carrier rodents.
Seasonal peaks of HFRS in spring and fall are due to rodent breeding seasons, with increased rodent contact due to human planting and harvesting in these periods. The most severe form of HFRS is caused by Hantaan virus (HTNV) in Asia. Puumala is the most prevalent Hantavirus and causes a less severe from of HFRS through central and northern Europe, the Russian Federation and the Balkans. Dobrava virus causes a more severe form of HFRS. The causes of the differences in clinical severity are unknown; it may involve differences in the strain of the virus, the infective dose, or various host factors.
Mortality/Morbidity
Mortality and morbidity rates vary from 5-15%, depending on the strain of the virus. In Dobrava virus–induced HFRS, mortality rates range from 3-12%, whilst that due to Puumala virus carries a mortality of 0.1-0.4%.
Race
No apparent racial predilection is known.
Sex
The increased incidence in male individuals is caused by their probable increased frequency of outdoor activities, which leads to contact with infected rodents.
Age
Hemorrhagic fever with renal failure syndrome is commonly reported in persons older than 15 years, with a peak incidence of 20-60 years. In children and adolescents younger than 15 years, the disease is mild and often subclinical.
What would you like to print?