Workup
Laboratory Studies
Laboratory studies include the following:
Urinalysis: Proteinuria is often the first laboratory manifestation of oligomeganephronia and precedes decline in renal function by several years.

Electrolyte, BUN, and creatinine tests: Laboratory manifestations of renal failure are frequently present, including elevated BUN and creatinine levels, hyponatremia, and metabolic acidosis.

Calcium, phosphorus, alkaline phosphatase, and parathyroid hormone assessments: Advancing renal failure may result in secondary hyperparathyroidism.

Hemoglobin or hematocrit level: Advancing renal failure may result in anemia due to erythropoietin deficiency.
Imaging Studies
Imaging studies include renal ultrasonography (see the image below).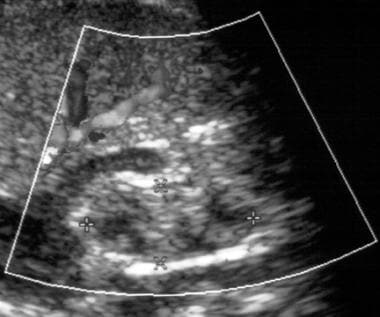 Renal sonogram of a newborn with spontaneous pneumothorax, preauricular pits, and branchial cysts. The right kidney was absent, and the left kidney was hyperechoic and hypoplastic. The left kidney's length measured 1.8 cm; kidneys in newborns are normally 4.5 cm.
Small kidney size depicted on ultrasonogram usually establishes diagnosis of hypoplasia.
Follow-up of renal growth has not been demonstrated to be predictive of outcome.
The American College of Radiology has established guidelines regarding imaging studies in renal failure. [4]
Other Tests
If specific syndromes are suspected, the following may be useful:
Ophthalmologic evaluation
Histologic Findings
Exhaustive histologic examination of the kidney is the only way to establish an absolute diagnosis of oligomeganephronia.
The number of glomeruli is reduced, and the number of glomerular generations varies from 2-6 (normally ≥ 10).
Existing glomeruli and tubules are enlarged, and glomerular diameters of 300-400 nm are common.
As the disease progresses, segmental sclerosis and hyalinosis of glomeruli are present.
Tubular atrophy with interstitial fibrosis occurs.
What would you like to print?