Workup
Approach Considerations
In children, laboratory studies only provide suggestive evidence of a kidney stone; however, certain laboratory studies (eg, calcium or uric acid excretion) may be very helpful in identifying risk factors for additional stone formation. Imaging studies are valuable. Direct assessment of stones is vital.
Laboratory Studies
In children with identified or strongly suspected stone disease, obtain the following laboratory studies:
Complete blood cell (CBC) count

Electrolyte, blood urea nitrogen (BUN), creatinine, calcium, phosphorus, alkaline phosphatase, uric acid, total protein, albumin, parathyroid hormone (PTH), and vitamin D metabolite levels

Spot urinalysis and culture, including ratio of calcium, uric acid, oxalate, cystine, citrate, and magnesium to creatinine

Urine tests, including a 24-hour urine collection for calcium, phosphorus, magnesium, oxalate, uric acid citrate, cystine, protein, and creatinine clearance
Imaging Studies
Renal ultrasonography is very effective for identifying stones in the urinary tract. Generally, ultrasonography should be used as a first study. If no stone is found but symptoms persist, helical (spiral) computed tomography (CT) scanning is indicated. Noncontrast spiral CT scanning is the most sensitive test for identifying stones in the urinary system. It is safe, rapid, and has been shown to have 97% sensitivity and 96% specificity.
Guidelines from the European Association of Urology recommend ultrasonography for initial assessment when there is concern for an acute symptomatic stone, followed by non–contrast-enhanced CT to confirm stone diagnosis. [16]
Many radiopaque stones can be identified with a simple abdominal flat-plate examination. Intravenous pyelography is rarely used in children.
Go to Imaging Urinary Calculi for complete information on this topic.
For hypercalcinuria, hypercystinuria, or hyperoxaluria, please refer to Hypercalciuria and Hyperoxaluria for further evaluation.
Retrieval and Evaluation of Stones
Attempting to obtain a stone for histologic and crystallographic evaluation is essential. It is usually obtained by straining urine in older children or examining diapers in young children (see image below). The content of the stone (ie, cysteine versus calcium versus uric acid) may be the most important element in developing a treatment program to prevent further stone formation (see the image below).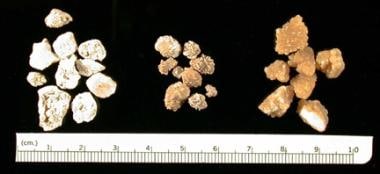 Three groups of kidney stones are shown. Groups at left and center contain varying concentrations of calcium, phosphate, and oxalate. The group of stones on the right is composed of cysteine.
What would you like to print?