Workup
Approach Considerations
Serum measurements in the workup for rickets may include the following:
Radiography is indicated in patients with rickets (see Rickets Imaging).
Serum Chemistry
Early on in the course of rickets, the calcium (ionized fraction) is low. However, this level is often within the reference range at the time of diagnosis, as a consequence of increased parathyroid hormone secretion.
Although calcidiol (25-hydroxy vitamin D) is low and parathyroid hormone is elevated, determining calcidiol and parathyroid hormone levels is typically not necessary in order to establish a diagnosis.
Calcitriol levels maybe normal or elevated because of increased parathyroid activity.
The phosphorus level is invariably low for age, unless recent partial treatment or recent exposure to sunlight has occurred. Alkaline phosphatase levels are uniformly elevated.
A generalized aminoaciduria occurs from the parathyroid activity. However, aminoaciduria does not occur in familial hypophosphatemia rickets (FHR).
Radiography
The best single radiographic view for infants and children younger than 3 years is an anterior view of the knee that reveals the metaphyseal end and epiphysis of the femur and tibia. This site is best because growth is most rapid in this location, thus the changes are accentuated.
The metaphyses exhibit widening and cupping because of their exaggerated normal concavity and irregular calcification. Because calcified osteoid is abundant, the provisional calcification zone of the metaphysis is much more distant from the calcification center of the epiphysis than is normal for age.
Along the shaft, the uncalcified osteoid causes the periosteum to appear separated from the diaphysis. Generalized osteomalacia occurs (observed as osteopenia), with visible coarsening of trabeculae in contrast to the ground-glass osteopenia of scurvy.
Examples of radiographic findings are shown in the images below.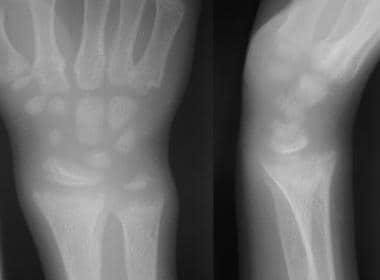 Anteroposterior and lateral radiographs of the wrist of an 8-year-old boy with rickets demonstrates cupping and fraying of the metaphyseal region.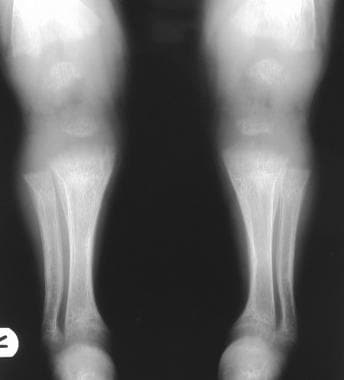 Radiographs of the knee of a 3.6-year-old girl with hypophosphatemia depict severe fraying of the metaphysis.
What would you like to print?