Workup
Imaging Studies
The following studies are indicated in patients with ependymoma:
Head CT scan with and without contrast

This study has greater than 95% sensitivity for detection of brain tumors.

On CT scan, hydrocephalus is present in almost all patients.

The tumor typically appears as hyperdense and homogeneously contrast-enhancing lesion arising from, or adjacent to, the ventricular system.

Cystic areas and calcifications are frequent.

Head and spine MRI with and without gadolinium should be obtained as ependymoma may presented with neuraxis dissemination.

These studies must be performed in all patients with CT scan or clinical findings consistent with ependymoma. Other tumors such as medulloblastoma and cerebellar astrocytoma may have similar appearance on CT scans. MRI can be useful in such instances by better demonstrating the anatomic origin and extent of tumor. With MRI, ependymoma is typically noted to be isointense to hypointense on T1-weighted images and hyperintense on T2-weighted images, relative to white matter. Ependymomas commonly show at least heterogenous enhancement with gadolinium contrast. See the following image.

MRI showing an ependymoma of the fourth ventricle, compressing the cerebellum and brain stem.

MRI is the most sensitive means of detecting spinal cord lesions and should always be performed because of the potential for subarachnoid seeding, which is especially likely from tumors that arise in the posterior fossa.

A postoperative MRI is required both for the measurement of the extent of surgical resection and the detection of residual disease.
Procedures
A CSF cytologic examination is useful for detection of microscopic leptomeningeal dissemination.
A CT scan or MRI must be performed prior to the lumbar puncture (LP) to exclude the presence of hydrocephaly. The presence of hydrocephaly would place the patient at risk for herniation as a consequence of the procedure. In general, the LP is deferred as long as 2 weeks postoperatively in order to avoid identifying tumor cells that may have been disseminated as a result of surgery.
Histologic Findings
Ependymomas develop from the neuroepithelial lining of the ventricle and the central canal of the spinal cord. They are generally well-demarcated tumors that often display areas of calcification, hemorrhage, and cysts.
They vary morphologically from well differentiated with no anaplasia and little polymorphism (cellular or low-grade) to highly cellular lesions with significant mitotic activity, anaplasia, and necrosis, which may resemble glioblastoma multiforme (anaplastic or high-grade). See the image shown below.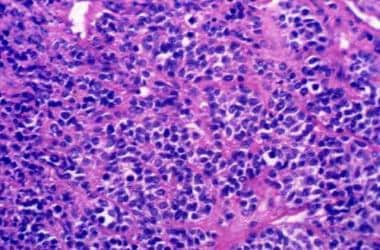 Section displaying high cellularity, nuclear atypia, and numerous mitoses characteristic of an anaplastic ependymoma.
Of note, anaplasia has been variably predicted as a predictor of outcome. The definition of anaplasia in the context of ependymoma continues to be discussed, as variation in definitions has contributed to unclear importance of this as a prognostic characteristic.
Historically, they have been classified as cellular, epithelial, papillary, or mixed. However, this terminology is currently not used anymore. Tumors arising in the conus medullaris and filum terminale are termed myxopapillary because of their unique histopathologic features.
Ependymal rosettes are radially aligned, ependymal elements about a central lumen; although uncommon, they are a diagnostic feature of ependymoma. More common are pseudorosettes (see image below), an eosinophilic halo composed of cells with tapering processes surrounding a blood vessel.
Currently, molecular subtyping has not been a mandated component of upfront diagnosis and treatment planning, although this continues to evolve.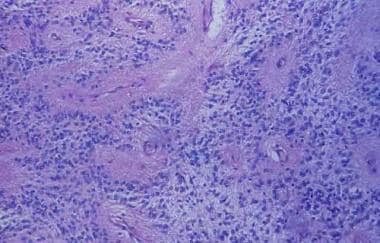 Section displaying typical perivascular pseudorosettes of a benign ependymoma.
Electron microscopy may be useful in the diagnosis by demonstrating true rosettes, microvilli, and cilia on the apical surface. Immunohistochemistry and cytogenetic analysis have not been shown to demonstrate meaningful associations.
Wang et al conducted a study of the tumor biology of myxopapillary ependymoma. Tumors from a cohort of 19 patients were analyzed by light microscopy, electron microscopy, immunohistochemistry, and fluorescence in situ hybridization. [11] Clinical characteristics, therapeutic options, and clinical follow-up data were analyzed. The most common presenting symptom was back pain. The main pathologic morphology observed was papillae embedded in a myxoid background, but other rare morphologies were also present. Immunostaining revealed epidermal growth factor receptor (EGFR) expression in 4 cases. No correlation was found between tumor recurrence and EGFR overexpression. Ultrastructural examination revealed adherens junctions and intracytoplasmic lumina with microvilli. There were no tumor recurrences in patients who underwent gross total resection. Local control rate was higher in patients who underwent subtotal resection followed by radiation therapy than it was for patients who underwent subtotal resection alone. The investigators concluded that a diagnosis of myxopapillary ependymoma should be made on the basis of histology, immunohistochemistry, imaging studies, and anatomic site. [11]
What would you like to print?