Overview
Practice Essentials
Formerly known as Hodgkin disease, Hodgkin lymphoma is a highly curable malignancy. It is a unique neoplasm in which the malignant cell, the Reed-Sternberg cell (RSC), represents only a small proportion of cells constituting the bulk of the tumor (see the image below). It also has very particular clinical characteristics and distinct biological behavior. The treatment of pediatric Hodgkin lymphoma is based on the experience of adult Hodgkin lymphoma regimens.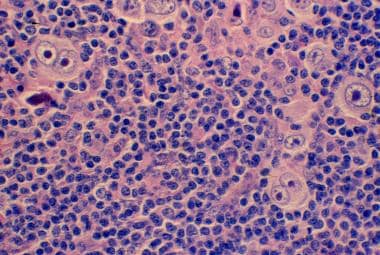 Mixed cellularity Hodgkin lymphoma showing both mononucleate and binucleate Reed-Sternberg cells in a background of inflammatory cells (hematoxylin and eosin, original magnification X200).
Signs and symptoms
Clinical features of Hodgkin lymphoma include the following:
Asymptomatic lymphadenopathy

Unexplained weight loss, unexplained fever, night sweats

Chest pain, cough, shortness of breath

Pruritus

Splenomegaly and/or hepatomegaly
Superior vena cava syndrome may develop in patients with massive mediastinal lymphadenopathy.
See Presentation for more detail.
Diagnosis
Laboratory tests include the following:
Complete blood cell count for anemia, lymphopenia, neutrophilia, or eosinophilia

Erythrocyte sedimentation rate and C-reactive protein, serum copper, and ferritin levels.

Lactate dehydrogenase

Serum creatinine

Alkaline phosphatase
Imaging studies include the following:
Plain radiographs

Computed tomography, which has largely replaced chest radiography

Positron emission tomography, which is considered essential to the initial staging of Hodgkin lymphoma
A histologic diagnosis of Hodgkin lymphoma is always required. An excisional lymph node biopsy is recommended because the lymph node architecture is important for histologic classification.
See Workup for more detail.
Management
Hodgkin lymphoma can be cured with radiation therapy and/or chemotherapy. Combined-modality therapy, including radiation and chemotherapy, is the preferred approach for most pediatric patients. Because most children and adolescents with Hodgkin lymphoma are successfully treated, an important consideration is the selection of a regimen, particularly in reference to the anticipated late toxicities associated with cancer-directed therapy. Late toxicities vary substantially according to the treatment modality used.
See Treatment and Medication for more detail.
Background
Hodgkin lymphoma is a rather rare malignancy in the pediatric population, however, it constitutes approximately 40% of all lymphomas that present during childhood and is the most common malignancy in adolescents and young adults. In all age groups, Hodgkin lymphoma is highly sensitive to chemotherapy and irradiation. In fact, Hodgkin lymphoma was the first cancer to be cured with radiation therapy alone or with a combination of several chemotherapeutic agents.
The cure rate for children and adolescents with Hodgkin lymphoma has steadily improved over the years, particularly with the introduction of combined radiation and multiagent chemotherapy. [1]
This therapeutic success has come at the price of serious long-term toxicities, such that a 30-year survivor of Hodgkin lymphoma is more likely to die of therapy-related complications than from Hodgkin lymphoma. Therefore, the therapeutic paradigm has shifted toward reducing treatment-associated toxicity while maintaining high cure rates. This new paradigm has led to the current risk-adapted, response-based approach to the treatment of Hodgkin lymphoma (see Treatment).
See also the Medscape Reference topic Hodgkin Disease.
Pathophysiology
Hodgkin lymphoma (HL) is a malignancy of the germinal-center B cells that affects the reticuloendothelial and lymphatic systems. [2] The origin of the HL Reed-Sternberg cells (HL-RSC) became clear with the introduction of microdissection and single-PCR methods. HL-RSC carry clonal immunoglobulin gene rearrangements, which establishes their clonality and their B cell origin. Germinal-center B-cells undergo clonal expansion and activate the process of somatic hypermutation that introduces mutations at a high rate into rearranged immunoglobulin variable genes. Germinal-center B-cells with unfavorable mutations are functionally crippled and undergo programmed cell death (apoptosis). The reason for the apoptosis resistance of HL-RSC precursors is unclear but may involve several distinct transforming events, such as Epstein-Barr Virus (EBV) infection.
Epidemiologic data suggest that environmental, genetic, and immunologic factors are involved in the development of Hodgkin lymphoma. Clusterings of cases in families or racial groups supports the theory of a genetic predisposition or a common environmental factor.
In identical twins of patients with Hodgkin lymphoma, the risk of developing Hodgkin lymphoma is higher than that of other first-degree relatives. Subjects with acquired or congenital immunodeficiency disorders also have an increased risk of developing Hodgkin lymphoma.
Findings from several epidemiologic studies have suggested links between HL and certain viral illnesses. The strongest case to date is a relationship to EBV, in that EBV viral DNA can be found in HL-RSC. Infants and children aged 0-14 years with Hodgkin lymphoma have EBV DNA in their HL-RSC cells more often than young adults aged 15-39 years with HL.
In EBV-positive Hodgkin lymphoma, EBV-encoding genes play a role in preventing apoptosis. Latent membrane protein-1 (LMP-1) expressed in EBV-positive Hodgkin lymphoma RSCs mimics an activated CD40 receptor, activating the antiapoptotic nuclear factor–kappa-B (NF-κB) pathway.
Up-regulation of NF-κB in HL is observed in both Hodgkin lymphoma RSCs and the surrounding supporting cells. This up-regulation is due to gene amplification of c-rel and activation of cell-surface receptors such as CD30, CD40, RANK, and Notch1.
The production of the ligand for these receptors is responsible for the phosphorylation and translocation to the nucleus of NF-κB. The constitutive translocation of NF-κB to the nucleus of Hodgkin lymphoma RSCs is essential for the malignant transformation of the RSCs. It leads to inhibition of apoptosis, proliferation, and secretion of proinflammatory cytokines. [3]
Epidemiology
Hodgkin lymphoma (HL) generally occurs in all age groups but young adults are most often affected. The distinguishing epidemiologic feature of Hodgkin lymphoma is its bimodal age incidence, which is commonly seen in populations living in economically advanced, Westernized countries such as the United States. There is a rapid increase in incidence rates among teenagers, which peaks at about age 25 years, and another peak occurs in patients aged approximately 50–60 years. In the United States, Hodgkin lymphoma is the most commonly diagnosed cancer in adolescents aged 15-19 years and accounts for 12% of all cases of cancer in this age group. [4]
The age-adjusted standardized rate of Hodgkin lymphoma in North America, Western Europe, and Oceania is usually just below 7 cases per million. For children and adolescents younger than 15 years, the incidence is 5.5 cases per million. For individuals aged 15-20 years, the incidence is 12.1 cases per million population. These rates are in contrast to those in western Asia (from the Mediterranean to northwest India), where the age-adjusted standardized rate is consistently higher than 7 cases per million.
A different age pattern is evident among economically disadvantaged populations in which there is an initial peak in childhood, particularly for boys.
In the United States and in Western Europe, the childhood rate is lower than the young-adult rate. In Eastern Europe, the young-adult rate is similar to that observed in the United States and Western Europe, but the childhood rate is higher. Latin American countries have patterns of incidence approaching those of the United States.
The incidence is relatively low in Asia, with the exception of South Asia, where the incidence is relatively high.
Race-, sex-, and age-related differences in incidence
In the United States, the incidence of Hodgkin lymphoma among whites and blacks is essentially the same. However, the ratio is 1.4:1 in children older than 10 years. [5] A significant male-to-female ratio of 3:1 is observed in children younger than 10 years. Data from the National Cancer Institute show that 85% of cases occur in boys. [6] In older children and adults, the male-to-female ratio is about 1:1.
The incidence of Hodgkin lymphoma by age show a bimodal distribution. In developed nations, the first peak occurs at approximately age 20 years and the second peak is observed in patients aged 55 years or older. Hodgkin lymphoma is uncommon before age 5 years. However, in developing countries, the first peak is shifted into childhood, usually before adolescence.
Prognosis
With the development of an integrated treatment approach, the cure rate and survival of patients with Hodgkin lymphoma (HL) is now high. In developed countries, the 5-year overall survival for Hodgkin lymphoma of all stages is very high, usually greater than 80%. Patients with stage I or II disease have overall survival rates greater than 90%, whereas those with stage III or IV disease have overall survival rates as low as 70%. The survival rate in children, adolescents, and young adults with Hodgkin lymphoma is similarly good as that in adult patients.
Survival in developing countries may be lower, depending on availability of care and medications, distance to the treating centers, and number of patients who abandon therapy before completion.
A prognostic score for advanced Hodgkin lymphoma based on presenting clinical parameters (international prognostic factors for advanced Hodgkin lymphoma) is used for risk stratification for adults. The score system includes the following findings:
Erythrocyte sedimentation rate (ESR) of more than 50 mm/h

Hemoglobin concentration less than 10.5 g/dL

WBC count of 15,000/μL or less

Absolute lymphocyte count less than 600/μL

Albumin level less than 4 g/dL
However, the system is not applicable to pediatric patients. More recently, the data from the Children's Oncology group reported by Dr. Schwartz described the Childhood Hodgkin International Prognostic score (CHIPS) to predict event free survival in pediatric and adolescent HL. The CHIPS score found that 4 factors were predictive of worse event-free survival: stage IV disease, large mediastinal adenopathy, albumin level of less than 3.5 g/dL, and fever. The CHIPS score identified a subset of patients accounting for 22% of an intermediate risk population who are predicted to have an event-free survival (EFS) rate of less than 80%. Early augmentation of therapy may improve outcome for this cohort. [7]
Furthermore, this score system identified low albumin as an excellent predictor of decreased EFS in mixed cellularity Hodgkin lymphoma, allowing the identification of a cohort of intermediate risk patient with mixed cellularity histology that may benefit from augmented therapy. [8]
Patient Education
Before the initiation of treatment, patients with Hodgkin lymphoma (HL) should be counseled about the potential complications of Hodgkin lymphoma. Depending on the therapeutic modality, this may include the risk of cardiac disease, lung toxicity, infertility, infection, and secondary cancers. All patients should be counseled on health habits that may help reduce the risk of cancer and cardiovascular disease, including avoidance of smoking, control of lipids, and the use of sunscreen.
Patients should understand the risk of psychosocial problems that may affect survivors of Hodgkin lymphoma. Consultations with social workers, psychologists, and psychiatrists may be helpful to manage some of these issues.
For patient education information, see the Blood and Lymphatic System Center, as well as Lymphoma.
What would you like to print?