Overview
Practice Essentials
Nasopharyngeal carcinoma is a rare tumor arising from the epithelium of the nasopharynx. (See the image below.) It accounts for approximately 1% of all childhood malignancies. Whereas almost all adult nasopharyngeal cancers are carcinomas, only 35-50% of nasopharyngeal malignancies are carcinomas in children. In the pediatric population, additional nasopharyngeal malignancies include rhabdomyosarcomas or lymphomas.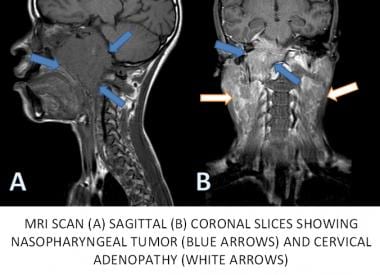 MRI of the head and neck in a patient with nasopharyngeal carcinoma showing the primary tumor and cervical lymph node metastases
Signs and symptoms
Symptoms include the following [1] :
Nasal symptoms, including bleeding, obstruction, and discharge

Ear symptoms, including infection, deafness, and tinnitus
The most common physical finding is a neck mass consisting of painless firm lymph node enlargement.
See Presentation for more detail.
Diagnosis
Laboratory studies
The following laboratory studies should be included in the workup:
Complete blood cell count

Epstein-Barr virus (EBV) titers
Imaging studies
Imaging studies used in the workup include the following:
Computed tomography (CT) scanning

Magnetic resonance imaging

Positron emission tomography (PET) imaging
See Workup for more detail.
Management
Radiation therapy is the mainstay of treatment, with chemotherapy used in advanced cases. Surgical therapy is often limited to a biopsy for tissue diagnosis. Nearly all tumors are unresectable at diagnosis because of their location.
See Treatment and Medication for more detail.
Pathophysiology
The detection of the Epstein-Barr virus (EBV) nuclear antigen and viral DNA in nasopharyngeal carcinoma has revealed that EBV can infect epithelial cells and is associated with their malignant transformation. [2] Copies of the EBV genome have been found in cells of preinvasive lesions, suggesting that it is directly related to the process of transformation.
Etiology
Viral DNA in nasopharyngeal carcinoma has revealed that Epstein-Barr virus (EBV) can infect epithelial cells and is associated with their transformation to cancer. [2] Genetic and environmental factors have been implicated in the development of this disease. A genetic etiology has been considered due to the higher rates of disease within specific ethnic groups, patients with first-degree relatives with the disease, patients with A2 HLA haplotypes, and cytogenetic abnormalities identified within tumor samples. [3, 4] Environmental causes must be considered due to the geographical distribution of the disease, bimodal age distribution, and association seen in patients who consume a large amount of preserved foods and/or salted fish. [5]
Epidemiology
United States statistics
Although the incidence varies according to geographic location, approximately 1 in every 100,000 children are diagnosed annually in North America.
International statistics
The disease is far more common in children of Southeast Asian and Northern African descent, with an incidence of 8-25 in every 100,000 children annually.
Race-, sex-, and age-related demographics
In the United States, the incidence of nasopharyngeal carcinoma is increased among Black teenagers. [6] Children of Asian, Middle Eastern, and Northern African descent are also more commonly affected.
A male preponderance is observed. The male-to-female ratio is approximately 2:1.
Nasopharyngeal carcinoma has a bimodal age distribution. A small peak is observed in late childhood, and a second peak occurs in people aged 50-60 years. Childhood nasopharyngeal carcinoma is usually a disease of adolescence. [7]
Prognosis
The results of clinical trials that include both radiation therapy and chemotherapy generally report long-term survival rates of 50-80% overall. [8, 9, 10]
In a study by Serin et al, the 5-year overall survival rate was 42% with radiotherapy alone and 58% with chemoradiation. [11]
Rodriguez-Galindo et al reported a 4-year event-free and overall survival rate of 77% and 75%, respectively, in a Phase II Pediatric Oncology Group clinical trial using radiation alone for patients with T1-T2N0M0 disease and radiation with neoadjuvant chemotherapy for all others. [12] Most were treated with 4 cycles of chemotherapy consisting of methotrexate, cisplatin, 5-fluorouracil, and leucovorin prior to radiotherapy.
Morbidity/mortality
When radiotherapy is used alone, survival rates range from 40-50%. Use of combination radiation therapy and chemotherapy allows long-term survival rates of 55-80%.
Complications
Late toxicity of radiotherapy may include xerostomia, hypothyroidism, fibrosis of the neck with complete loss of range of motion, trismus, dental abnormalities, and hypoplasia of irradiated muscular and bony structures. Because of the high doses of radiotherapy used in this disease, these late toxicities can be significant, especially in younger children.
Endocrinopathies and growth retardation can occur secondary to radiotherapy to the pituitary gland. Panhypopituitarism can occur in some instances.
Sensorineural hearing loss may occur with the use of cisplatin and radiotherapy. [13]
Renal toxicity can occur in patients receiving cisplatin.
Caries and poor dental hygiene are associated complications. Osteonecrosis of the mandible is a rare complication of radiotherapy and is often avoided with proper dental care.
Second malignancy may occur in a child who has received previous radiotherapy. This risk is small but continues throughout life.
With proper radiotherapy techniques, the chance for development of radiation myelitis should be less than 1%.
Patient Education
Patients and parents should be educated regarding the importance of follow-up after completion of all therapy. A detailed discussion of the risks of chemotherapy, especially the risk of febrile neutropenia, is necessary. Families should also be well informed of the issues of late effects.
For excellent patient education resources, visit WebMD's Cancer Center. Also, see WebMD's patient education article Nasopharyngeal Cancer.
What would you like to print?