Workup
Laboratory Studies
Any child with a presumed diagnosis of neuroblastoma or any other childhood cancer should be referred to a pediatric cancer center for proper care and evaluation. Laboratory studies should include the following:
Complete blood cell (CBC) count and differential - Anemia or other cytopenias suggest bone marrow involvement

Urine collection for catecholamines (VMA/HVA) and UA

A single sample or collected urine test for VMA/HVA is highly accurate in CLIA approved laboratories. Centers usually send samples to a specialty laboratory and/or perform a timed collection of urine.

A urinary catecholamine level is considered to be elevated if it is 3 standard deviations higher than the age-related reference range levels.

Liver function tests

Alanine aminotransferase (ALT)

Aspartate aminotransferase (AST)

Total bilirubin

Alkaline phosphatase

Total protein

Albumin

Prothrombin time (PT)/activated prothrombin time (aPTT)

Serum lactate dehydrogenase (LDH)

Thyroid-stimulating hormone (TSH), T4

Immunoglobulin (Ig)G levels
Imaging Studies
The following studies may be indicated in patients with neuroblastomas:
Obtain chest and abdominal radiographs to evaluate for the presence of a posterior mediastinal mass or calcifications.

A CT scan of the primary site is essential to determine tumor extent. The main body of the tumor is usually indistinguishable from nodal masses. See the images below.

CT scan of abdomen in a patient with a retroperitoneal mass arising from the upper pole of the left kidney and elevated urine catecholamines.

A one-week-old neonate had abdominal ultrasonography for evaluation of projectile vomiting. A right adrenal mass (100% cystic) was an incidental finding. Evaluation of the mass by CT was consistent with an adrenal bleed (3.6 x 3.1 x 2.4 cc). The infant was followed at 2 weeks (2-dimensional size diminished to 1.5 x. 2.4 cm2 on ultrasonography) and then at 6 weeks to document that the adrenal bleed continued to involute. Urine catecholamines were normal.

In cases of paraspinal masses, MRI aids in determining the presence of intraspinal tumor and cord compression. Horner syndrome should be evaluated with an MRI of the neck and head. See the image below.

MRI of a left adrenal mass. The mass was revealed by fetal ultrasonography at 30 weeks' gestation. During infancy, the mass was found on the inferior pole of the left adrenal and was completely resected. Before surgery, the metastatic workup was negative. Surgical pathology service confirmed a diagnosis of neuroblastoma. After 3 years of follow-up care, no recurrence was observed.

I123/131 -methyliodobenzylguanadine (MIBG) accumulates in catecholaminergic cells and provides a specific way of identifying primary and metastatic disease if present. Increasing numbers of institutions have access to MIBG scanning.

A technetium-99 bone scan can also be used to evaluate bone metastases. This may be especially helpful in patients with negative MIBG study findings. Most current therapeutic protocols require both a bone scan and MIBG scan.

Skeletal surveys may also be useful, especially in patients with multiple metastatic lesions.

Positron emission tomography (PET) scan are under evaluation but are not currently recommended as part of the radiographic workup.
Other Tests
Obtain the following as baseline studies before therapy with anthracyclines:
Echocardiogram or resting radionuclide ejection fraction scan
Baseline hearing tests are recommended before cisplatin therapy. Baseline creatinine clearance should be measured (see the Creatinine Clearance (measured) calculator), especially if serum creatinine is abnormal.
Procedures
Bilateral bone marrow aspirates and biopsies should be performed to exclude metastatic disease.
Biopsy or resection of the primary tumor (stage I or II disease) is performed to collect tissue samples for biologic studies used to assign the patient into the appropriate risk category. Most centers in the United States perform limited open biopsies when the primary tumor is unresectable upfront. Adequate tissue is needed to perform molecular studies that aid in risk assignment. Extensive resections should be avoided upfront if they may place patient at excessive risk from morbidity or mortality from surgery. Neuroblastoma is a chemo-sensitive tumor; thus, second-look surgery to resect a residual primary may be a safer procedure with biopsy only performed upfront.
Tissue samples from a primary or metastatic tumor may be undifferentiated and confused with other small, round, blue cell tumors of childhood; however, immunohistochemical stains can aid with tissue diagnosis.
Molecular techniques, such as fluorescent in situ hybridization (FISH), can detect MYCN amplification, an important prognostic marker. Polymerase chain reaction (PCR) can identify specific translocations, such as t(11;22), in Ewing sarcoma and t(2;13) in alveolar rhabdomyosarcoma, thus ruling out neuroblastoma.
Neuroblastoma in bone marrow can be difficult to distinguish from other small, round, blue cell tumors of childhood.
Histologic Findings
Biopsy findings are usually required to diagnose neuroblastoma. Depending on the extent of disease at presentation, consider complete surgical resection, especially in patients with low-stage disease. Even without a biopsy, the presence of elevated urinary catecholamines and a bone marrow aspirate or biopsy with unequivocal neuroblastoma cells is diagnostic.
Histologically, neural crest tumors can be classified as neuroblastoma, ganglioneuroblastoma, and ganglioneuroma, depending on the degree of maturation and differentiation of the tumor. Undifferentiated neuroblastomas histologically present as small, round, blue cell tumors with dense nests of cells in a fibrovascular matrix and Homer-Wright pseudorosettes. These pseudorosettes, observed in 15-50% of tumor samples can be described as neuroblasts surrounding eosinophilic neuritic processes. The typical tumor shows small uniform cells with scant cytoplasm and hyperchromatic nuclei. A neuritic process, also called neuropil, is a pathognomonic feature of neuroblastoma.
Histologic subtypes of neuroblastoma are shown in the image below.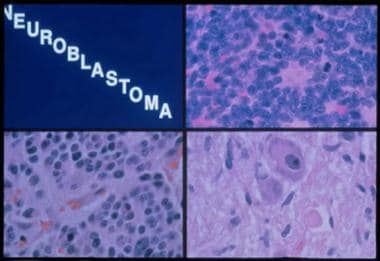 Histologic subtypes of neuroblastoma. Top right panel, neuroblastoma: A monotonous population of hyperchromatic cells with scant cytoplasm. Bottom left panel, ganglioneuroblastoma: Increased schwannian stroma. Bottom right panel, ganglioneuroma: Mature ganglion cell with schwannian stroma.
Neuron-specific enolase (NSE), chromogranin, synaptophysin, and S-100 immunohistochemical stain findings are usually positive. Electron microscopy can be useful because ultrastructural features (eg, neurofilaments, neurotubules, synaptic vessels, dense core granules) are diagnostic for neuroblastoma. In contrast, the completely benign ganglioneuroma is typically composed of mature ganglion cells, Schwann cells, and neuritic processes, whereas ganglioneuroblastomas include the whole spectrum of differentiation between pure ganglioneuromas and neuroblastomas.
The pathologist must thoroughly evaluate the tumor because regions with different gross appearance may exhibit a different histology.
Staging
The patient should undergo a staging workup along with surgical resection or biopsy, as appropriate. Using various molecular features in conjunction with pathology and staging is essential to appropriately stratify patients and determine the best therapy.
The International Neuroblastoma Staging System (INSS) is currently used in all cooperative group studies in the United States. Recently, the International Neuroblastoma Risk Group Staging System (INRGSS) and International Neuroblastoma Risk Group Consensus Pretreatment Classification were released. [17] The current INSS system is based on degree of surgical resection and thus is not appropriate for use with the INRG Pretreatment Classification. This is especially important because not all groups use upfront surgical resection as part of their staging system. The INRG was formulated to be used in international settings and to facilitate comparison of treatment outcomes across studies to allow common definitions among all groups. Thus, development of the INRGSS was facilitated using pretreatment tumor imaging rather than extent of surgical resection.
The INRGSS is as follows:
L1 - Localized tumor not involving vital structures, as defined by the list of image-defined risk factors and confined to one body component

L2 - Locoregional tumor with presence of one or more image-defined risk factors

M - Distant metastatic disease

MS - Metastatic disease in children younger than 18 months with metastases confined to skin, liver, and/or bone marrow
The INSS is as follows:
Stage 1

Localized tumor with complete gross excision, microscopic residual disease, or both

Ipsilateral lymph nodes negative for tumor (Nodes attached to the primary tumor may be positive for tumor).

Stage 2A

Localized tumor with incomplete gross resection

Representative ipsilateral nonadherent lymph nodes microscopically negative for tumor

Stage 2B

Localized tumor, complete gross excision, or both with ipsilateral nonadherent lymph nodes positive for tumor

Enlarged contralateral lymph nodes, which are negative for tumor microscopically

Stage 3

Unresectable unilateral tumor infiltrating across the midline, regional lymph node involvement, or both

Alternatively, localized unilateral tumor with contralateral regional lymph node involvement

Stage 4 - Any primary tumor with dissemination to distant lymph nodes, bone, bone marrow, liver, skin, and/or other organs (except as defined for stage 4S)

Stage 4S

Localized primary tumor (as defined for stages 1, 2A, or 2B) with dissemination limited to skin, liver, and/or bone marrow (< 10% involvement)

Limited to infants
What would you like to print?