Workup
Laboratory Studies
See the list below:
Although malignant rhabdoid tumor (MRT) is definitively diagnosed by means of histologic analysis (see Histologic Findings below), laboratory studies can help in distinguishing a MRT of the kidney from a Wilms tumor.

The following tests may be helpful:

CBC count: Approximately 55% of patients with MRT present with a hemoglobin level of less than 9 g/dL. Only 25% of patients with Wilms tumor are anemic at presentation.
Urinalysis: Microscopic hematuria is seen in 75% of patients with MRT. Approximately 25% of patients with MRT have proteinuria; this prevalence is similar to that of patients with Wilms tumors.
Serum calcium measurement: As many as 25% of patients with MRT present with hypercalcemia. This finding is attributed to the ectopic production of parathyroid hormone-related protein by the tumor. Hypercalcemia is uncommon in Wilms tumor, but is associated with congenital mesoblastic nephroma.

Liver function test results may be abnormal in infants and children with primary hepatic MRT or in the case of hepatic metastases from a renal or soft tissue primary MRT.
Imaging Studies
See the list below:
No pathognomonic imaging feature aids in distinguishing MRT from the other renal tumors of childhood. However, several features may raise the suspicion for MRT.

The following imaging studies are suggested for the diagnosis and staging of MRT:

Abdominal CT or MRI: MRT typically appears as a large, lobulated mass in the center or periphery of the kidney. The margins of the tumor may be sharply defined from the adjacent renal parenchyma, or they may be indistinct. Tumoral lobules are often separated by hypo-attenuating areas of hemorrhage or necrosis.

Calcification, seen in about 10% of Wilms tumors and rarely seen in clear cell sarcoma or congenital mesoblastic nephroma, occurs frequently in MRTs. MRT-associated calcifications are often linear or curvilinear, and they may outline tumor lobules, as is shown in the image below.
See the list below: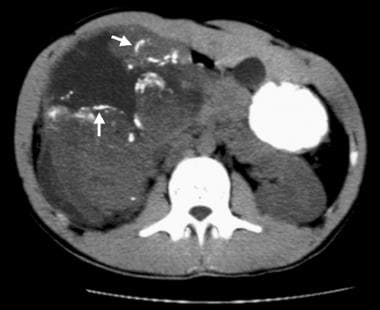 Nonenhanced CT scan demonstrates linear and curvilinear calcifications outlining tumor lobules in a malignant rhabdoid tumor (MRT) (arrows). A hypoattenuating fluid collection surrounds and separates the lobules. These imaging features are seen with MRT more often than with other childhood renal neoplasms.
See the list below:
A peripheral, subcapsular, crescent-shaped fluid collection is often seen in association with MRT, as is shown in the image below. In one study, this finding was present in 15 of 21 patients (71%) with MRT, but was present in only 8 of 93 patients (9%) with Wilms tumors, 6 of 44 patients (14%) with congenital mesoblastic nephromas, and 3 of 12 patients (25%) with clear cell sarcomas. These subcapsular fluid collections may be due either to hemorrhage or tumor necrosis.
See the list below:
Contrast-enhanced CT scan demonstrates a subcapsular fluid collection (arrow) and the lobulated nature of a malignant rhabdoid tumor (MRT). Subcapsular fluid collections are more common with MRTs than with the other renal neoplasms that occur in children.

Chest CT: Lungs remain the most common site of metastatic disease from non-CNS MRT; the lungs are involved in 83% of infants and children with metastatic MRT at diagnosis. When present, lung disease tends to be bilateral and unresectable.

Abdominal ultrasonography: Tumoral invasion of the renal vein and/or the inferior vena cava is sometimes seen with MRT and is best diagnosed with Doppler ultrasonography or magnetic resonance angiography.

MR, CT, FDG, and/or PET imaging of the brain: Imaging of the head is indicated to exclude the possibility of a synchronous primary or metastatic brain tumor.

[27]

Bone Scan: Historically, bone metastases were present in 5% of infants and children with metastatic MRT at diagnosis, which approximates 1% of MRT overall. As such, the most recent COG MRT research protocol required a bone scan at diagnosis. Whether all children with MRT require a bone scan at diagnosis is unclear.
Other Tests
See the list below:
The finding of germline perturbations in SMARCB1, assessed via genetic study of patient lymphocyte DNA, confirms a rhabdoid tumor predisposition and is estimated to occur in approximately 25-30% of patients with MRT. Testing of all MRT patients for germline SMARCB1 perturbations is advised.
Procedures
See the list below:
Tumor tissue sampling is required to make the diagnosis of MRT and assists in defining the genetic background.

Bone marrow aspiration and biopsy are not routinely necessary in the workup of MRT because it rarely metastasizes to the bone marrow.

Lumbar puncture

is not routinely indicated unless a CNS tumor is diagnosed.
Histologic Findings
See the list below:
On gross examination, MRTs are heterogeneous, bulky, lobulated, friable, solid, gray-tan masses with areas of necrosis and hemorrhage.

On microscopic examination, MRTs are characterized by sheets or solid trabeculae of large tumor cells with vesicular chromatin, nuclei with prominent cherry-red nucleoli, moderate amounts of eccentric eosinophilic cytoplasm, and a distinctive, globoid, hyaline pink intracytoplasmic inclusion, as is shown in the image below.

Histology of malignant rhabdoid tumors (MRTs). This photomicrograph shows the typical large malignant cells with large, vesicular nuclei, prominent red nucleoli, and abundant eosinophilic cytoplasm. Many tumor cells have a distinct, pale, rhabdoid inclusion in the cytoplasm. (Hematoxylin and eosin stain, original magnification x400).

Mitoses are frequent and necrosis is common. A subset of tumors may be composed predominantly of primitive undifferentiated small round blue cells, but, upon closer inspection, small foci of cells with diagnostic cytologic features can be identified. Other patterns described as sclerosing (including chondroid), epithelioid, spindled, lymphomatoid or histiocytoid, and vascular may coexist with the classic pattern. Unlike a Wilms tumor, MRT of the kidney typically has an infiltrative border with the surrounding nonneoplastic cortex and renal medulla.

The most useful ultrastructural finding is a large whorl of intermediate filaments in the cytoplasm with a diameter of 8-10 nm, correlating with the rhabdoid inclusions seen with light microscopy. Dilated rough endoplasmic reticulum, rudimentary cell junctions, and cytoplasmic tonofilamentlike bundles are other characteristic features. The cells do not have external lamina or evidence of myogenic differentiation.

On immunohistochemical examination, the tumor cells are polyphenotypic with consistent staining for vimentin, and most are positive for epithelial membrane antigen and/or cytokeratin. Positivity for glial fibrillary acidic protein, neuron-specific enolase, smooth muscle actin, desmin, CD99, and other markers has been seen in MRT. Malignant rhabdoid tumor lacks INI1 immunohistochemical staining, as is seen in the image below, whereas most other tumors have detectable INI1 protein.

INI1 immunohistochemistry stain shows diffuse loss of INI1 expression in tumor nuclei, with appropriate staining of intratumoral endothelial cells serving as the internal control (original magnification x400).

Loss of INI1 protein expression correlates closely with biallelic SMARCB1 gene perturbation, assessed via molecular genetic testing. Therefore, INI1 immunohistochemical studies can be used in conjunction with other studies to confirm the histologic diagnosis of MRT.
Staging
See the list below:
In North America, MRTs are staged according to the staging system of the NWTS Group, which the COG has modified.

The COG staging system is as follows:

Stage I: Tumor is limited to the kidney and completely excised. The renal capsule is intact. The tumor is not ruptured or sampled for biopsy before it is removed. The vessels of the renal sinus are not involved. No evidence suggests tumor at or beyond the margins of resection.
Stage II: The tumor extended beyond the kidney, but it was completely excised. The tumor may regionally extend into the renal sinus or penetrate the renal capsule. Blood vessels outside the renal sinus may contain tumor, but the tumor must be removed en bloc. No evidence of tumor at or beyond the margins of resection is present.
Stage III: Residual nonhematogenous tumor is confined to the abdomen. Any of the following may occur: (1) Tumor involves abdominal or pelvic lymph nodes. (2) The tumor has penetrated the peritoneal surface. (3) Tumor implants are found on the peritoneal surface. (4) Gross or microscopic tumor remains after surgery. (5) The tumor is not completely resectable because of local infiltration of vital structures. (6) Tumoral spillage occurs before or during surgery. (7) Tumor biopsy was performed before resection. (7) Tumor is removed in greater than one piece.
Stage IV: Hematogenous metastases or lymph node metastases are present outside the abdominal and/or pelvic cavity.
Stage V: Tumors are bilateral.
What would you like to print?