Workup
Ultrasonography
Cleft lip (CL) can be easily diagnosed by performing ultrasonography (US) in the second trimester of pregnancy when the position of the fetal face is located correctly (see the images below). [46]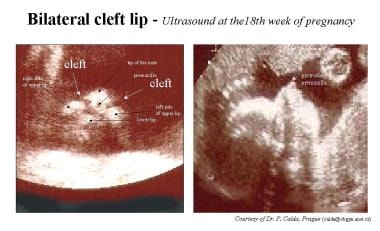 Bilateral cleft lip on ultrasound.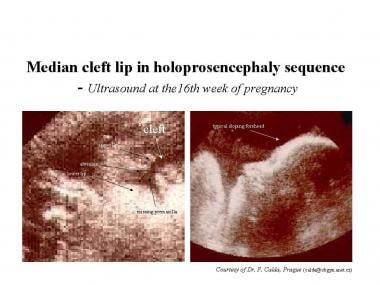 Median cleft lip on ultrasound.
Usually, diagnosing a cleft palate (CP) with US is not possible; however, an experienced physician or technician may catch an atypical movement of the fetal tongue in a lateral view. In the case of a large CP, the tongue moves up into an open space (cleft) in the roof of the oral cavity. Three-dimensional (3D) imaging has been introduced to antenatal US for diagnosis of cleft anomalies and appears to be promising for recognizing a CP in a fetus.
What would you like to print?