Workup
Approach Considerations
It is not uncommon to refer the patients to a geneticist for evaluation of a syndrome associated with microtia and atresia. These specialists may also offer the parents an opinion about having another child with microtia.
Imaging Studies
Microtia is rarely noticed on antenatal ultrasonography (US), primarily because of the complexity of the fetal ear and the inherent nature of conventional two-dimensional (2D) US. Some authors suggest the use of three-dimensional (3D) US to provide a better examination of the fetal ear for purposes of antenatal diagnosis and genetic counseling. The image below is a 3D sonogram, with the arrow indicating the microtia.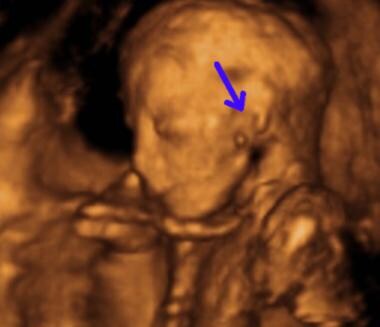 Three-dimensional sonogram of fetus with microtia.
Computed tomography (CT) of the ears is not recommended in children younger than 4 years. Obtaining a CT scan at an earlier age does not allow any earlier surgical intervention and therefore serves only to irradiate the child's head unnecessarily. Obtaining the scan just before the pinna reconstruction is recommended so as to facilitate counseling of the patient about candidacy for ear-canal and middle-ear surgery. The image below shows the lack of an ear canal on the left side.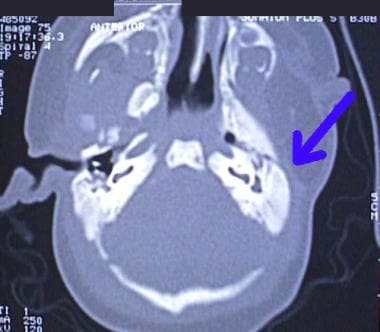 Arrow in CT scan indicates lack of ear canal (atresia) on left side. Note normal ear canal on right side.
Procedures
An auditory brainstem response (ABR) test is recommended soon after birth to evaluate inner-ear (cochlear) function on both sides.
Frequent otologic evaluations are essential to rule out other possible problems, such as otitis media in the good ear. In the case of ear-canal narrowing or stenosis, it is important be aware of foul-smelling drainage. This could be a sign of a cholesteatoma growing medial to the stenosis.
Aggressively treat middle-ear effusions of the normal ear to optimize the hearing status of the child and avoid speech delay. An ABR test is usually recommended approximately 3-6 months later. If the child is cooperative, audiologic testing can then be performed by sound-field testing and eventual bilateral pure-tone audiometry. Routine scheduled audiologic follow-up testing should be continued.
What would you like to print?