Overview
Practice Essentials
Dientamoeba fragilis is a nonflagellate trichomonad parasite that can live in the human large intestine. Unlike most other intestinal protozoa, its life cycle has no cyst stage; thus, infection between humans occurs during the trophozoite stage. Organisms move most actively in fresh feces but quickly round up when left standing, are sensitive to an aerobic environment, and die and dissociate when placed in saline, tap water, or distilled water. D fragilis has been detected in untreated sewage. [1]
The mode of transmission is not well understood, and conflicting evidence has been published. [2] Surveys of various mammals and birds have only identified nonhuman primates as natural hosts and never in domestic pets; however, recently a high prevalence of infection has been reported in pigs. [3] Thus, there is a possible zoonotic transmission of this parasite, although most infections are believed to be through direct fecal-oral spread and, possibly, through co-infection of eggs of Enterobius vermicularis (ie, pinworm).
Pathophysiology
Organisms infect mucosal crypts of the large intestine that are located close to the mucosal epithelium, from the cecum to the rectum; however, the cecum and proximal colon are usually affected. This parasite is not known to be invasive and does not cause cellular damage. It may invoke an eosinophilic inflammatory response in the colonic mucosa; thus, symptoms are related to the superficial colonic mucosal irritation. Similar to some other parasites (eg, Cyclospora cayetanensis, Giardia lamblia, Cryptosporidium parvum), the parasite D fragilis has been demonstrated to cause disease in humans regardless of their immune status.
The life cycle of D fragilis is shown in the image below.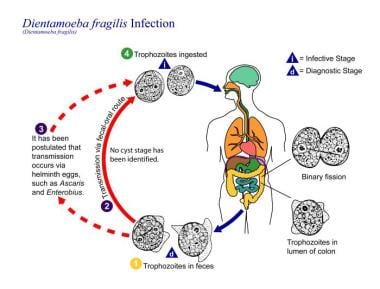 This is an illustration of the assumed life cycle of Dientamoeba fragilis, the cause of a protozoan parasitic infection.
Epidemiology
Frequency
International
Estimated prevalence in the general population in the United States and in other developed countries is most commonly 2-5%. However, much higher prevalence rates (19-69%) have been reported in specific populations, such as individuals living in crowded conditions (eg, institutions, communal living), individuals living in conditions with poor hygiene, and those traveling to developing countries.
A prospective study from Spain that included 44 D. fragilis patients and their 97 household contacts reported that 50.5% of household contacts had a positive PCR for D. fragilis. The study also reported that patients with children were more associated with coinfection. [4]
Mortality/Morbidity
Colonization may occur without development of disease, and, in adults, asymptomatic colonization was once thought to be present in 75-85% of individuals infected by the parasite. More recently, it is not believed that asymptomatic carriage is as prevalent as once thought and in children symptomatic disease develops in as many as 90% of those colonized. In 2014, new research was presented at the 24th European Congress of Clinical Microbiology and Infectious Diseases (ECCMID) that questioned the pathogenicity of the parasite. [5]
No specific mortality is associated with this enteropathogen. Morbidity related to acute infection occurs in the first 1-2 weeks of the disease, with symptomatology predominated by diarrhea and abdominal pain. Chronic infection occurs after 1-2 months of illness and is manifested by abdominal pain.
Age
Infection may occur at any age. The most common age at which infection has been reported in children is 5-10 years. Interestingly, E vermicularis (pinworm) infection can also occur in the same age group.
What would you like to print?